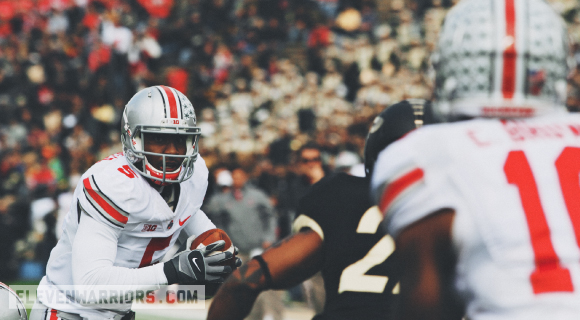 WEST LAFAYETTE, Ind. –
For more than a decade, a roster filled with nobodies in this nowhere town has foiled Ohio State. Ross-Ade Stadium cloaked the talented Buckeyes in darkness, an unsightly house of horrors. On Saturday, all the bad memories came tumbling down like a controlled demolition.
The Buckeyes scored on the second play of the game – a 33-yard pick-six by Doran Grant – and their second play from scrimmage – a Braxton Miller-to Jeff Heuerman 40-yard touchdown pass – to assert their dominance and set the cruise control en route to a 56-0 victory. It was the second shutout of the season and first against an FBS opponent since the 2011 season opener versus Akron.
Win No. 21 in a row came with nary a tremble for Ohio State fans. Since the turn of the 21st century, the Buckeyes were just 2-4 in West Lafayette prior to Saturday. It took all of one quarter to reverse the curse. In recent weeks, college football has been tossed into a hamster ball and flung around with upsets rearranging the rankings the past two weekends. Fourth-ranked Ohio State made sure it wouldn't be part of the trend in Week 3.
"You take a look two years, [Ohio State] lost. Last year, we could've lost to the same team. This year, we played at a much high level," head coach Urban Meyer said. "I know the history. We actually had a great discussion about it. Jack Mewhort brought it up. These players are very smart. They understood it and came out and took care of business."
Braxton Miller's day of work consisted of one half. He completed 19-of-23 pass attempts for 233 yards and four touchdowns, with the lone blemish an ill-advised interception in the red zone. But it was tight end Jeff Heuerman who evolved into the story on offense, not Miller or Carlos Hyde.
Heuerman's season stats included 139 receiving yards and a touchdown before the clock struck high noon Saturday. Shortly thereafter, he nearly doubled those numbers, finishing with five catches for 116 yards and a touchdown. It was the most productive day for an Ohio State tight end since John Frank's 123 yards against Michigan in 1983. The last 100-yard receiving day for a tight end was Rickey Dudley in the 1996 Citrus Bowl.
"We had a good game plan coming in," Heuerman said. "[Purdue] gave us some things we thought they were going to give us. Our O-line executed the protection awesome and Braxton threw some awesome balls. It worked out in our favor."
For years Joe Tiller ran the basketball on grass offense at Purdue. On Saturday, it was the opponent who turned the real grass field into the hardwood. The Buckeyes had 640 yards of total offense, topping the 600-yard mark for the second consecutive week and fourth time this season. 
"Our offensive line is blocking people and there are a whole lot of targets," Meyer said.
Hyde eclipsed the 100-yard barrier for the fourth time in as many games, while Kenny Guiton came on in relief to account for three touchdowns and 157 total yards. 
Robust, stout and vigorous are all words you could use to describe Ohio State's effort on both sides of the ball. Purdue's offensive numbers were nothing short of putrid. The Boilermakers produced 10 first downs and 116 yards of offensive. They didn't ascend the 100-yard plateau until late in the fourth quarter. It was another gesture to the country from a group of Buckeyes pining for respect.
"We try to show everyone we can compete, too," said defensive end Noah Spence, who finished with a sack and fumble recovery.
Said Meyer: "We discuss playing for championships in November, and that's what we're doing."
The game was far different from previous trips to Purdue and last season's overtime thriller in Columbus. Ohio State led 7-0 less than a minute into the game, 14-0 before the 10-minute mark of the first quarter, 28-0 at the end of the opening quarter and 42-0 at halftime. Those 42 points came on 31 plays and two Purdue turnovers. The final margin of 56 points represented the most lopsided game in the series history, dating back 96 years.
The win was Meyer's 22nd consecutive victory as a head coach, tying a personal best set twice at Florida.
Turbulence has accompanied Darrell Hazell throughout his first year at Purdue. Talent is lacking, which has led to an abundance of underclassmen on the two-deep roster. True freshman quarterback Danny Etling struggled from the outset Saturday, turning the ball over twice, taking six sacks and completing just 13 of 29 passes for 89 yards.
Ryan Shazier finished with a team-high seven tackles, two sacks and three tackles for loss. Shazier, Spencer, Steve Miller, Michael Bennett and Adolphus Washington teamed up for the Buckeyes' six sacks. Ohio State also had 10 tackles for loss.
"We have a good group," defensive coordinator Luke Fickell said. "We have confidence that we can be more aggressive, whether they have a freshman quarterback or not. We're not going to slow down."
The last time the Boilermakers were shut out in consecutive games Dwight Eisenhower was president. They've lost six consecutive games, their most since 2005. It's the longest losing streak of Hazell's head-coaching career. The last win came in September against Indiana State, an FCS school. September was also the last month Purdue took a snap in the red zone.
"Anytime you go out and play a good football team, you can't go out there and spot them the way we did," Hazell said. "You can't throw interceptions for touchdowns."