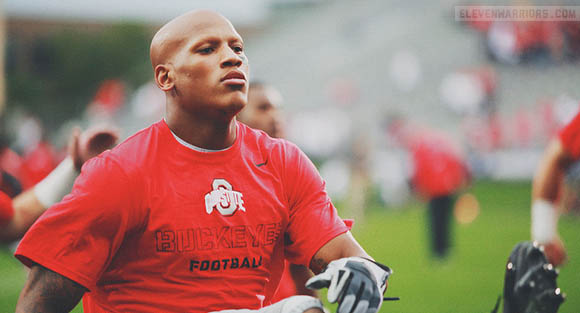 One of the top five worst hangovers occurred during Ohio State at Purdue in 2009 when Terrelle Pryor had a horrific four turnovers. (I assume the hangover Terrelle played with was as crippling as mine.) Boy, do I really get boiled by Purdue; they're from the most boring part of maybe the most boring state in the country. If Ohio State loses today, then there might be some sort of dark magic on Ross-Ade stadium. 
No motivational speech is needed for a game like this. Just roll out there and handle the business; gypsy curses be damned.
The goal today is simple: keep everybody healthy during an easy win against a vastly inferior opponent and hope Alabama, Florida State or Oregon lose.
---
FROM THE DEPARTMENT OF WACKY STATS
From the department of wacky stats: no current Buckeye has ever won at Purdue.

— Kyle Rowland (@KyleRowland) November 1, 2013
Oh... this isn't going to be as easy as it should be, huh? Damn West Lafayette to Hell. 
I blame their high school facilities. Quit skimming money off the B1G's honeypot and invest in your shitty program. It was cute when you were a pesky mid-table team with Drew Brees slanging that rock. Now you've let yourself go and sit around smoking weed and watching Netflix every day. It's embarrassing for everybody involved.
#prayforbraxtonskneeligaments
---
WE'RE STILL STREAKING
With a win against Purdue today, the current Ohio State winning streak will move even closer to the school's all-time longest record. Here's a look at the top five streaks as of right now:
22 – 1967-69 (at Michigan, 24-12)
20 – 2012-13 (current)
19 – 2005-06 (vs Florida, 41-14)
19 – 2002-03 (at Wisconsin, 17-10)
17 – 1915-17 (tied Auburn, 0-0)
As General Sherman said as he lit his victory stogie in the raging flames consuming downtown Atlanta: "I fucking love winning."
---
TODAY'S EARLY GAMES
This early slate is less appetizing than somebody's half-eaten Subway found in a garbage can. The best non-OSU game, at least from where I'm sitting, is (24) Wisconsin at Iowa. (Whatever the over/under on the phrase "big-boy football" gets uttered, take the over.) The only other game featuring a ranked team is South Carolina as 12 and a half point favorites over Mississippi State.
Perhaps an OSU-Purdue noon banger being the best game on television was all part of the master-plot hatched by Jim Delany when he walked away from that ESPN bargaining table so long ago. Hard to argue with the plan right now.
Here's an early game slate before Ohio State puts its foot up Purdue's ass and we await the same fate of the Michigan Wolverines (#RollSparty):
| Kickoff (ET) | Matchup | TV | Internet | Favorite |
| --- | --- | --- | --- | --- |
| 12:00 p.m. | Army at Air Force | ESPNU | Watch ESPN | AF (-1) |
| 12:00 p.m. | Illinois at Penn State | ESPN | WatchESPN | PSU (-11) |
| 12: 00 p.m. | (24) Wisconsin at Iowa | ABC | ABC | WISC (-10) |
| 12:00 p.m. | Virginia Tech at Boston College | ESPN2 | WatchESPN | VT (-5) |
| 12:21 p.m. | Mississippi State at (14) South Carolina | SEC | WatchESPN | SCAR (-12.5) |