We may still be feeling the euphoria from putting Penn State on full blast Saturday night, but it's time to reluctantly turn our attention toward the barren wastelands of West Lafayette, home of the Purdue Boilermakers.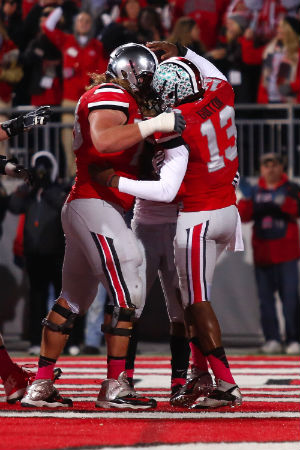 Ohio State is now 8-0 and we are now two thirds of the way through the regular season. But despite the fact that the Buckeyes are 31-point favorites this weekend, Purdue has had more than its fair share of good fortune against the good guys from Columbus, particularly in Ross-Ade Stadium.
Me and Johnny discuss the upcoming trip to Purdue and look back (quite fondly, I might add) at the big 63-14 win over the Penn State Nittany Lions. Mike Carmin of the Lafayette Journal and Courier joins us to tell us everything there is to know about Darrell Hazell's Boilermakers and their difficult (1-6) season so far.
And, of course, no Eleven Dubcast would be complete without your questions in our world famous Ask Us Anything segment. We respond to yet another hard-hitting round of your very tough questions. If you didn't ask us a question, but would like to, you can do that by emailing us at elevendubcast@gmail.com!
You can grab this week's Dubcast as well as a full breakdown of the show after the jump.
Here's how the show progressed:
0:27- "Spooky" Johnny Ginter and I reminisce about several aspects of Saturday night's victory over Penn State, then look ahead to the Boilermakers.
21:29- Mike Carmin joins the party to give us the skinny on Purdue football in 2013 and where the program is headed under first-year head coach Darrell Hazell.
38:20- Ask Us Anything gives us a chance to tell you without question that we know what Urban Meyer's favorite vegetable is and what he should wear.
50:52- West Lafayette: your least favorite B1G city?
If you like what you hear, be sure to visit us on iTunes and give us some positive feedback.
And that'll do it for a spellbinding edition of the Eleven Dubcast. The music this week was Blow Wind! Bring Forth Storm by American Hollow, Wasted Years by Iron Maiden, and Journey from Mariabronn by Kansas.