For one play, the Steelers defense took on the sieve-like quality of their offensive line and allowed Terrelle Pryor to scamper 93 yards for a touchdown. He smashed a couple records and ran away with our highlight of the week honors, as well.
Pryor won't be allowed on campus anytime soon, but three notable, former players returned to Columbus. That includes one of the newest members of the College Football Hall of Fame.
One Buckeye is still trying to earn a roster spot and participated in a tryout this week. Unfortunately, his season ends before it even had the chance to start.
Plus, Eleven Warriors has stats from all former Buckeyes who are actually in the NFL.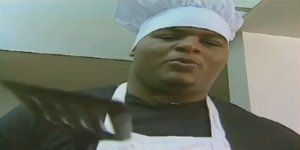 Pace Honored, Ginn and Herron Chill On Sidelines
This past week, Buckeye legend Orlando Pace returned to the place where he served up his best pancakes.
Ohio State recognized the two-time All-American and Lombardi Award winner during the Penn State game for – among other things – his induction into the College Football Hall of Fame.
The former Rams and Bears (barely still counts) tackle isn't settling for just this honor. He's hoping to make it to a different hall of fame, which is in his home state.
"If Canton calls, I'll be ready," Pace told Pat Brennan. "That's always been a goal of mine."
The Sandusky native certainly has the credentials to get into the Pro Football Hall of Fame. In his 13 year NFL career, he made the Pro Bowl seven times and was the anchor of an explosive Rams team that won the Super Bowl.
Pace also recently donated $250,000 to the university.
"Recruiting is such a big competition, and I wanted to do my part and give back," Pace told the Dayton Daily News. "Once those recruits walk in that room, they'll see Ohio State is the place to be."
Meanwhile, two current NFL players also had time to stop by the Horseshoe for Saturday night's evisceration of Penn State.
Ted Ginn Jr. played Thursday in Tampa, so he had a free weekend to hang out with Daniel "Boom" Herron on the sidelines. Ginn wore Braxton Miller's no. 5. His old jersey has been passed around between Jordan Hall and Rod Smith all season, and a man of Ginn's stature wants nothing to do with that smut.
Wells tries to impress Baltimore, Tears Achilles instead
After getting cut by the Cardinals in March, Chris "Beanie" Wells has yet to find a home.
He worked out with the Giants in September and with the Ravens, Wednesday. He was not signed, mainly because he tore his Achilles tendon during his tryout, according to the Baltimore Sun.
Despite their terrible offensive line play, Baltimore would have been a good spot for Wells. Ray Rice has been banged up and ineffective, while backup Bernard Pierce is dealing with a hamstring injury.
Wells missed half of last season with turf toe and has yet to fully display the talent that made him a first round pick. In 2011, he ran for 1,047 yards and 10 touchdowns but has now regained the "injury prone" label. 
Highlight of the week
Isn't this the same run from that GIF at the beginning of this story? We don't mean to houndie hound you with it, but it is a record breaking play.
Pryor set an NFL mark with this 93-yard dash, the longest run for a QB in NFL history. He also snuck past Bo Jackson's team record by with a run that was a yard longer:
How ex-Buckeyes Fared During Week Eight 
| Player | team | position | stats/Notes |
| --- | --- | --- | --- |
| Mike Adams | Pittsburgh Steelers | OT | Made triumphant return to LT spot after injury to starter |
| Will Allen | Pittsburgh Steelers | S | 1 tackle in loss to Raiders |
| Alex Boone | San Francisco 49ers | OG | 49ers rush for 221 yds in win, groupies flock to him |
| Michael Brewster | Jacksonville Jaguars | C | Jags atrocious... but in London, this time!  |
| Chimdi Chekwa | Oakland Raiders | CB | Active in win over Steelers |
| Kurt Coleman | Philadelphia Eagles | DB | 1 tackle, 1 fiancée who encountered Drake this week  |
| Jim Cordle | New York Giants | C | Remains starter after David Baas is placed on IR |
| Nate Ebner | New England Patriots | DB | 4 tackles in win over Dolphins  |
| Ted Ginn Jr. | Carolina Panthers | WR | 5 rec, 80 yds in win, returned to C-bus with Boom  |
| Johnathan Hankins | New York Giants | DT | Active, but didn't record any stats. Much like 2 offenses |
| Brian Hartline | Miami Dolphins | WR | 4 rec, 37 yds in loss to Patriots |
| Ben Hartsock | Carolina Panthers | TE | Left Tampa with two wins – beat Bucs & didn't get MRSA |
| A.J. Hawk | Green Bay Packers | LB | Unusual that he didn't lead team in tackles, but had 5 |
| Boom Herron  | Indianapolis Colts | RB | Colts on bye week |
| Cameron Heyward | Pittsburgh Steelers | DE | 6 tackles in another loss, but he still loves Pittsburgh |
| Santonio Holmes | New York Jets | WR | Inactive, injured, haughty columnist want him out |
| Malcolm Jenkins | New Orleans Saints | S | Recorded 5 tackles before leaving with leg injury |
| James Laurinaitis | St. Louis Rams | LB | Plays tonight vs Seahawks |
| Nick Mangold | New York Jets | C | Played through rib injury in loss to Bengals |
| Jake McQuaide | St. Louis Rams | LS | Plays tonight vs Seahawks |
| Mike Nugent | Cincinnati Bengals | K | Rest of offense picks him up – 7 XPs in win  |
| Ryan Pickett | Green Bay Packers | DT | 2 tackles in win over Vikings  |
| DeVier Posey | Houston Texans | WR | Texans on bye week |
| Terrelle Pryor | Oakland Raiders | QB | 10-19, 88 yds, 109 yds rushing. Most came on this run |
| Brian Robiskie | Atlanta Falcons | WR | Inactive in loss to Cardinals |
| Dane Sanzenbacher | Cincinnati Bengals | WR | 2 rec, 18 yds in win over Jets |
| John Simon | Baltimore Ravens | LB | Ravens on bye week |
| Rob Sims | Detroit Lions | OG | Like alma mater, Lions had over 600 yds total offense |
| Jake Stoneburner | Green Bay Packers | TE | Made a tackle on special teams in win over Vikings |
| Donte Whitner | San Francisco 49ers | S | Says there's "lots to improve on" after 42-10 win |
[GIFs via Bleacher Report and SB Nation]