The rest of America dreads the day racist St. Louis Cardinals fans or racist Boston Red Sox fans celebrate a World Series title, but Ben Hartsock is still excited about baseball. His imitation of an MLB umpire came after Chris Long punched a Panthers player, which resulted in Long's ejection. 
Meanwhile, one of Hartsock's former teammates is riding a streak of hitting game winning field goals. He is the most dominant offensive force in the AFC North.
DeVier Posey has, apparently, made a full recovery from a major injury. Plus, Eleven Warriors has stats from Posey and all the former Buckeyes in the NFL.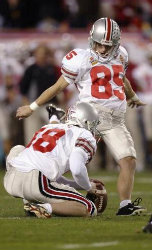 Nuuuuuuuuuuuuuuuuuuuuuuuuuge
In many ways, Mike Nugent is just like you. Don't you wish you could relive your glorious collegiate days?  When you crushed an epic amount of Natty and tail, bro?
Nugent does too, which is why he's replicating his college kicking performances. Calling back to a 2004 game against Marshall, "Nuge" nailed a fifty-plus yarder to win the game for his team.
It's the second straight week he courageously led Cincinnati to a victory, making up for Andy Dalton's lack of a "clutch gene" (Nugent can't do anything about Dalton's "gingervitis," however).
The 2004 Lou Groza Award winner has hit eight of his 10 field goal attempts on the season.
Roster Shakeups
NFL teams were busy shifting around Buckeyes last week, and that momentum carried over to this week.
The Packers added Jake Stoneburner to their active roster, and outfitted him in pants that are not flattering for tight ends (certainly not a result of being scared of their week seven opponent).
To the dismay of those in his home state, Stoneburner's first NFL highlight was a roughing the punter penalty. To his credit, the flag brought Brandon Weeden back onto the field, and he promptly threw an interception.
New England is the latest victim of Geno Smith's late-game heroics and controversial football rules. Buckeye defensive backs are no stranger to the latter, so it made sense to bring on Travis Howard.
The undrafted Howard entered training camp on the Texans roster, but was waived in one of Houston's final rounds of cuts. He was a free agent until the Patriots added him to their practice squad. 
Justin Boren participated in training camp with the Broncos before injuring his toe. Denver placed him on injured reserve, where he sat until being waived. Boren, who previously played for the Ravens and Lions, is now a free agent.
Highlight of the week
Case Keenum made his first NFL start and didn't consistently throw it to the other team – the opposite of what Matt Schaub did. One of his passes went to DeVier Posey, who is coming off a torn Achilles tendon. Posey had his first notable highlight of the year, with this nice catch and run. 
How ex-Buckeyes Fared During Week Seven 
| Player | team | position | stats/Notes |
| --- | --- | --- | --- |
| Mike Adams | Pittsburgh Steelers | OT | Stepped in at RT after an injury in win over Ravens |
| Will Allen | Pittsburgh Steelers | S | Active for Steelers, still drawing ire of Cowboys fans |
| Alex Boone | San Francisco 49ers | OG | Affectionate with Kapernick in win over Titans |
| Michael Brewster | Jacksonville Jaguars | C | Jags still awful, Brewster still not starting  |
| Chimdi Chekwa | Oakland Raiders | CB | Raiders on bye week |
| Kurt Coleman | Philadelphia Eagles | DB | One tackle, still adored by Eagles fans in loss to Dallas |
| Jim Cordle | New York Giants | C | Giants play tonight vs Vikings |
| Nate Ebner | New England Patriots | DB | Active on special teams in loss to Jets, stalked by fans |
| Ted Ginn Jr. | Carolina Panthers | WR | 2 rec, 34 yds, 2 KR, 54 yds in win over Rams |
| Johnathan Hankins | New York Giants | DT | Giants play tonight vs Vikings |
| Brian Hartline | Miami Dolphins | WR | 6 rec, 69 yds in loss to Bills |
| Ben Hartsock | Carolina Panthers | TE | Gave Chris Long the "heave-ho" in win over Rams  |
| A.J. Hawk | Green Bay Packers | LB | Team leading 12 tackles in win over Browns |
| Boom Herron  | Indianapolis Colts | RB | Active on special teams against Broncos |
| Cameron Heyward | Pittsburgh Steelers | DE | 1 tackle and an 11 yd kick return in win over Ravens |
| Santonio Holmes | New York Jets | WR | Inactive in win over Patriots due to hamstring injury  |
| Malcolm Jenkins | New Orleans Saints | S | Saints on bye week  |
| James Laurinaitis | St. Louis Rams | LB | 11 tackles, 1 sack and anti-Superman in loss to Panthers |
| Nick Mangold | New York Jets | C | Shared a tender moment with Geno Smith after win |
| Jake McQuaide | St. Louis Rams | LS | Snapper on 2 FGs, 1 XP in loss to Panthers |
| Mike Nugent | Cincinnati Bengals | K | 2-3 on FGs and – yawn – another game winner |
| Ryan Pickett | Green Bay Packers | DT | No listed stats but I assume he picked off Weeden |
| DeVier Posey | Houston Texans | WR | 1 rec, 42 yds in loss to Chiefs |
| Terrelle Pryor | Oakland Raiders | QB | Raiders on bye week |
| Brian Robiskie | Atlanta Falcons | WR | Made debut with Falcons in win over Bucs |
| Dane Sanzenbacher | Cincinnati Bengals | WR | Key 7 yd reception on game winning drive |
| John Simon | Baltimore Ravens | LB | Active in loss to Steelers |
| Rob Sims | Detroit Lions | OG | Stafford sacked 0 times and threw for 357 yds in loss |
| Jake Stoneburner | Green Bay Packers | TE | Flagged for roughing the punter in regular season debut |
| Donte Whitner | San Francisco 49ers | S | 3 tackles, suffered minor knee injury in win over Titans |
[GIF via @cjzero]