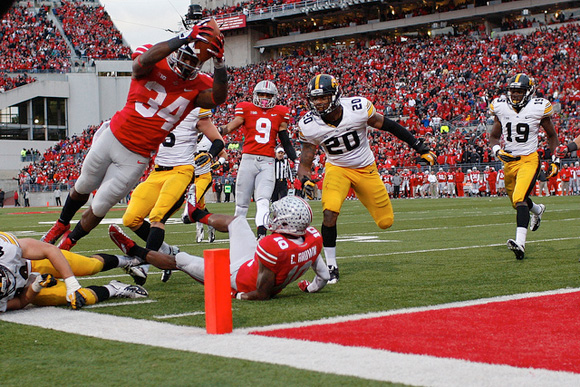 Another Saturday, another fantastic performance from Carlos Hyde. Facing the nation's 4th best rushing defense at the time (S&P+ Ratings) Hyde simply went off, tallying 149 yards and 2 TDs on 24 carries. Despite missing the first three games of the season, El Guapo is in the midst of putting together an incredibly impressive senior campaign.
How impressive? I'm happy you asked.
Carlos is a play-maker. There's no denying it.
For reference, take a look at exhibits A, B, C and of course D:  
If you feel like you're seeing more and more of El Guapo, it's because…you are. Over the past two games, Hyde has carried the ball 50 times, tying his career high two-game total from 2012 (Nebraska: 28 carries and Indiana: 22).
During Hyde's four game 2013, he's seen the ball 18 times a game, on par with his 18.5 carry average from a year ago. However, this season's average carry number was skewed by a five-touch outing against Florida A&M. Remove that game, and Hyde is averaging 22 carries a contest.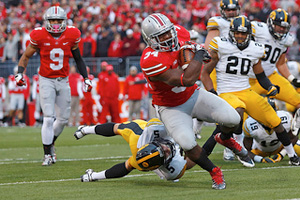 Not only is Hyde seeing the ball more, but he's been able to do more with it to the tune of a scintillating 6.2 yards a carry and 6 total TDs. Extrapolate those numbers across the course of a season (we'll use the conservative 18 carries per game figure) and Hyde becomes Urban Meyer's first 1,000 yard RB with 1,001 yards and 12 total TDs. Of course that's only counting regular season numbers. Hyde would have the opportunity to build on his totals in a potential B1G championship game and bowl game.
While those numbers are phenomenal considering Hyde essentially missed the first four games of the season, what is even more impressive is his current YPC average. As aforementioned, every time No. 34 totes the rock he's been good for 6.2 yards on average. You can't get much better than that.
Don't believe me? Let's bring in our good friends Mark Ingram, Reggie Bush, Ron Dayne, Ricky Williams, Eddie George and Rashaan Salaam. They've been kind enough to put their Heisman House hi-jinks on hold for just a few moments to regale us with their YPC averages from their trophy winning seasons.
Take it away fellas:
Mark Ingram (2009): 6.1 YPC
Reggie Bush (2005): 8.7 YPC
Ron Dayne (1999): 6.0 YPC
Ricky Williams (1998): 6.0 YPC
Eddie George (1995):  5.9 YPC
Rashaan Salaam (1994): 6.9 YPC
As you can see, Hyde's average stacks up more than favorably. Only the electric Bush and the explosive Salaam were able to make more happen per carry than El Guapo. Of course, there's plenty of football to be played, and Carlos' yards per tote could take a dip, but No. 34 has historically shown he only gets stronger as the season continues.
It's safe to say Hyde is playing some of the best ball of his life. Over the past two games, the Buckeyes leaned on him in crunch time and he delivered in droves, putting the Scarlet and Gray on his back when they needed him most. Feeding El Guapo is not only the safe thing to do…it's the responsible thing to do. With eye-popping averages that could elevate him to rare air, Hyde is looking like the motor of this high-powered offense.