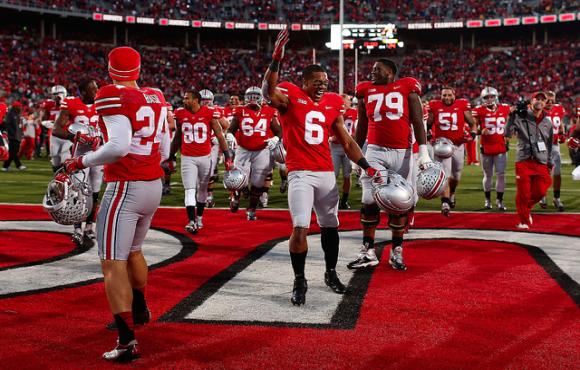 COLUMBUS – The first big controversy has arrived in Columbus. No, not the yet-to-be-released BCS standings. Instead, fans are up in arms about the ruling that led to cornerback Bradley Roby's ejection.
Ohio State was already trailing 7-3 and Iowa again found itself on the short side of the 50. Tight end C.J. Fiedorowicz caught a pass from Jake Rudock when he turned to run up field. But that never happened because Roby delivered a crushing blow.
When the flags were thrown, linebacker Ryan Shazier knew it meant Roby would be ejected. He was right. The opinions from fans, coaches and players differed, with most in scarlet and gray believing it was a bad call.
"I thought it was a real bad call," linebacker Curtis Grant said. "He led with his shoulder and you have to understand your head is connected to your body, so it is going to be in there on a hit. I just thought it was a bad call."
"Was it below the shoulder?" Ohio State head coach Urban Meyer asked the media. "That's my question. I guess I don't know. I got fined $30,000 one time for going after an official. So I'm not going to do that."
"The rule's in place and you live by the consequences of the rule," Iowa head coach Kirk Ferentz said. "I didn't think that was the closest call today, if that's what you're asking. It didn't appear that way to me. That's a tremendous crew of officials that we had on the field today."
"I'm not a referee," safety C.J. Barnett said, "and I'm happy I'm not. From my perspective, I think it was a great hit. It sucks that it had to get him thrown out the game, but player safety is the most important thing."
"We still gon get this W," Roby tweeted. "Believe that."
The second-most talked about play of the game was Carlos Hyde's 19-yard touchdown run that could have gone down as a 23-yarder. When he was hit and jarred backwards by an Iowa defender at the 7, Hyde gathered himself at the 11 before diving into the end zone. It was the best highlight play of the year so far for the Buckeyes.
Braxton Miller called it God-given talent.
"I've never had a run like that, but that play was working all day," Hyde said. "The safety came up and hit me. I came out of it and I was still up. I was like, 'Let me catch my balance," and once I did I turned around and was like, 'Man, I haven't even scored yet.' When I saw Philly's block, I just went in for the touchdown."
"While I was watching that, I was thinking, 'That's going to be on SportsCenter,'" offensive lineman Jack Mewhort said. "It was unbelievable. Everyone thinks of Carlos as a between-the-tackles guy, but when he gets out in space, he can do some cool things, too."
The story during the first half was the lackluster Ohio State defense. The unit gave up seven third-down conversions and surrendered 222 yards. Iowa led 17-10.
"At the half, some players and coaches just basically said, 'We need to get it together,'" Shazier said.
"We pride ourselves on being really good on third down, but we weren't there today," linebacker Joshua Perry said. "That's going to be one of those things we're going to go back and see what things we need to correct. We'll make those corrections, so next week we don't make the same errors.

"We want to get three and outs, get stops on third downs and ultimately get our offense the ball because we know our team is really good. Just going in at halftime we needed to get that chip on our shoulder."
"Defensively, I was very disappointed – very, very disappointed in first half because I thought we were getting pushed around," Meyer said. "The second half was much, much better, but that was a very good, physical team we were playing."
"There are times when you're not going to be perfect," defensive coordinator Luke Fickell said. "You have to be able to move on. We get so frustrated because we have such high expectations for what we do and you'd like to look up there and see a zero or a shutout. But when things don't go your way, you can't put your head down, you can't mope."
Fickell went on to give props to Mike Vrabel for righting some of the defense's wrongs.
"I've got to give credit a lot to Coach Vrabel," he said. "He kind of grabbed them on the sideline, sat them down and told them, 'Hey, this game isn't perfect. At times you're not going to be perfect, and the thing you have to be able to do is move on.'"
Christian Bryant suffered a season-ending ankle injury three weeks ago. Meyer has taken the setback hard, and he mentioned it again Saturday. But this time he had encouraging news for the Buckeyes to go along with it.
"When you lose Christian Bryant, I keep looking for that next guy and I found him, I think. It's No. 10, Philly Brown," Meyer said. "The emotional guy that's in that locker room and the kickoff team. He was outstanding. Philly Brown, I wouldn't walk across the street for him last year. Now he's a guy that's an incredible leader.

"I just looked at him, 'Don't let me down.' He was phenomenal today. He was picking up the slack of Christian Bryant. Christian's unique. The people that devalue and don't understand that have never have been in the locker room, never been in the huddle, having that energy source."
It was a banner day for the offensive line. They pushed around the Iowa defensive line that had been so successful this season. Ohio State had well over 200 yards rushing and two rushing touchdowns – the first two the Hawkeyes allowed on the season.
"They're big, strong and they train well and practice well," offensive line coach Ed Warinner said. "They wear people down, so in the second half we can create running seams. We have good running backs. We're very confident that they'll come through and play well when we need them to."
"As a unit, I think we do a lot of things right," Mewhort said. "It just boils down to hard work. It's something we embrace."
"We knew going in that Iowa was a physical team, that they had one of the leading rushing defenses in the nation," Meyer said. "But we responded, especially in the second half. We had 273 yards against a team that's as good against the run as anyone, so we were pleased with that."
Miller had his best game of the season, accounting for 324 yards of total offense and two touchdowns. He completed 22-of-27 pass attempts.
"I can always tell when he's feeling good, when he's running, carrying out fakes, those types of things," Meyer said. "I can see it now. He looks better, he looks like he's feeling great."
Meyer on not going for it on 4th down late in the first half:
"We were into the breeze a little bit," he said. "I thought about punting it. I think [Braxton] was throwing the ball well and receivers were catching the ball, so I decided to take a chance there."
Perspective from Urban:
"I've learned a lesson in my life. I'm going to enjoy this win," Meyer said with a mischievous grin. "I feel outstanding. I'm going to go hug my players and hug my family and go to work tomorrow. But, tonight? I'm not worried about the defense. I'm going to enjoy this win."