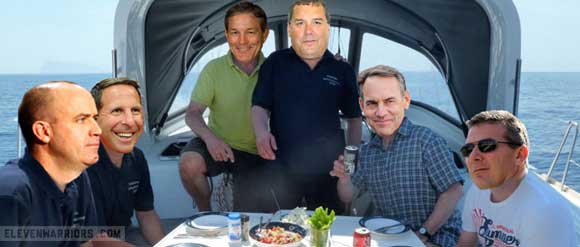 There isn't a whole heck of a lot that I enjoy more than knocking Kirk Ferentz down a peg. It's not really a peg that hasn't been knocked down repeatedly before, but the sheer ridiculousness of his salary combined with the fact that his contract extends through 2020 is a special kind of Dr. Seussian absurdity that can only really exist in the chaos hole that is college football.
But with that said, the Hawkeyes are now 4-2, matching their win total from last season. Kirk Ferentz now has a semi-functional offense, and a decent defense to match. Though this Saturday will go a long way towards verifying whether or not there's any teeth to the squad Ferentz has somehow cobbled together in 2013, it's still important to note when coaches are earning their salary and when they are not.
That's why today we're going to take a long, hard look at various Big Ten coaches to see if they're truly earning their salary, or if they're still just ducking the alumni and hoping that people don't notice or get fed up with a never ending stream of mediocrity and disappointment. And since that criteria varies from coach to coach, it's take a look at the select few in the Big Ten and how they stack up against Top Dog Urban Meyer.
Mark Dantonio, Michigan State ($1.934 million in 2012)
Two million dollars is nothing to sneeze at, but it's also roughly half of what Meyer earns. If the question is "Does Mark Dantonio earn that sweet ass cash?" then you've gotta look at some metrics.
For example, last season Michigan State won seven games. It was a disappointing season for a team projected to be one of the leading contenders for the Big Ten championship, and Mark Dantonio responded to this crisis by going out and hiring Jim Bollman to be his offensive coordinator. So, problem obviously solved as Sparty is now averaging 374 yards of total offense per game rather than the 360ish they were averaging last year.
Anyway, if we break down Dantonio's salary per win, the dude was paid a hair over $276,285 after every victory last season. Since that's not how salaries work, it was actually significantly less than that per game, but it does go to the value of a coach and it's kinda fun to think about.
Earning that paper?
Yeah, kind of. I mean, it's Sparty.
Brady Hoke, Michigan ($3.046 Million in 2012)
| No. | Coach | School | Compensation |
| --- | --- | --- | --- |
| 01 | Urban Meyer | Ohio State | $4.3 million |
| 02 | Kirk Ferentz | Iowa | $3.835 million |
| 03 | Brady Hoke | Michigan | $3.046 million |
| 04 | Bo Pelini | Nebraska | $2.875 million |
| 05 | Bill O'Brien | Penn State | $2.3 million |
| 06 | Darrell Hazell | Purdue | $2.0 million |
| 07 | Mark Dantonio | Michigan State | $1.934 million |
| 08 | Gary Andersen | Wisconsin | $1.8 million |
| 09 | Tim Beckman | Illinois | $1.6 million |
| 10 | Kevin Wilson | Indiana | $1.26 million |
| 10 | Pat Fitzgerald | Northwestern | $1.26 million |
| 12 | Jerry Kill | Minnesota | $1.2 million |
Hoke didn't win a ton of games last season, but since 8-5 isn't a crime against humanity either, we'll have to look at other ways to quantify his worth to the Michigan Wolverines football program.
This year Brady Hoke signed 19 (!!!) four and five star recruits to his 2013 class, which comes out to $160,315 per prospect. Money well spent on the part of Michigan, and yes that is a sly implication that they paid for recruits (which, no, I don't actually think they did) (probably).
But frankly, I think it's more helpful to take a look at the HORRIBLE TRAITOROUS INFIDELS that Hoke conned away from their home state of Ohio, and how much he earned per disgusting human being. 12 terrible jerks fled the beautiful hills and valleys of the Buckeye state for whatever pain and dreariness awaits them in Ann Arbor. Hoke was compensated $253,833 for each little Quisling he ferreted out of our fine state.
Earning that paper?
Only if you accept the fact that he's Michigan's Earle Bruce.
Tim Beckman, Illinois ($1.6 million in 2012) and Pat Fitzgerald, Northwestern ($1.26 million in 2012)
Look at those numbers! LOOK AT THEM.
Tim Beckman is not a very good coach. He has yet to win a B1G conference game, and as long as we're taking salaries and dividing them by things, I like to imagine that Beckman smiled and nodded sagely after each of Nathan Scheelhaase's 22 sacks last season because he knew that meant another $72,727 dollars in his pocket.
Fitz, on the other hand, has a hilariously low salary commensurate with what he's been able to accomplish at Northwestern. Winning a bowl game by itself not only justifies his salary, it also justifies him getting paid the combined salaries of all the other Northwestern head coaches who failed to win one since the Paleolithic. Add in his adorable smile and he's got to be making at least $23,943 dollars for each time a Northwestern alumnus worries about him jumping ship for an academically important but more nationally significant football school. Like, uhhhh... Stanford? Nah. Or, aw crap, Michigan?? Probably not.
 Nah, Fitzgerald is staying put and will continue to be the most anachronistic coach in America salary wise.
Earning that paper?
Beckman, yes. There is no such thing as an easy swindle. Fitz, of course.
Urban Meyer, Ohio State ($4.3 Million in 2012)
Our Dear Leader still hasn't lost a game as the Ohio State head coach, which of course means that he never will. But let's assume that in some parallel universe Ohio State loses a game under his watch, and the city of Columbus doesn't burn down the WHAC in a blind rage at missing a chance to lose to an SEC team in the BCS championship game.
In this scenario, I assume that reporters and fans will make approximately 450,000 faux-concerned statements about his health, half implying that we'd rather see him have a cardiac episode while ensuring that another loss never happens than taking it easy Bob Stoops style and only usually beating our biggest rival. We want blood, coach. The opponents' or yours, your choice.
Earning that paper?
Yes, the dude is undefeated. But if he ever loses we're definitely dividing both his salary and children in half.
Kirk Ferentz, Iowa ($3.85 million in 2012)
Iowa totaled 3725 yards of total offense last season, good for 116th in the country. Since Ferentz is paid by the yard, that meant each tiny piece of real estate got him a whopping $1033 dollars. That's a better deal for Ferentz than what Seward got wen he bought Alaska from the Russians.
Think about that this weekend, as Mark Weisman repeatedly slams against the interior of the Ohio State defensive line for little to no gain, and know that each two yard dive brings Ferentz a little closer to that new fishing cabin in Minnesota.
Seriously though, Ferentz is one of the best-compensated coaches in college football. He has seven Big Ten wins in the last three years.
Earning that paper?
Hell no.
---
Overall, coaches salaries are interesting because each brings with them certain dynamics and back stories to the conversation. If you remember that coaches are literally millionaires exhorting uncompensated (depending on how you want to define it) young adults to greatness as a way to justify their salary, college football becomes even more exciting than it already is. This Saturday we're going to see more than one drama play out on the field, and one of them will be in the pockets of a dude who lines them with running back tears.