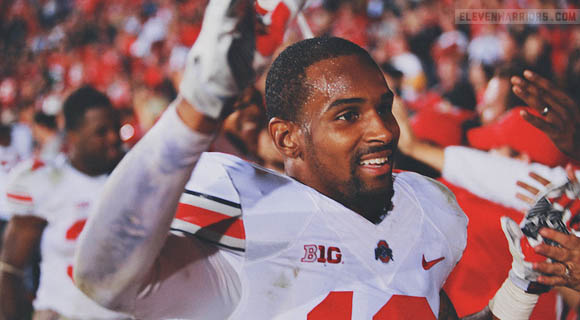 When Ohio State fans argue about the greatest wide receivers in school history, they usually bring up the likes of Cris Carter, David Boston, Joey Galloway, Terry Glenn, Santonio Holmes, Michael Jenkins and Ted Ginn Jr. Each is a true Buckeye legend and worthy of your praise.
It might not cross your mind to consider current Buckeye Corey "Philly" Brown among those names of great OSU wideouts. But it should.
Much like David Lighty did in basketball, Brown is quietly and steadily climbing the school's list of all-time leaders in several statistical categories. He's currently on a pace that would place him solidly among the most celebrated pass catchers in Buckeye lore.
But unlike Lighty, Brown didn't have a partial year with a medical redshirt to pad his totals. The senior from Upper Darby, Penn., started very slowly, catching only eight passes in 13 games in 2010 and 14 more in in nine games in 2011.
At times, it didn't seem that Philly would ever develop into half the player he has become. Who could ever forget the pass that bounced off his facemask in Ann Arbor in November of 2011?
Yet for all his early struggles and slow development, and perhaps a reluctance to adopt to Urban Meyer's and Tom Herman's new system, Brown has become not only reliable, but  one of Ohio State's most dangerous weapons on offense.
"I'm a big Philly Brown guy now and I wasn't," Meyer said following the Cal game.
Since the light went on for Brown at the start of 2012, his numbers have exploded, putting him within reach of some of the more heralded Buckeyes to line up at his position.
If Ohio State reaches the Big Ten championship game and appears in a bowl game, Philly would be on pace to reach 889 receiving yards for the 2013 season, which would give him a career total of 1,868 yards — where he'd be in great company. That total would place Brown 11th in school history for receiving yards, tucked in between No. 10 Dane Sanzenbacher (1,879) and would-be No. 12 Brian Robiskie (1,866).
If he reaches that total — or exceeds it — Brown would finish ahead of such notable OSU greats as Ken-Yon Rambo, Jeff Graham, Cedric Anderson, Glenn, Brian Hartline, Anthony Gonzalez, and Mike Lanese. Those are some solid pass catchers, although in fairness some of them left school early to turn pro.
As for his projected season total of 889 yards…well, that's better than any year Ginn had at Ohio State.
Philly is on pace to snatch 70 passes this season, which would be third most in Ohio State history, behind only the 1998 version of David Boston (85) and 1997 Boston (73). Brown has already recorded the sixth most receptions in a season by a Buckeye last year, grabbing 60 — a mark DeVier Posey reached in 2009.
Reaching 70 catches for the year would give Brown a career total of 152. That would be the fifth highest total in school history, trailing only Boston (191), Carter (168), Jenkins (165), and Gary Williams (154). Philly would be ahead of the likes of Holmes (140), Ginn (135), Dee Miller (132) and Galloway (108).
Even if he didn't catch another pass all season, Philly would finish with the 11th most receptions in school history. As of this writing, he needs nine more to tie standout tight end John Frank for 10th. He currently stands 18th in receiving yards and will catch Bobby Olive with 59 more yards.
The OSU media guide and record book would be filled with "Corey Brown" entries. Philly's projected final average of 3.2 receptions per game would rank fifth in school history, tied with Jenkins and Williams. And don't forget that he is already tied for fourth in school history for receptions in a game, with 12 last year at Sparty. Only Williams and Boston (twice) have hauled in more than a dozen passes in one game as a Buckeye.
He also scores. Brown has 10 career touchdown receptions and would move into the top 10 in school history with six more. He is averaging nearly one per game in 2013, so he's on pace to finish with six or seven more before season's end.
Philly has stamped his name into the record books as a punt returner as well. Only Garcia Lane, Graham and Ginn have returned more punts for touchdowns. Over his career, Brown is averaging 12.9 yards per punt return, which is the fifth best mark in school history, behind Graham (13.0), Larry Zelina (13.2), Ginn (14.1), and Neal Colzie (14.3). However, his numbers could go up, as he's averaging 16.1 yards over his nine returns in 2013.
It's reasonable to assume that Brown can continue his production if he stays healthy. The Buckeyes will run up against better defenses against the run, and Meyer won't have the luxury of pulling Philly out early with the other starters as he did against San Diego State and Florida A&M.
If Brown stays on his projected numbers, he will have put together one of the best receiving careers in the annals of Ohio State football. But will he be remembered as one of the all-time greats? Or will his lasting impression be that of a steady, solid and consistent contributor — the David Lighty of football?