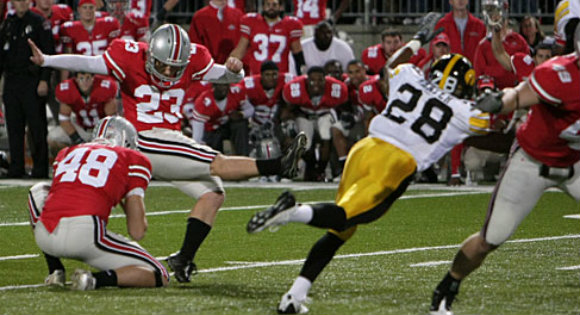 To the Booth usually looks backwards at charting data while previewing the week's opponent at the same time, but this week we have the opportunity to be solely devoted to the B1G-ness of the Hawkeyes.
Iowa is perhaps the most Big Ten-y of all the B1G teams this year: mediocre offense (65th in the country in scoring offense – almost as mediocre as can be) and great-to-excellent defense (13th in the country in scoring defense).
How do the Buckeyes stack up? Well, I'll kill the suspense and go ahead and predict the Buckeyes will win. Below I take a look at the Iowa offense and defense and see how well the Buckeyes should do by the numbers.
The Iowa Offense
The Iowa offense of 2012 was historically bad, more content to move the ball horizontally than actually, you know, down the field for points. This year's 29.7 points per game is almost a miracle in comparison (even if that includes a 59-3 win against Western Michigan). 
|   | F/+ | Pass YPA | Rush YPA | PPP | Expl Play |
| --- | --- | --- | --- | --- | --- |
| Iowa Offense | -3.6% (74) | 7.09 | 4.46 | .39 | 20 (111) |
| OSU Defense | 8.9% (27) | 6.95 | 2.69 | .29 | 15 (7) |
Besides Mark Weisman, champion over AIRBHG, I'm most impressed with the Iowa offensive line's ability to prevent sacks. They have only allowed five sacks all season (compared to OSU's eight). 
The passing game isn't very threatening, especially considering that their turnover ratio is -4 due mostly to Jake Ruddock's six interceptions. This is good for the Ohio State defense, which is clearly weak against the pass. 
We'll likely see more of the same defensive strategies used against Wisconsin and Northwestern as Withers and Fickell will first attempt to prevent Weisman from setting a high RBSR.
Iowa's offense runs a play every 23 seconds
One of the biggest mismatches is in explosive play margin. Simply enough, Iowa is one of the worst in the country in plays of 20+ yards, and somewhat surprisingly, Ohio State has been one of the best in preventing 20+ yard plays. Barring serious breakdowns in tackling, there shouldn't be many big plays when the Iowa offense has the ball.
Ohio State's defense has the edge over the Iowa offense according to every metric I track. Unless Ruddock starts slinging it to golden gloved receivers downfield, I feel confident about the Buckeye defense turning in a good game.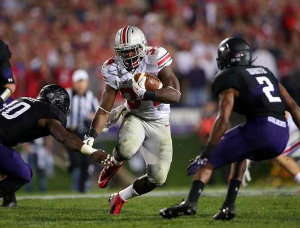 Iowa on Defense
The Iowa defense, on the other hand, is more than competent – especially against the run. 
The best rushing team Iowa has faced was Northern Illinois and Iowa held them to 3.9 yards per carry (on 42 attempts!). Michigan State was the only other team to attempt to run as much as the Huskies, running 37 times for 3.7 yards per carry. 
So it's clear that the Hawkeyes are excellent against the run, but it's unclear exactly how good they are since only two teams have rushed more than 27 times in a game (that might be because the rush defense really is that good!). Carlos Hyde will find out on Saturday just how good this unit is.
They have surrendered an average 88 rushing yards per game and have notably not allowed a rushing touchdown yet. They are the only FBS team to not do so.
Meyer had some perspective on this last night: 
Meyer dropped a great note on the media. Said Iowa is yet to line up in its goal line defense.

— Kyle Rowland (@KyleRowland) October 16, 2013
|   | F/+ | Pass YPA | Rush YPA | PPP | EXPL Play |
| --- | --- | --- | --- | --- | --- |
| IOWA Defense | 14.4% (15) | 5.59 | 3.07 | .26 | 19 (19) |
| OSU Offense | 12% (16) | 7.49 | 6.08 | .63 | 31 (36) |
Talk about a matchup of strengths. The Iowa defense excels according to every metric I track with regularity. The F/+ numbers indicate that the matchup is a push, though.
The Iowa defense allows opponents .03 points per play less than Ohio State's, though I would argue that Wisconsin, Cal, and Northwestern all are better offenses than any team Iowa has faced, save maybe Northern Illinois.
The Iowa defense is geared to stop the run, which should allow for some opportunities with play action.
The Iowa offense is not about explosive plays, but neither is the defense, which has only allowed 19 plays of 20+ yards. 
Iowa's weakness on defense is definitely its pass rush, which only has six sacks (112th in the country). This makes me even more optimistic about play action.