We're back from Ohio State's bye week and Johnny and I can go back to talking about an upcoming Buckeye football game. The Iowa Hawkeyes are next up on the 2013 football schedule and it's time to bring the pain to a team we haven't seen for a few years.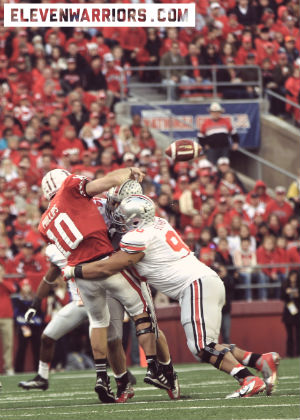 But first we have to take certain national media members to task for being lazy and boy is Johnny angry (hint: you wouldn't like him when he's angry). Is it really too much to ask for someone to do their job correctly?
Our good friend and Twitter All-Star Adam Jacobi of SB Nation and Black Heart Gold Pants joins us to talk about the Hawkeyes of Iowa, a defense that will annoy Ohio State fans, how historically bad the 2012 Iowa offense was, and other topics.
In our Ask Us Anything segment, we're pretty sure you asked us everything. Seriously, thanks for all the emails and Twitter questions. We might have to start a separate podcast for all of them.
This is a supersized Dubcast in large part because we literally cleaned out the mailbox. You can ask your questions each and every week by emailing us at elevendubcast@gmail.com!
You can grab this week's Dubcast and get a full breakdown of the show after the jump.
Here's how the show progressed:
0:25- Johnny and I discuss the lazy journalistic methods of one Pat Forde, the return of Jordan Hall and Tommy Schutt, the upcoming game against Iowa and Saturday's epic stupidity that was Michigan at Penn State.
22:00- Adam Jacobi jumps in and tells us what to expect from Iowa, how the game may unfold, and gives us the lowdown on what fans think of Greg Davis and Kirk Ferentz.
47:40- It's Ask Us Anything time! This week's questions begged us for our perspective on what strategy to take with the ladies (if we were stud OSU football players), what's up with the national media, our dream non-conference schedule, how to fix the secondary and more!
1:13:05- You're carpooling with Ohio State players. Who ya got?
And that'll do it for another Eleven Dubcast. The music this week was Stockholm Syndrome by Muse, Hawkeye by The Alan Parsons Project, and When the Heart Rules the Mind by GTR.