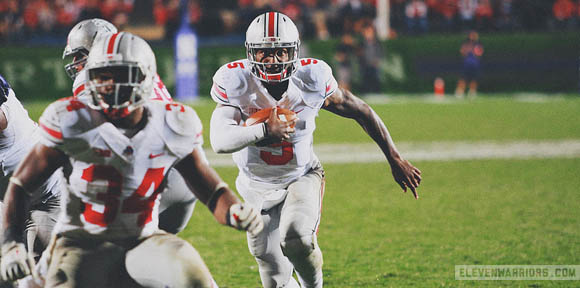 One team in major college football has managed to keep their opponents from running into the end zone. That team is Iowa. The Hawkeyes are limiting opponents to less than 89 yards rushing per game  making Saturday's game at Ohio Stadium a matchup of the immovable object and the irresistible force.
Ohio State is averaging 281 rushing yards per game, and bulldozing running back Carlos Hyde is coming off a career-high 168-yard, three-touchdown performance. Good defense or not, the Buckeye coaches trust their backfield of Hyde, Braxton Miller, Jordan Hall and a handful of others.
"We are a football team that likes to run the football," said running backs coach Stan Drayton, stating the obvious. "We like to think that we have an offensive line that presents that to us. So to sit there and say that we are going to go into this football game and not run the ball because Iowa is pretty good at it is not real.
"We are going to run the football and we are going to trust our offensive line to get engaged. We are going to trust our running backs to play through contact, and we'll win some and we'll lose some. We just have to maintain patience in that phase of the offensive scheme."
Carl Davis and Louis Trinca-Pasat are the Hawkeyes' interior defensive linemen. Paul Bunyan is rumored to have swung his ax near Iowa City, and Davis and Trinca-Pasat just might be the reincarnation with their hulking size. All that's missing is Babe the Blue Ox. Instead, they have Floyd of Rosedale.
When the bronze pig was up for grabs in late September, Minnesota entered the game with 1,129 rushing yards and 16 rushing touchdowns – both impressive. But Iowa laid waste to the Golden Gophers, holding them to 30 yards on 27 attempts and zero rushing touchdowns. Also included in the Hawkeye defense's banner day was three sacks.
"Carl and Louis are some of the toughest guys I've been around," Iowa defensive end Dominic Alvis said. The unit uses a six-man rotation of Davis, Trinca-Pasat, Alvis, Darian Cooper, Drew Ott and Nate Meier.
Iowa has the eighth-best rush defense in the country and ranks 12th in scoring defense. The Hawkeyes are actually allowing fewer points per game than Saturday's 17-point spread. The secret ingredient to their success near the line of scrimmage is no secret at all. It's simply fundamentals, staying in the appropriate gaps tends to result in short yardage plays for the offense.
After a season of disarray on both sides of the ball, Iowa's offseason was spent fine-tuning. The defensive linemen poured over film to find out where it all went wrong. 
"It took a lot of film study this off-season to understand the defense," Davis said. "I want to know as much as the linebackers know. If a center or guard gets up to the linebackers, I feel bad about it. I have to be the frontline guy to make sure they don't get back there."
The big guys for Iowa have been so impressive up front that Urban Meyer compared the Hawkeye D with that of two-time defending national champion Alabama. 
"We've been in there for two weeks trying to find a way to run the ball against this defense," he said. 
Hyde will test the Iowa defense with a combination of size and speed that it hasn't seen this season. He's played in three games and already has 294 rushing yards, averaging 6.1 yards a carry. With a conference championship game and bowl, Hyde is well on pace to become Meyer's first 1,000-yard running back. 
"If someone wants to question whether we run the ball effectively, I think over 12 years we run the ball really well," Meyer said. "I think there's no doubt, I love having big backs. It's finding them and making sure that they are powerful, fast guys. We got one with Carlos."
He ran for 970 yards and 16 touchdowns a year ago, but Drayton believes a dose of Hyde's success has come from a month-long stint on the scout team.
"I don't know a whole lot about Iowa other than I did coach against them in a bowl game awhile back and they are the same as they have always been on defense, real stout, real firm against the run."
A three-game suspension didn't mean Hyde would practice with the first-string four days a week and then reside in his off-campus apartment on Saturday. No, Hyde would take carries with the third- and fourth-string, split time with the scout team and then watch the games on TV from his apartment. 
"I wish I could raise every back that way," Drayton said with a hint of sarcasm. "I think mentally, it was an unbelievable advantage for him because, No. 1, being a starting tailback a year ago and having to play a backup role and a service role to this football team on the scout team made him hungry."
When you play on the scout team, there's contact on nearly every play. So even though Hyde wasn't getting game time, he was constantly being tackled. At Northwestern, it was evident running through contact was the smallest of issues. Hyde will be tasked with running through tree trunks this week. Iowa will be his stiffest test of the season, unless you count Ohio State's first-team defense.
"I don't know a whole lot about Iowa other than I did coach against them in a bowl game awhile back and they are the same as they have always been on defense, real stout, real firm against the run," Meyer said. "I can see that they are very good."
Blue-collar defenses are nothing new for Hyde. Iowa City and Lincoln might not be located in the Rust Belt, but the Midwestern cities are havens for working-class defensive lines.
"We score points. We don't kick field goals," Hyde said.
On Saturday, chances are at least one of those touchdowns will be of the rushing variety.