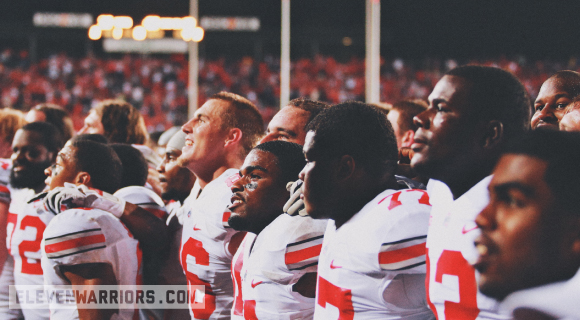 Life in the catbird seat isn't so easy. Sure, it means you have some of the best players and coaches. But it also assures you'll get every team's best shot. Urban Meyer confirmed that Tuesday during the Big Ten Teleconference.
He said each Saturday Ohio State's opponent has given them a wrinkle on offense or defense that wasn't on film. Now, the Buckeyes might be able to do the same. Defensive lineman Tommy Schutt returns from a foot injury this week as does Jordan Hall.
Meyer indicated Hall would be used on special teams, to complement Carlos Hyde in the backfield and as a third-down option. The coaching staff also took a look at Iowa's game tape after last year's bye so to glean every bit of information that's available.
The Hawkeyes haven't allowed a rushing touchdown this season and opponents are gaining far less than 100 yards on the ground per game. Meyer said Iowa's defensive line uses its hands in an effective manor, similar to Alabama.
Notes
Urban Meyer:
Being at the top also leads to busy nights. Meyer said he's only seen highlights of the Crimson Tide and has watched one Oregon game.
Meyer said Andrew Norwell was one of the infamous five who missed first team meeting in Jan. 2012. On Monday, Norwell had his best day of practice as a Buckeye, according to Meyer.
Asked about the BCS, Meyer said he worries about getting first downs and stopping people. Thinking about the BCS is not helping the cause at all.
Kirk Ferentz:
Running back Mark Weisman is fine from a health standpoint and will play Saturday, according to Ferentz.
Ferentz on Ohio State: "It's hard to find a weak spot on their team. I'm trying to find a weakness. Good luck on that one."
Ferentz called Ohio Stadium a "great environment." He's never won there as a head coach.
Asked about his last trip to Ohio Stadium in 2009, Ferentz kept it simple. "It was disappointing," he said.
"We're a 4-2 team trying to get No. 5, and it won't be easy this week."
"They're approaching 20 straight wins and you don't do that by accident. It's everybody doing their jobs."
Brady Hoke:
"We have issues we need to shore up on both sides of the ball and the kicking game."
Hoke lamented Michigan's mental effort Saturday and said the team must execute better.
Michigan's opponent on Saturday is Indiana, a team Hoke called dynamic and athletic on offense.
Hoke on Christian Hackenberg: "He's pretty doggone poised. Big arm, can place the ball well. He can make a lot of good throws."
Michigan's offensive line play has been wretched so far. Hoke said the coaches will look at the personnel and if guys aren't getting it done, they'll be replaced.
Hoke said Devin Gardner's made poor decisions and had some ill-timed turnovers, but he added that there's more to like than dislike when it comes to Gardner's play. Hoke said Gardner's shown improvement the past two weeks, starting with better/sharper mechanics.
Gary Andersen:
The first season in the Big Ten has been great, Andersen said. He said he's been welcomed everywhere and enjoys the competitiveness of the conference and the atmosphere at the venues.
Andersen said Chris Borland should be mentioned in every conversation about the Big Ten player of the year. Andersen said Borland is not only the top Badger performer on the field, but he's the best leader in the locker room and on the sideline.
Jared Abbrederis suffered a head injury against Northwestern. Andersen said he took part in conditioning drills Monday and is slated to practice Tuesday. Andersen believes Abbrederis will play Saturday against Illinois.
Bo Pelini:
Nebraska is entering its second bye week in three weeks. Pelini said it'll give the Cornhuskers time to heal up. The team has taken a beating in recent weeks. Pelini said they can get healthy and gear up for stretch run.
Taylor Martinez has missed the past three games with turf toe. Pelini said Martinez remains day-to-day and added that he continues to feel better.
If Martinez isn't able to go, Pelini said Tommy Armstrong will continue to start. Pelini said he's got full confidence in Armstrong, who's won each start in place of Martinez.
Pelini confirmed that Spencer Long, a fifth-year senior right guard, is out for the season with a knee injury.
Tom Osborne was named to the College Football Playoff selection committee. Pelini said it's a positive for the sport, said Osborne knows the game as well as anyone.
Mark Dantonio:
Taking out a page of the Jim Tressel playbook, Dantonio talked highly of special teams play. He said they emphasize it every week and the players understand how important that phase of the game can be.
Dantonio is encouraged by what he's seen in quarterback Connor Cook. "He's getting more at ease in the pocket. You're seeing him grow in maturity."
Danonio on the MSU wide receivers: "Confidence is very high right now. We're getting catches from all different guys."
Coaches take poll voting serious, so says Dantonio. Obviously, there's plenty of evidence to point the other direction on that one.
Dantonio said RJ Shelton is still transitioning from running back to wide receiver. Dantonio said Shelton is too good to keep of the field. Said coaches are very excited about his potential.
Tracy Claeys:
Minnesota doesn't expect Jerry Kill to return for Saturday's game at Northwestern. "He's doing fine," Claeys said.
The Gophers have been an oft-injured team this season. But Claeys said the bye week was a welcome remedy. Said most players should be a go this weekend.
Northwestern is a team that's been struggling on third down its past two games after converting at a 50-percent clip in its first four games. Claeys said that will be an area for the Minnesota defense to key on.
The Wildcats' loss to Wisconsin will be emphasized this week, according to Claeys, because it won't be the Northwestern team Minnesota sees on Saturday.
Quarterback Mitch Leidner is expected to start for Minnesota.
Tim Beckman:
Illinois has a long Big Ten losing streak that began prior to Beckman's arrival in Champaign. He said the team doesn't talk about it, but he imagines it's on the players' minds.
The Illini are coming off their second bye week. Beckman said the coaches used it to concentrate on evaluating each facet of the team and then improving areas of need.
Illinois hosts Wisconsin on Saturday. Beckman on the Badgers: "We going to have to gang tackle and tackle in space better than we did against Nebraska."
Beckman said Wisconsin is so effective at running the jet sweep because they get out on the perimeter and have big blockers in front.
Ohio State had trouble loading up at the line and then getting burned on passes. Beckman said you have to be prepared in one-on-one coverage against Wisconsin.
Darrell Hazell:
Mistakes continue to haunt Purdue, Hazell said. But the team is playing a lot of young guys and the experience will pay off.
Hazell said he has a great relationship with Jim Bollman and has no malic toward him for going to Michigan State. Hazell said he loves Bollman and called him a good football coach.
Purdue understands they have to play better, Hazell said. He doesn't believe their confidence is shaken. He said they come out of the locker room very confident. When mistakes creep up, though, the Boilermakers become fragile.
Bill O'Brien:
The Michigan game lasted 4 hours, 11 minutes, so O'Brien has given the team a bit of a reprieve this week. They'll have days off and try to get healthy during the bye week. Next up is a game at Ohio State.
O'Brien said Penn State practices the two-minute drill every day in practice. It paid off Saturday night as Hackenberg led the Nittany Lions to a thrilling victory.
There was a report that fans on the call-in show were told not to ask Indiana questions last week. O'Brien dispelled that and said it wasn't his orders if it happened.
"America's a free country. Anybody can ask any question they want to."
O'Brien called Ohio Stadium one of the best stadiums in the country and then referred to Buckeyes as the best team in Big Ten.
"We've got to move on and start getting ready for the best team in our conference, Ohio State."
Pat Fitzgerald:
Venric Mark's had a topsy-turvy year, but Fitzgerald said his attitude has been outstanding.
After starting undefeated, Northwestern has lost two straight to two of the conference's best teams – Ohio State and Wisconsin.
The most recent loss was the result or poor play, Fitzgerald said. He laid blame on the coaching staff for not having the team ready after the Ohio State loss.
Instead of hanging their head, Northwestern had a great day of practice Tuesday. Fitzgerald said it was a "blast."
"Our guys will come back and play well. I can promise you that."
Kevin Wilson:
After the Michigan State game, Wilson spoke to Andrew Maxwell. Wilson said he offered the senior encouragement and said he respected how he's handled the season.
Asked about an injury, Wilson said, "I'm sure those guys are listening up there."
From the hyperbole department, Wilson said Michigan's run game presents a strong challenge.