The last time The Situational graced these hallowed pages we were busy celebrating Ohio State's victory over Michigan and the unblemished conclusion of Urban Meyer's first season in Columbus. A lot has happened since those elated and confusing days.
Most notably, the corpse of necropresidential narco-trafficker-in-chief Warren G. Harding made his triumphant return to 11W's dedicated gambling entertainment offering, thus relegating The Situational back to the sidelines after its fill-in season.
There was never any controversy over The Situational's position in the Eleven Warriors infotainment arsenal: It's our Kenny Guiton. Like Kenny G, The Situational is ready, willing and fiercely dedicated to over-delivering on value to justify your 11W premium subscription.
Marion's wagering zombie commandante isn't going anywhere, but the Ohio State schedule incorporating two bye weeks in 2013 gives us an opportunity to do something the Buckeye football program has teased but not yet dared to do: Put Warren G. and Kenny G. on the same field together.
So here we are. Welcome back to a wagering-free 2013 bye week hangover edition of The Situational.
Anyway, by now you've seen the Michigan Man pictured above getting a macial in Happy Valley. We've decided to name this now-legendary Wolverine Maceo Baston. You kids too young to appreciate Michigan's probationiest era can simply call him Jabrill Pepperspray. Both are acceptable.
It's so good to be back, if only for a week. ONTO THE SITUATIONAL!
THE DEAD PRESIDENT

Ohio State gets Iowa this week, a state that has contributed one United States president since it was granted entry into our union: Herbert Clark Hoover.
Hoover arrived into the world (West Branch, specifically) in 1874 and would eventually become the first POTUS born west of the Mississippi. His ascent in life was hampered from the outset, as both of his parents were dead prior to his tenth birthday - and he never set a foot in high school.
Regardless, the Iowa orphan became a member of Stanford's first class, where he studied Geology before moving to Australia to work as an engineer for a gold mining company. He married the first woman to enroll at Stanford (also a Geology major) and by 1901 he was the father of two boys and a partner in the company.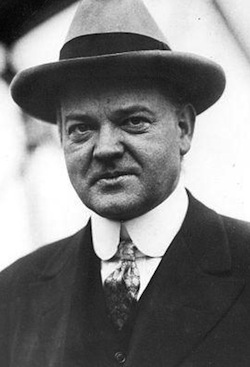 Eventually Hoover sold his shares and opened up operations all over the world, becoming what was enviably known at the turn of the century as an international mining magnate. When the first World War began, Woodrow Wilson tapped him to lead what would eventually become the FDA (there was no D yet) where he managed the supply chain of food to soldiers in battle as well as to Americans at home, who were encouraged to eat less so troops could eat more. It worked.
His work in WWI caused his political star to explode and both parties heavily recruited him, including Wilson's Democrats. But Hoover felt that the Republicans had a better shot of winning a national election, so he stuck with the GOP and endorsed future necropresidential narco-trafficker and 11W honorary staff member Harding, who won his party's nomination and eventually the presidency.
Harding rewarded Hoover by making him Commerce Secretary, a job he held through both Harding's tragically brief reign and Calvin Coolidge's. Once Coolidge opted not to run for a second term, Hoover immediately became the GOP favorite and he won the election with 58% of the vote, becoming the only president in history to be elected without having won anything else or having held any significant military rank.
During his campaign Hoover promised to eradicate poverty from America. The stock market then crashed, and Hoover became the face of the Great Depression. Iowa's only POTUS subsequently lost his reelection bid to Franklin D. Roosevelt in the most lopsided loss by an incumbent in election history.
He won six states, none of which were big electoral scores. Metaphorically speaking, Hoover was Iowa's conservative offense before Iowa's conservative offense was Iowa's conservative offense.
And since the golden era for public employees from Iowa getting giant contract extensions for underwhelming results was still several decades away, it's evident Hoover was a decent man who was simply born too soon.
THE ROADIE


Ohio State just experienced its first of two byes, so with no other distractions this past weekend I took in the great city of Seattle. What you see above was my vantage point at Washington Husky Stadium for the big game with Oregon.
Coming to Washington from the Eastern seaboard to experience a full college football Saturday operating on the Pacific Daylight Time was exhausting. To wit, ESPN College Gameday was in town and began broadcasting from its on-campus set at the ungodly weekend hour of 5am.
I met several fans who had never watched college football's flagship pregame show before due to it coming on so early. For their committed early risers, television programming simply interferes with Seattle's robust tailgating scene: Washington's game day madness is an impressive display of comradery and debauchery. Sorry, Corso.
The Huskies carried all of my support for the afternoon, both because it was the polite play as a visitor but moreso on account of the significant aid an Oregon loss would give Ohio State in the finicky BCS math. I packed a black Ohio State pullover, allowing me blend in with the rest of the stadium "blackout."
After scalping a single ticket at a 100% markup - i.e. the face-value cost of the Ohio State-Wisconsin game - I made my way to the section pictured above and was startled to find myself in a row with fans wearing black Auburn shirts. They looked at my Ohio State pullover with approval, which was equally startling.
"That Rose Bowl was awesome, bro," one of the fans said. "Chip Kelly was Tressel's bitch."
It turns out they were wearing Auburn BCS title game shirts that displayed the winning score against Oregon because, as the same guy put it, "they're black which works for today and we might hate the Ducks more than we love the Huskies." It was, to put it mildly, trolltastic.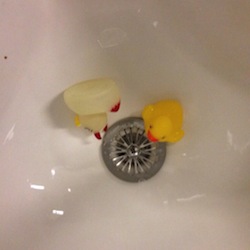 The game might have ended better for Washington had it been able to sustain drives and exploit the middle of Oregon's defense more effectively. From my vantage point in the end zone a steady dose of El Guapo would have been enough to open things up, however NCAA leading rusher Bishop Sankey still had a typically formidable day.
His style, however, just plays into Oregon's speed advantage. Nothing was attempted to wear the Ducks down.
The hate for the visitors from the south was palpable throughout the day. It was also peeable: There were little ducks placed in the urinals on which Husky fans could relieve their frustrations.
But those ducks were waterproof - and appropriately, their collegiate namesake remained cleaned as the game concluded. Stanford, however derpy against Utah, should be able to keep the Oregon offense on the sideline while faring better in that trench battle it's constructed to win.
Final note: Tomahawk chops are lame, even if thousands of arms harmoniously moving looks kind of neat - but Washington's two-armed tomahawk-like Husky Mush ritual prior to kickoffs is exceptional. Close your eyes and it feels like you're competing in a Pilsner-scented Iditarod.
Then you open those eyes and you're sitting next to unhappy bros in Auburn shirts...at a Washington-Oregon game. College football is confusing.
THE BOURBON

There is a bourbon for every situation. Sometimes the spirits and the events overlap, which means that where bourbon is concerned there can be more than one worthy choice.
Johnny Drum is one of those unique bourbons that's significantly better on rocks than neat. It's a nice trick-bourbon for your neighborhood whiskey snob predisposed to falsely believe all ice is lame. Lots of ice is generally ill-advised, but a couple of cubes in a rocks glass of Johnny is sublime.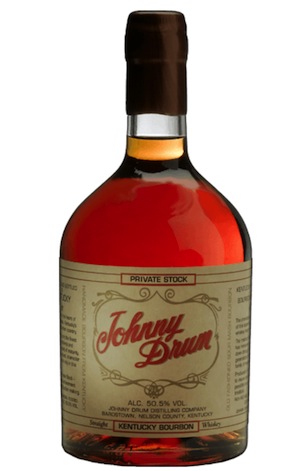 Your snob friend who denies the presence of all ice should be loudly mocked at and labeled a fraud before you explain that his drink poured neat is puckered up tighter than a nun watching Cinemax. The optimal serving method here is gently rock'd. You've got to set Johnny Drum free for it to truly spread its wings.
JD is also useful as a bridge bourbon for poaching scotch drinkers to commit to becoming more 'Merican, which means it's not terribly sweet or candy-flavored like some mass-produced bourbons (Makers) but not too spicy either (Knob).
Your noble chore in nationalism is aided by its comforting name, which is reminiscent of but has no relation to Johnny Walker, a blended scotch that despite being adored by approximately 1.2 billion Indians and having taken up residence in my liquor cabinet for several years pre-bourbon enlightenment is...decidedly mediocre. Americans should be better than Johnny Walker, and Johnny Drum is here to help.
[Among those Scottish Johnnys, only Blue Label is worthy. However, it should be only acquired 1) in duty free shops at 50% off while traveling abroad, 2) as a gift with your name monogrammed on it, or 3) stolen off the back of a truck. Preferably the second option. More preferably: Drink Johnny Drum instead. Your mouth and wallet will prefer it.]
So situationally and practically, this Johnny is a teaching bourbon. It's an opportunity to demonstrate your mastery to the uninformed both by way of ice acceptance and scotch rejection, which if you really think about it - is tantamount to liquid patriotism. You're either with us or against Johnny Drum, which pits you against America's burgeoning whiskey trade.
Besides, if you're going to convert yet another hipster to bourbon, get them chasing this harder-to-find stuff instead of Pappy. That's an annoying trend that the committed are desperate to end. Thanks, Johnny Drum.
THE PLAY-OFF

Long-time readers of The Situational loyal and bored enough to navigate all the way down to The Play-Off know that this cultural sliver of 11W is a staunch proponent of the mashup sciences; more specifically the research that goes into combining two songs that have absolutely no business being combined - for pleasing effect.
In the spirit of that research, we live in an amazing time for mashups. Not only is there a third Beatles/Beasties album - Ill Submarine - now available for free download, you can elevate your party with over an hour of wholesome Walt Disney classics intertwined with explicit hip hop lyrics, née Walt Diznizzle.
You may think current music sucks, but you're fortunate to be alive for this musical era if only for the mashups.
If you're new to or unfamiliar with this genre, you may want to sample a passed appetizer before you commit to the entire meal. Here's LL Cool J fronting 80s one-hit wonderists Dexy's Midnight Runners:
Knock Out Eileen, which only sounds like it is advocating violence against women, is a lesson in abandoning preconceived notions. Love knows no color or creed, and mashups require only creativity and determination.
If an Irish sing-a-long from a gentleman caller groveling for sex can be so seamlessly intertwined with Ladies Love Cool James' anthem celebrating his maternal mandate for concussion proliferation, literally anything anything is possible. Anything.
Michigan could repeatedly unleash mindless and stupid football plays. Herbert Hoover could actually become the president. Auburn shirts could appear at Washington/Oregon games. Johnny Drum could convert a scotch drinker to bourbon.
And you could survive two Buckeye bye weeks within a single month. We're halfway there. Go Buckeyes - beat Iowa.