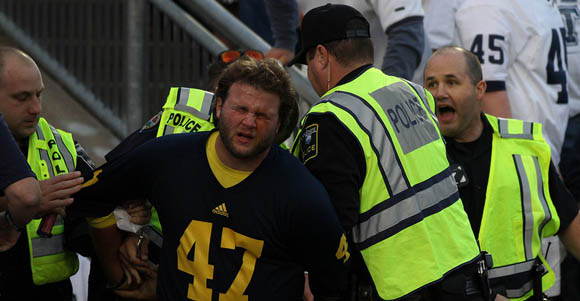 As much as I want Michigan to be a good team, for both the schadenfreude when we beat them and for the overall good of the Big Ten, I'll admit that I take definite joy in seeing the Wolverines lose some games. Particularly close games, and especially close games against teams that they thought they should be able to beat.
The game against Penn State on Saturday was not one of those games. I mean, it kind of was, in the sense that Michigan losing was justified and funny, but it was also one of the most painful games that I've ever had the displeasure of watching. It was every single criticism of the Big Ten rolled into one four quarter and four overtime chunk, replete with wussy playcalling, zero creativity on either side of the ball, mostly poor quarterback play, and some baffling coaching decisions as the game wound down.
Michigan finally lost their first game of the year. Good. They played like crap and deserved the defeat. Breaking down the game, as always, is the ever excellent Ace from MGoBlog. As you'll see, he's probably even less thrilled with the outcome than you think he is.
Quarter 1
Michigan got the ball to start the game and did nothing with it, but PSU did worse than that by way of a Hackenberg interception. Devin Gardner, eyes red with tears of jealously, promptly threw an INT of his own which Penn State quickly converted for a TD. Then PSU forgot that Devin Funchess is a thing, and Gardner lofted one to him for a 59 yard TD. A really stupid decision by Bill O'Brien to go for it on 4th and 1 in his own side of the field ended up not mattering, but UM added a field goal and it was 10-7 Michigan.
Johnny: What does/did the return of Jake Ryan do for Michigan here?
Ace: The complete debacle that was the offense/playcalling/game management obscured a very positive development from the defense: an actual pass rush! Michigan had a season-high four sacks and generally got pressure on Hackenberg; while Ryan played limited snaps, a lot of those were on third down, and his presence opened things up for the rest of the front seven.
I thought he looked very good in the time he was out there, and if he's really back to full strength he provides the playmaking up front that Michigan has sorely missed this season. Despite the final score, this may in fact have been Michigan's best defensive effort all year considering they held PSU to 390 yards on 19(!) possessions,—that includes overtime, so adjust as need be—forced four turnovers, scored a touchdown of their own, and consistently faced short fields. Ryan's return certainly played a role in that.
Quarter 2
BAD DEVIN IN THE HOOUUUSSEEE! A second Gardner INT immediately led to a PSU touchdown, and Christian Hackenberg showed why it was so weird that he chose Penn State by being his generally awesome self and chucking another TD after that. The teams traded derpy plays back and forth and then Devin Gardner turned the ball over for the third time in the half, but that ended up not mattering as PSU couldn't convert. Still, great half by the Nittany Lions, who led 21-10.
Johnny: What does it say about Derrick Green when Hoke decides that Fitz is the best option in a 2nd and 1 situation at the end of the half?
Ace: Green simply isn't ready, and in fact is worse than Toussaint right now (based on the limited amount we've seen of Green) at finding the right hole and maximizing the yardage he can get despite his reputation as the ideal short-yardage back. Simply put, it doesn't matter who's back there if the line can't open up a hole.
Green still isn't in shape, isn't a receiving threat, and I'd assume he's not well-schooled in blitz pickup yet; Toussaint is the back I want out there, and the real issues lie with the offensive line and Al Borges. Green's lack of production is disappointing, sure, but it would take Barry Sanders to succeed on the run plays Michigan is going with right now considering the miserable blocking and lack of any sort of counter in the playbook.
Quarter 3
Christian Hackenberg, man. First offensive play of the second half, and he fumbles, Frank Clark scoops and scores. A few game minutes later, and Hackenberg tosses another INT, which sets up a Michigan field goal to pull them within one. Penn State responded with a field goal. Jeremy Gallon finally woke up, and caught a Gardner TD to close out the third. 27-24 Wolverines.
Johnny: Weren't you guys pretty happy with the Al Borges hire initially, or am I just making things up? What's his future?
Ace: I think you're mostly making this up, as the Borges hire was met with some skepticism well before his disdain for the spread, high-tempo offense, and formulating gameplans that make any sort of sense became readily apparent. He hasn't had sustained success in over a decade, his best season came when he had Cadillac Williams, Ronnie Brown, and Jason Campbell in the same backfield—and that offense still couldn't crack the top ten in total offense or top 15 in scoring—and at every step he's shown a complete disdain for the spread and up-tempo offenses, which to me is a stubborn denial of the clear direction in which offensive football is headed.
As for his future, it's pretty clear he's dedicated to slow-paced MANBALL, so unless Michigan gets talent on par with Alabama the offense is going to top out at "good, not great" unless he's fired, and I don't expect Brady Hoke to do that unless just about everything goes wrong offensively for the rest of the season—though that's certainly within the realm of possibility.
Quarter 4
Devin Funchess is the real deal. A TD catch with ten minutes left seemingly put the game out of reach, given that Bad Hackenberg had emerged to combat Bad Gardner. PSU added a field goal but that was just a prelude to a hilarious collapse by the Michigan secondary as Christian Hackenberg, who literally one sentence ago I called bad, took the Nittany Lions down to Paradise City to tie the game and send this stupid thing into overtime. 34-34 all.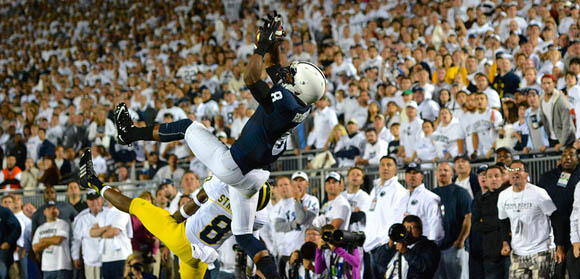 Johnny: For most of the game the defense had done well against Hackenberg, but that last drive borked that. What happened (assuming it was something other than Hackenberg getting lucky by throwing into double coverage)?
Ace: Frankly, I don't think it was anything other than Hackenberg getting lucky—the first big chunk play went directly through Channing Stribling's hands, and I'm still not sure how he didn't at least knock it down—and Allen Robinson being a total freak (see above picture).
I don't know how you defend that except to recruit Robinson when he played at Orchard Lake St. Mary's, and that one's not on this coaching staff (or the last one, really, as Rivals had him as the #24 prospect in the state in 2011, the transition year, and his other offers were from Buffalo, Minnesota, and Toledo—everybody except PSU totally missed on that one).
Overtimes 1-4
Both teams missed field goals (Michigan was blocked) in the first overtime, and in the second Michigan had to settle for a field goal. Then some stuff happened blah blah blah whatever.
Look, this honestly was one of the dumbest games I have ever seen. That you can have four overtimes and a TOTAL of 15 points scored is infuriating and both teams are made up of bad, bad people. Bill O'Brien finally grew a pair, went for it on 4th down, and ended up with the win after the resulting touchdown. 43-40 Penn State.
Johnny: Not exactly going to go in the great pantheon of Michigan overtime games, is it?
Ace: Nope. Michigan deserved every bit of what they got with the way they managed the final few minutes and the overtime periods. It was an embarrassing coaching display from everyone except Greg Mattison (position coaches aside) coupled with a very unfortunately timed "college kicker" game from Brendan Gibbons, who's rightfully not facing nearly as much heat as the coaches—it never should've come down to him in the first place.
Overview
Johnny: As far as positives go, it looks like Ace was totally right about Funchess; he's a big time threat who can be used in a number of different ways in the offense. He'll be a handful in November.
Buuuut that's about it. Devin Gardner had a nice one game reprieve from being a turnover machine, and then went right back to it on Saturday, accounting for all three of Michigan's giveaways. The lone saving grace was his feet, which picked up 121 yards as Derrick Green and Fitz Toussaint managed a whopping 28 yards on 30 carries. I know Ace puts most of the blame on the line for this (and the loss of Taylor Lewan lends credence to it), but I don't care. Both of these backs make a bad situation worse by being horribly indecisive. They're not good.
The defense was okay, and the return of Jake Ryan definitely shores up an already good rush defense. But when a true freshman having an off game still manages 300 plus yards passing on the secondary, it doesn't really matter how good the linebackers and d-line can be at times. Frank Clark in particular played very well, but it ultimately wasn't enough to stop what PSU wanted to do.
This loss is at the feet of the coaches. Hoke and Borges played ultra-conservative, and the punt at the Penn State 35 that led to the tying touchdown was a perfect microcosm of the game overall. It of course ended in a touchback, which meant that any position advantage gained by Michigan was immediately negated by a 14 yard Hackenberg pass to Robinson. In this game, Bill O'Brien was juuuusst ballsy enough to beat Hoke and company, and Michigan got the loss that had been coming to them for weeks.
Ace: Again, I agree with you on most points save the stuff about the running backs. I'm not sure what game you were watching, but there weren't any holes to hit, decisively or not. Maybe Carlos Hyde bulls forward for an extra yard on a few of those carries after getting cracked in the backfield; that would've given him, oh, maybe 35 yards on 27 carries instead of Fitz's 27 yards? That's not changing the outcome of the game.
Also, the passing defense held up quite well aside from the two late bombs, which I'm still filing mostly under luck or holy shit Robinson. Penn State averaged 5.5 YPA before that final regulation drive, Robinson was held under 50 receiving yards at that point, and they picked off Hackenberg twice. Not sure what else you can ask for in a game in which the offense and coaching conspired to put them in horrible situations with disturbing regularity.
In conclusion, f–––. Y'all are going to kill us.