A tidy summary of the Giants season – in animated form – is pictured above. Jim Cordle is trying to make an impact while filling in at center, but Eli Manning's passes are making an impact on him.
If Eleven Warriors had a player of the week award, it might go to a kicker. That's usually considered nonsensical, but, compared to a former Buckeye changing his legal surname, it's not.
An ex-Buckeye defensive back continues to make big plays for his undefeated squad. Plus, we have stats from all former Buckeyes in the NFL.
Nugent Carrying Cincinnati Offense
Over their last eight quarters, the Bengals have reached the end zone once. If not for 2004 Lou Groza Award winner Mike Nugent, the Bengals offense would be considered as big a disaster as the lease Hamilton County signed for Paul Brown Stadium.
In the last two games, Nugent has contributed 13 of the team's 19 total points. Fortunately, it's not like Nugent's hard work is being wasted on two losing efforts.
The Bengals did lose to the Browns, last week, but followed that up with a 13-6 victory over the Patriots.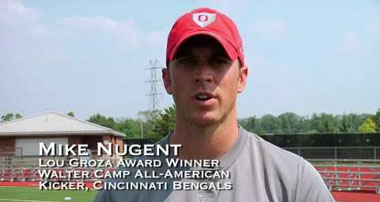 Nugent – and to a lesser extent, the Cincinnati defense – dominated Sunday's game, handing New England its first loss of the season. The former Buckeye kicker nailed a 39-yarder and, later, a 50-yard field goal, before the Bengals finally supported him with a BenJarvus Green-Ellis touchdown.
They'll need to put up some more points when they take on Buffalo Detroit, in two weeks.
What NASA, the FDA and Donte Whitner Have in Common
Paperwork for 49ers S Donte Whitner to change name to "Hitner" cannot be processed due to government shutdown. Hitner shut down for now.

— Adam Schefter (@AdamSchefter) October 6, 2013
The "W" in Donte Whitner's name will not be furloughed, yet, but Whitner is already attempting to promote his name change.
During NBC's Sunday Night Football player introduction montage, Whitner said, "Donte Hitner, Glenville High School." Even though he didn't declare his Buckeye roots, we still claim him.
As far as the family name goes, he begged his mom to change the it, both recently and in the offseason.
"I'm forever going to be her son and her little boy, so I have to listen to what she says," Whitner said, in a conference call with the Houston media. "After all of these hits and people talking about it, I asked her again three nights ago."
On the field, he became Donte Stripner (hey-oh) after ripping the ball out of Texans running back Ben Tate's hands. 
Highlight of the Week
The fat, foul-mouthed, White-Russian-drinking-wannabe masquerading as the Saints defensive coordinator, has turned Malcolm Jenkins into a monster.
Jenkins is third on the team in tackles, has an interception and – as is the case with Ryan's defenses – unafraid to destroy the quarterback from his safety spot.
How ex-Buckeyes Fared During Week Five 
| Player | team | position | stats/Notes |
| --- | --- | --- | --- |
| Mike Adams | Pittsburgh Steelers | OT | Steelers on bye week, narrowly escaping another loss |
| Will Allen | Dallas Cowboys | S | Injury replacement, recording 1 tackle in loss to Broncos |
| Alex Boone | San Francisco 49ers | OG | Lead blocker on this Fred Gore run in win over Texans |
| Michael Brewster | Jacksonville Jaguars | C | Backup to Brad Meester in, guess what, a loss to Rams  |
| Chimdi Chekwa | Oakland Raiders | CB | Recovered muffed punt in win over Chargers |
| Kurt Coleman | Philadelphia Eagles | DB | 1 tackle in win over Giants and starring in a commercial |
| Jim Cordle | New York Giants | C | Started again, Giants lost again. This time to Eagles. |
| Nate Ebner | New England Patriots | DB | 1 tackle in return to Ohio and loss to Bengals |
| Ted Ginn Jr. | Carolina Panthers | WR | 4 rec, 78 yds in loss to Cardinals |
| Johnathan Hankins | New York Giants | DT | Active for first time, records 5 tackles in loss to Eagles |
| Brian Hartline | Miami Dolphins | WR | 4 rec, 74 yds in loss to Ravens |
| Ben Hartsock | Carolina Panthers | TE | 1 holding call, 1 irrationally angry fan, 1 loss to Cards |
| A.J. Hawk | Green Bay Packers | LB | Led team with 9 tackles in win over Lions  |
| Cameron Heyward | Pittsburgh Steelers | DE | Steelers on bye, no one to lose to this week  |
| Santonio Holmes | New York Jets | WR | Plays tonight vs Falcons  |
| Malcolm Jenkins | New Orleans Saints | S | 3 tackles, sack forces fumble in win over Bears |
| James Laurinaitis | St. Louis Rams | LB | Led team with 8 tackles, 1 INT, 1 TFL, 1 pass deflected |
| Nick Mangold | New York Jets | C | Plays tonight vs Falcons |
| Jake McQuaide | St. Louis Rams | LS | Snapper on 2 FGs, 4 XPs in win over Jaguars |
| Mike Nugent | Cincinnati Bengals | K | 2 FGs, 1 XP in win over Patriots |
| Ryan Pickett | Green Bay Packers | DT | Named defensive captain, no stats in win over Lions |
| DeVier Posey | Houston Texans | WR | 1 rec, 5 yds in loss to 49ers |
| Terrelle Pryor | Oakland Raiders | QB | Nick Siciliano's tutelage paying off: 18-23, 221 yds, 2 TDs |
| Dane Sanzenbacher | Cincinnati Bengals | WR | Active in win over Patriots |
| John Simon | Baltimore Ravens | LB | Called out by team's official Twitter account in win |
| Rob Sims | Detroit Lions | OG | Lions had trouble moving ball in loss to Packers |
| Donte Whitner | San Francisco 49ers | S | 3 tackles, 1 forced fumble in win over Texans |
Inactive: None