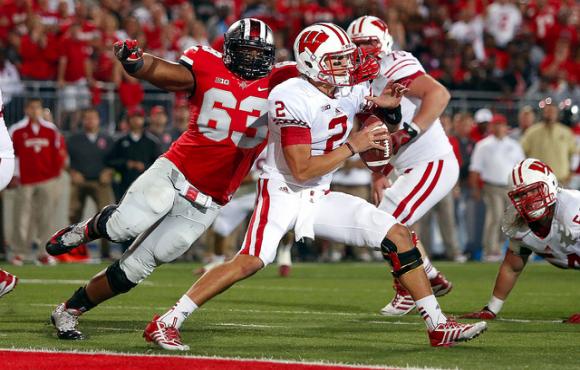 After weeks of Braxton Miller's injury grabbing headlines, safety Christian Bryant is now in that unenviable position. On the Big Ten Teleconference, Ohio State head coach Urban Meyer called it a "sucker punch."
"It's the worst part of the game," he said. Meyer's been so torn up about the situation that he hasn't entertained the idea of Bryant returning for the bowl game.
But the beat goes on, and senior Pittsburgh Brown is the next guy up. He has 21 tackles on the season and his five years in the program bode well for being up to speed. Winning on the road is about leadership and toughness, according to Meyer, which makes this week that much more difficult.
Ryan Shazier and Michael Bennett are two defenders who are ready to step up and seize the moment. Meyer said Shazier isn't as vocal as Bryant, but that he can be depended on in the huddle and locker room to fire up his teammates. Bennett's fiery attitude and lead-by-example personality also jives well with the team.
"The legend continues," said Meyer, when describing Bennett's transformation from a nobody last season to an All-Big Ten caliber defensive lineman.
The defense doesn't go with out some storm clouds, though. Meyer said he's concerned about the 17-10 fourth-quarter scoreboard for the season. The 17 belong to opponents.
"It's very alarming," Meyer said.
Pat Fitzgerald:
Fitzgerald said he's been in a bubble and is unaware of all the hubbub in Evanston surrounding the Ohio State game.
"Our young men are just excited to play Big Ten football."
The atmosphere at Ryan Field has continued to improve, Fitzgerald said. Northwestern's season-ticket sales are at an all-time high. He said the team has done its part to gain the support. Fitzgerald said it's night and day from when he was a player.
"There's an All-Big Ten player at every position on their offense." Fitzgerald also used the word "weaponry." He said the vertical passing game is deadly.
Fitzgerald said Northwestern hasn't necessarily been successful coming out of bye weeks, but it's been beneficial as season progressed.
Fitzgerald called Ohio State fans some of the best in the country. "They've supported that great program forever." He expects a lot of OSU fans at the game. Noted Ohio State has more alums than Northwestern in the Chicagoland area.
Gary Andersen:
He called the atmosphere and game against Ohio State "big-time." Andersen was proud of the way his team played against one of the top teams in the country. Said everything about Saturday night was what the Big Ten stands for.
Andersen said Jared Abbrederis has a unique ability to get his hands on the football when it's thrown his direction. And when he touches it, he usually pulls in the catch. Abbrederis' smarts on the field also help.
Melvin Gordon will be fine, Andersen. Wisconsin has a bye week before playing Northwestern.
During the bye week, Andersen said there's a lot of concentration on younger players and focusing on recruiting efforts. Technique gets more attention during bye weeks than a normal game week.
"I think Joel handled the situation and the moment as well as he could have. He's growing up right before our eyes."
Andersen said Michael Bennett caught his eye in preparation. Also complimented Adolphus Washington. Called Ohio State's defensive line one of the best in the Big Ten.
The defense dictated what Wisconsin's offense did against Ohio State. Andersen said they weren't planning on throwing so much, but man coverage against Abbrederis was beneficial.
Brady Hoke:
Michigan had poor fundamentals in first four games, Hoke said. So the Wolverines went back to basics during the bye week to try and correct some of those problems.
"It was a perfect time. The way we've practiced and the intensity… our timing and speed has been pretty good."
Hoke said there are no changes to Michigan's offensive line. The Wolverines have some banged up linemen. It could be problematic Saturday. Minnesota's defense has done well getting to the backfield.
Bo Pelini:
During Nebraska's bye week, Pelini said the team was able to accomplish a lot, while the coaches got out on the recruiting trail.
Pelini said Illinois is definitely a team on the rise. He believes everything is in place for Tim Beckman to turn the program around. This season has shown some of that promise.
On Nathan Scheelhaase: "We thought he was going to be a really good football player, and that's turned out to be true." Pelini recruited the Illinois QB.
Pelini doesn't think firing coaches in the middle of the season is a great scenario for the players. But he said schools have to look out in their best interests and do what they feel like needs done.
Mark Dantonio:
"Connor Cook is our quarterback, and that has sort of been settled at this point."
Dantonio said Michigan State is looking forward to the challenge of playing at Iowa this week. It's a big Legends Division game. Still early October, but winner will have a big leg-up in the division.
The Iowa-MSU series has been very close over the years. Dantonio said he modeled his program after Iowa's when he came to East Lansing. Said he liked Iowa's mentality and felt they were doing things the right way.
"It's been about the inches," Dantonio said, when discussing the Iowa series. "We've got to find a way to get those inches."
Kirk Ferentz:
Iowa lost to Northern Illinois in the season opener, but it isn't looking like such a bad loss now. The Hawkeyes have since rattled off four consecutive wins. Ferentz said he's noticed his team's confidence growing.
One of the biggest areas of improvement, according to Ferentz is the team's ability to convert on third down.
"If you keep pushing, take it a week at a time, and if the team can stay healthy, you should have a chance to grow."
Michigan State has one of the best defenses in the country. The pass defense is ranked No. 1 and the run defense is in the top 10. "They never let you feel comfortable."
"You look at it, and boy, there aren't going to be a lot of plays that are easy, that's for sure."
Jerry Kill:
Minnesota lost a 50/50 game versus Iowa last week. Gophers get Michigan this week in another winnable game. Kill said Minnesota made too many mistakes to win last week, have to correct it against the Wolverines.
"If you win, you don't want your team too high, and if you lose, you don't want to be down in the dumps. You have to have a short memory."
The Little Brown Jug game is important to Minnesota. Kill said it's comparable to a bowl game. He said he has former players come in and educate players on the importance of the jug and beating Michigan.
Kill said Minnesota is still looking for a big win that could jump-start the program. He's yet to get that signature win in Minneapolis.
Tim Beckman:
Beckman said Illinois has to get better at running the football. To win in the Big Ten, you have to run the football, he said. If the Illini don't improve in that aspect, the next few months could be trying.
Nathan Scheelhaase has been outstanding so far in his senior season. Beckman it's a team game, though. Scheelhaase is big part of success, but so are other 10 offensive players.
Its still a year away, but Beckman said he's excited for the quarterback battle during next year's camp: between Aaron Bailey and Wes Lunt: "It's going to be a great one." 
"It's one of those memories that you'll never forget as a player or coach." -Tim Beckman on BG's win over Northwestern in 2001. Beckman was a defensive assistant under Urban Meyer.
Darrell Hazell:
Purdue has been beaten badly several teams this year, including last Saturday at home against Northern Illinois. Hazell said it's a good time for a bye week.
Quarterback Rob Henry was pulled from the NIU game. Hazell said a decision on who will start would be made today. He said there will not be an open competition. Danny Etling is the favorite.
Purdue had two players arrested Monday. Hazell said it's disappointing. He's still gathering information and will proceed when he feels he has all the necessary info.
The Boilermakers face several dual-threat quarterbacks the rest of the season. Hazel said going against Jordan Lynch should help the defense. Unfortunately, for Purdue, Lynch had a great game.
During the bye week, Hazell said everything is on the table. He's not panicking, but he said it's obvious they have to improve.
Kevin Wilson:
Wilson said the Big Ten is line-of-scrimmage football. So far, Indiana has failed to win the line of scrimmage in some games. To win Saturday against Penn State, they'll need to do well in the trenches.