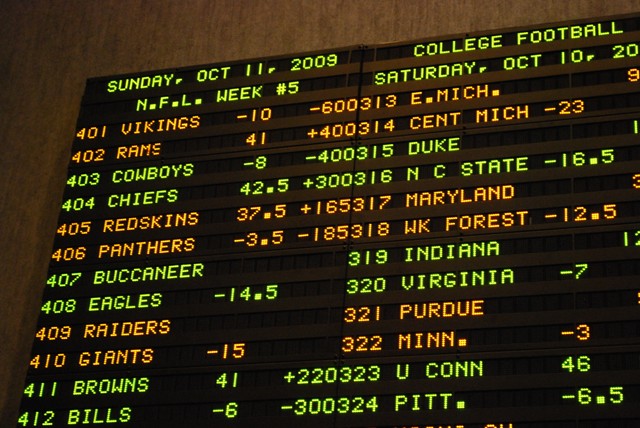 From SI:
Forty-eight college football games on the board next week, and somewhere inside each is a number. In an uncertain world Cesar Robaina is certain of that much, at least. The lead odds-maker for Las Vegas Sports Consultants (LVSC) flips through a sheaf of computer printouts in his office on this Sunday morning in September. His skill at unearthing point spreads from masses of data has carried him to the top of his profession. The stack of paper before him is Carrara marble to his sculptor's hand: He'll chisel away at the information, sweeping aside irrelevancies, looking for the truth beneath. When the right number shows itself, Robaina knows.

You haven't heard of Robaina, have never seen his fleshy face and thicket of curly hair on your television screen. Yet few men in sports wield more power than he does. Robaina is responsible for betting lines used by four dozen casinos, two legal lotteries and hundreds of newspapers around the country. Those were his five points that Oakland was giving in last January's Super Bowl; those were his 17 and 23 and 37 in the first round of March Madness. For each game he calculates his number, then compares it with what the LVSC staffers assigned to handicap the sport have come up with. What might seem like a duplication of effort is a means to incorporate a range of thinking, for no two oddsmakers approach the task in quite the same fashion. "If we were looking at the same things and coming up with the same numbers, they'd have no reason to be here," Robaina says.

That's the theory, at least. Sometimes Robaina reconciles the numbers, his and theirs, but often he will stare at their numbers with incomprehension. "If Cesar has a game at 10 and everyone else has it at seven, and Cesar believes in his 10, that game is staying at 10," a former LVSC oddsmaker says. "Or 9 at the lowest." Experience counts more than enthusiasm here, and Robaina's judgment most of all. He is a likable man with a ready smile, but when it comes to his numbers, he has the confidence—no, the arrogance—of Roger Clemens shaking off his catcher with the game on the line. Just let him throw his pitch, and he'll get the out.
*looks at Ohio State -7.5 vs. Wisconsin ticket.* *Angrily shakes fist at Cesar Robaina*