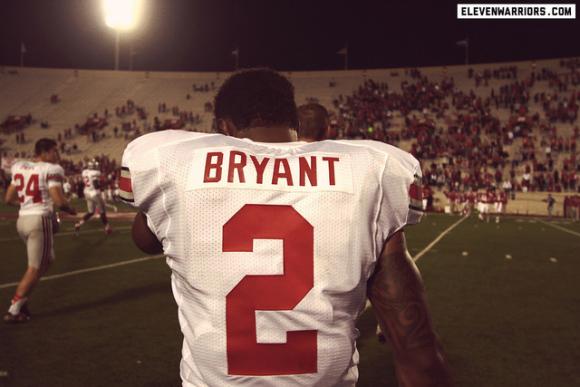 In the lead up to a season filled with Everestian expectations, Ohio State head coach Urban Meyer didn't fret about teams on the schedule or whether an undefeated Buckeye team would be left out of the national championship game. He worried about distractions and how his team would react to adversity.
After a series of suspensions in July, Ohio State held together like Elmer's Glue. But their resolve will face its biggest test on Saturday against another ranked opponent, and the rest of the season. All will take place without safety Christian Bryant, a senior leader and captain who was one of the defense's top players.
It moved Meyer enough to have his voice crack when he delivered the announcement to the media following Saturday's 31-24 win over Wisconsin. At the same time, he smacked the podium with every ounce of his strength. Meyer loves his leaders and understands the importance Bryant has to the Scarlet and Gray.
"We lost our captain," Meyer said in the wee hours of Sunday morning.
Nearly 36 hours later, Meyer's emotions had barely subsided. "This is not an easy one," he said.
Added Meyer: "The sign of a good team is always that someone must step up in his place. The issue is going to be not just as a player but who he is. That's one of the greatest things you get to do as a coach is watch and witness a young guy turn into a man. And he has. I can't say enough good things about Christian Bryant and what he means."
It was an early morning and busy day inside the regal Woody Hayes Athletic Center. Meyer met with his defensive staff at 7 a.m. and again at 2 p.m. The topic was the same both times. What to do in the secondary without Bryant?
Meyer admitted a year ago would have resulted in a far different picture. He would have micromanaged the situation, putting his hands all over the final product because his relationship with many assistants was still in its infancy.
"I didn't really know [safeties coach] Everett Withers very well," Meyer said. "But he's an excellent football coach, and when we met this morning, I wanted opinions from the coaches. I want to hear what they are going to do, and I give my opinions."
No. 16 Northwestern will stretch the Buckeye defense and force them to tackle the Wildcat playmakers in space. It's been the type of team that's given Ohio State all it could handle during a nation's best 17-game win streak.
Week 1 Post Bryant could yield a permanent starter, or it could be done by committee. But the Buckeyes must pick a direction and go with it. Waffling in the middle of the season will be no good for anyone.
"First of all, anytime you lose a player, it's a loss," cornerbacks coach Kerry Coombs said. "Anybody who doesn't acknowledge that would be foolish. Christian is a guy who has no hesitancy in standing in front of the team and addressing them. There are only a handful of guys who are able to do that with credibility in any locker room. He's one of them."
Bryant is a three-year starter who's appeared in 36 career games, starting 27. He was the team's third-leading tackler through five games of the 2013 season – 22 stops. As a sophomore, Bryant was Ohio State's second-leading tackler before finishing with the third-most tackles during the undefeated season of 2012.
"I wish you guys could hear some of the speeches he gives us in the locker room," defensive lineman Michael Bennett said. "He's a huge leader on the field, and he's a huge leader off the field. It's a hard loss, but it's Ohio State. We've got guys that will step up and fill that role."
There's a trio of candidates the coaches will watch practice this week before deciding on which direction to go in. Pittsburgh Brown is the odds-on-favorite, but Tyvis Powell and true freshman Vonn Bell also are in the discussion.
The defense is complicated and requires constant communication between the players. Going from a handful of plays to almost every defensive snap is a tall order. Not to mention, there are shoes the size of Shaq's to fill.
"Christian is the heart and soul of our defense," wide receiver Phill Brown said. "He's a big energy guy, a dude that's out there making plays. When we've got Christian out there and the defense is on those long, eight- and nine-play drives, Christian's the guy who can keep the defense up."
Pittsburgh Brown's experience and familiarity with the defense should make the coaches rest more easily than having a redshirt or true freshman in the backfield. The rest of the secondary – Doran Grant, Bradley Roby and C.J. Barnett – can play more freely as well.
For four seasons, Brown, a five-star recruit, has languished and been lost in the shuffle. The dawn of a new season has delivered so much promise. Many have believed in Brown for years, and he's finally making strides during his senior season. He has 21 tackles, fourth-most on the team, a tackle for loss, a pass breakup and a deflection.
"As we sit here this afternoon Pitt Brown will go in there and play," Coombs said. "I don't know exactly the configuration of how all those guys are going to fit going into the week. Some of that will be developed and discussed during practice.
"I think the exciting thing about Pitt Brown is he's an extremely versatile player. You can plug him in at a lot of roles, whether it be nickel last year, dime this year. He's always consistent as a safety in practice. We use him all over in special teams. Pitt's versatility is a big key to his and our success. I'm looking forward to him getting out there and playing."
What can Brown do for you?