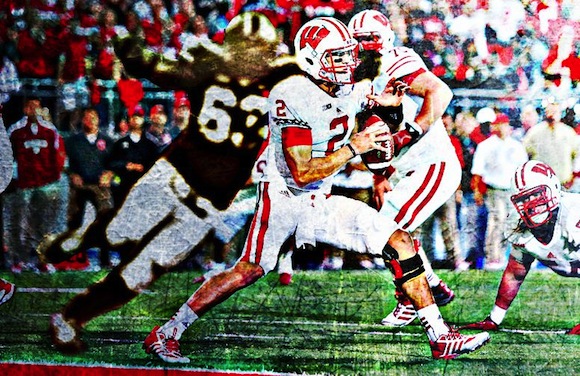 This season is moving too fast. When this weekend bows, Ohio State will have already completed half its schedule.
We should stop and appreciate what the Buckeyes have accomplished in barely a month. It's absolutely breathtaking if you slow down and really think about it - so take a deep breath and let's all let our brains digest it together.
Start with a roster almost exclusively comprised of four and five-star recruits that's managed by a staff of superstars all led by a head coach with multiple BCS title rings and undefeated seasons to his name. Add facilities that are without peer. That's how the season began.
Now witness its prolific offense (17th nationally) commanded by two quarterbacks who could start anywhere else in the country either handing off to a backfield that goes six deep or throwing to wide receivers with sticky hands and shifty hips.
Put those signal-callers behind the best offensive line it has fielded in a decade. They're scoring 48 points per game for five wins and zero losses. That's right now.
Add the nation's 18th ranked defense that just held the nation's leading rusher to 84 yards below his average. Finally, special teams that have allowed a total of three punt return yards this season while yielding a nation-leading 27 kickoff returns averaging just 19 yards per.
It's all going according to plan and you're still breathing - except when you're told that all of this constitutes an overrated team. Now you can't breathe.
Many analysts - most notably ESPN's Mark May - predicted Wisconsin to finally kill off the Buckeyes on the strength of its unstoppable rushing attack. The Badgers were the unanimous pick at ESPN going into the game Saturday that Ohio State won while never trailing. The Buckeyes haven't trailed yet this year.
May then proceeded to say the win he predicted would be a loss wasn't by a large enough margin to be satisfactory. He's right about Ohio State needing to win big, especially to score points with humans disenfranchised by its conference - but basic logic suggests that you can't predict a team to lose and then say it didn't win by enough points.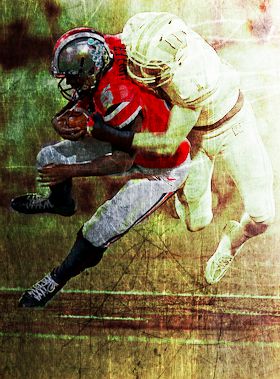 He's trying to have it both ways, but in May's defense he's also a professional imbecile by trade. Just think of his finely-tuned Ohio State analysis each week as him simply executing his job to perfection.
More than anything, predicting the Buckeyes to lose is a wistful death wish for the Midwest's bully of the 2000s that many hoped would fall on hard times...instead of reeling off 17 straight coinciding with its NCAA punishment.
The irony is that predicting Ohio State to fail when they keep winning has the opposite effect: If May was a smart man [cackling laughter.mp3] he would predict them to win 76-0 every week to all but guarantee it would fail to meet expectations instead of exceeding them.
Still, May is a carnival barker who only shapes the feeblest opinions - but there are opinions that matter. College football is a fickle beast, and Urban Meyer knows that as well as anyone, which is why him not worrying about style points is tantamount to whistling in the graveyard.
He ran the table with Utah and was rewarded with a mediocre Big East champion to destroy with no shot at a title. That shouldn't be possible anymore for Utah now in the PAC-12, but it's entirely possible for Ohio State in this Big Ten.
This shrapnel hitting the Buckeyes' credibility is for crimes committed by the entire conference against itself over way too many Januarys. There isn't a strong argument elevating an undefeated Big Ten team above its big conference contemporaries should this all continue through November. 
Nevertheless, if this was Boise and not Ohio State, Pat Forde would be excitedly writing each week about how his pants can't stop tightening. No one is acting that way about the Buckeyes. Not even us.
Yet prior to winning 17 in a row, Ohio State had lost four straight and seven of 11 games. Regardless of scheduling and proverbial stocked cupboards, this is categorically a miraculous turnaround. Meyer would gain consideration for Big Ten Coach of the Year if there weren't secret laws against any Ohio State coach winning the award.
But he's not. This team was supposed to be disinterested and dead last year. That death never happened. Now people like May are getting antsy. Ohio State's inevitable demise has got to happen soon. Right?
If Meyer's Buckeyes improbably continue to cheat death for a second straight season, they'll be 26-0 and either champions of the BCS or invited to some other Utah-like consolation prize. Either way, the good news is you'll no longer hear about Ohio State being overrated.
No, you will be more likely to hear about how weak the NCAA sanctions were that allowed the Buckeyes to go 26-0 after they were supposedly punished for being the cheatingest cheaters in cheaterville. But don't get too worked up thinking about that yet with Northwestern, Iowa and Penn State looming.
Especially the Wildcats, winner of one Ohio State game in 42 years. The idea they could end this amazing streak might take your breath away.