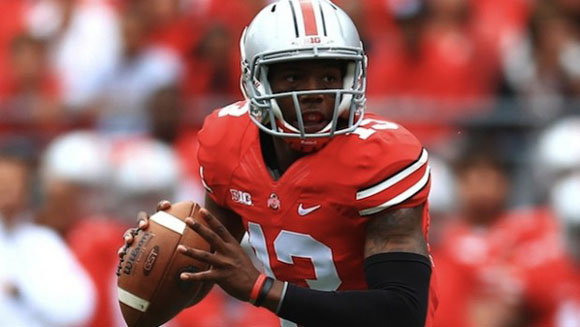 SUNDAY
The Browns, inspired by Ohio State, started their backup Quarterback and won of course.
MONDAY
A buff guy at the Union Dtix desk was wondering if customers wanted one or two tickets to the gun show.
Stat Book: Kenny Guiton's records at OSU.
ICYMI, the University of Wisconsin called a victory against Ohio State to a fake newspaper:
@thefakelantern Good luck the rest of the way. We'll run it back on Sept. 28 at the Horseshoe.

— UW-Madison (@UWMadison) March 17, 2013
Commentary: Why Ohio State fans (rightfully) still hate Terrelle Pryor.
TUESDAY
A design student did some really solid work on a 3D modeling project.
We let OSU Student Wellness choose what they would give away this week (options were tasers, ticklers, and new testaments), and they chose new testaments.
A survey found that OSU students would rather undergo a C-section than sit in a C section at Ohio Stadium.
And the Ohio Union Activity Board announced it was hosting "An Evening With Someone You Haven't Heard Of."
WEDNESDAY
Devin Smith barely caught a bus, and then took it for 90 blocks.
And an entire stats lecture was wisely utilized to check fantasy football stats.
THURSDAY
Urban Meyer announced that Braxton Miller would most likely start Saturday [on the bench].
An English major admitted he wasn't doing too good this semester.
An education major struggled with a math concept she'll be teaching to 3rd graders in two years.
Advice: How to have a great night game experience.
And the weird roommate was spotted running on campus, but in jeans.
FRIDAY
University Village entered a partnership with Natty Light.
Interim president Joseph Alutto asked people to please stop calling him "interim president."
Block O was apparently expected by some to act as campus police, given even less authority.
And Kenny Guiton told Braxton Miller he deserved to regain the starting job just to be nice.
SATURDAY
Badger fans were excited to help scarlet out the shoe.
Block O reps assured the university that "f---ing head" actually just refers to the returner's penis, so it's fine.
Jordan Hall was wondering if it was something he said?
Kenny Guiton refused LeBron James' autograph request.
Ohio State finally pulled out the "Braxton-Miller-runs-around-then-throws-late-in-the-half-touchdown-against-Wisconsin" play.
Kenny Guiton set an Ohio State record for whatever stat holders get.
The Goodyear blimp pilot got pretty dizzy.
Cameron Johnston had the time of his life.
Campus roommates reported that Kenny Guiton would have scored more.
And Jordan Hall suggested that Carlos Hyde celebrate the victory against Wisconsin by hitting up the bars.
---
The Fake Lantern is the fake student voice of The Ohio State University. You should follow them on Twitter: @TheFakeLantern.