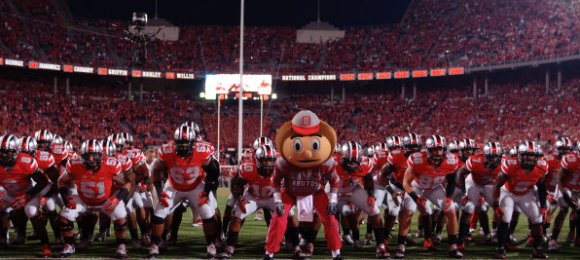 In the first true test of the season, Ohio State welcomed back Braxton Miller and the kid answered the bell with 281 total yards and four touchdowns in a 31-24 victory over Wisconsin in a raucous-by-OSU-fan-standards Ohio Stadium. 
Miller's big plays, including a clutch 40-yard touchdown toss to Philly Brown to end the first half, supplemented a solid effort by the defensive front seven who combined to limit Wisconsin's vaunted rushing attack to well over 200 yards below their average.
Though the Bullets did a nice job bottling up the run, Joel Stave and Jared Abbrederis scorched Bradley Roby through the air, giving the Buckeyes plenty to work on in prep for pass-happy Northwestern. Of greater concern in the secondary is the loss of Christian Bryant, who injured his ankle during Wisconsin's last gasp possession and was on his way to surgery shortly thereafter. 
In attendance with two fellow dubbers following another incredible Eat Too, Brutus, we didn't have the best of vantage points but we'll still plow forward with this week's episode of Five Things before we focus our attention on Northwestern. 
REMINDER: THAT MILLER KID IS PRETTY GOOD
With all due respect to Kenny Guiton because I've got nothing but love for that guy, it was nice to see Braxton Miller remind some of the fans with selective amnesia exactly why he's not only the starter but one of the 10 best offensive players in college football. I mean, the talk from some people that Guiton should continue to start or at least split time with Miller against a top-flight opponent was ridiculous. 
Against a physical defense led by the amazing Chris Borland, Miller lit up the Badgers for 281 total yards and four scores, a couple via throws that served as absolute daggers.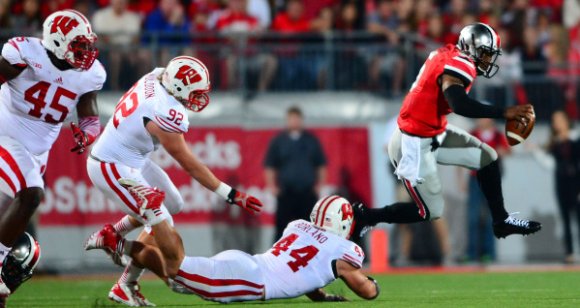 The first came with :10 left in the opening half on 4th and 7 as he fired a laser to Philly Brown for a 40-yard score putting the Bucks in front 24-14. The velocity of the throw made the play possible after the corner cheated up as the safety rotating to help over the top could not get there fast enough. Lost in that sequence is Miller's 8-yard run on 2nd and 15 from the Wisconsin 48. The line broke down and most quarterbacks would've lost 10-15 yards on the play but Braxton was able to juke free and actually find a crease for 8-yards to set up the touchdown throw two plays later. 
The second proved to the game winner as he found Philly for a 1-yard score giving OSU a 31-14 lead late in the 3rd quarter. The awkward looking play was run to perfection as Miller rolled to his right before throwing low and inside to Brown through heavy traffic along the line of scrimmage.
Beyond those two crucial connections, Miller made a host of other spectacular throws including a 25-yard touchdown pass to Evan Spencer to open the scoring. Rolling left, Miller threw a strike across his body with impressive velocity. His 26-yard hookup with Devin Smith late in the 1st quarter also showcased an increasingly accurate cannon as he smartly back-shouldered the defender who actually had decent coverage.
Miller was clearly a little tentative in the run game early but still managed 83 yards on 22 carries for the day.
Overall, you have to be pleased with the performance of a quarterback everyone thought might be a little rusty after sitting out for so many weeks.
ROUGH NIGHT FOR ROBY
The good news is that we all probably watched the worst game Bradley Roby will ever play and the Buckeyes still escaped victorious but man did Jared Abbrederis, a great college player in his own right, teach him a thing or two last night. 
Almost exclusively in coverage against Wisconsin's version of White Lightning, Roby was caught more than once being overaggressive and biting on the first of Abbrederis' double moves.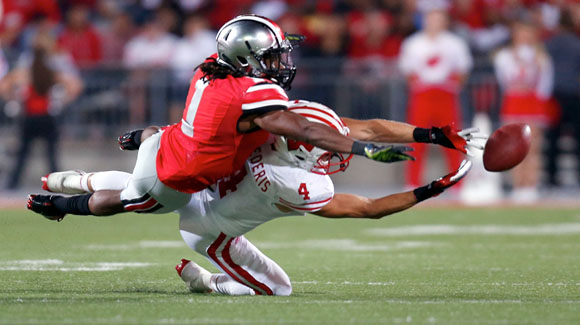 Abbrederis finished with 10 grabs for 207 yards and a score, and would've had another 20 if not for a Roby PI call. Interestingly, and I didn't think much about it at the time, but against the only other decent offense Ohio State faced, Cal's freshman quarterback showed no fear in taking on Roby with success for much of that night. 
Roby did have an interception but it was gift-wrapped by great pressure from Adolphus Maximus that forced Stave to make a rushed throw. 
At this point in the season, Roby's hype has not matched his production, just a year removed from breaking up 17 passes during the undefeated season. With Roby's luster taking a bit of a hit and now Christian Bryant on the shelf thanks to ankle surgery, you have to wonder how opposing offenses might adjust their game plans going forward. 
Again, I'm not hating on the kid. He's got a respectable resume thanks to awesome recovery speed and typically pretty solid ball skills but he's got to challenge himself to be more disciplined especially with the secondary a man down. 
LINEBACKERS DO WORK
I've been pretty critical of linebackers not named Ryan Shazier the last few years so I'm delighted to offer a tip of the cap to both Curtis Grant and Joshua Perry.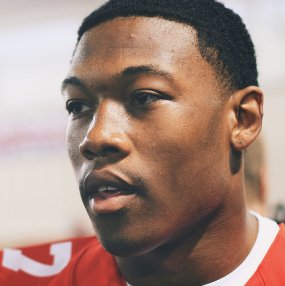 Finally facing a conventional offense, the Buckeyes played the most two and three linebacker set we've seen all season and against Wisconsin's powerful rushing attack, those guys stood up to the challenge. 
Shazier led the team with nine tackles, 2.5 TFL and a forced fumble but he wasn't alone this time as Grant (7 tackles, 1 TFL) and Perry (7 tackles) combined for 14 total stops. 
Only Roby, who finished with eight tackles mostly because his man had just caught the ball, had more tackles than the oft-maligned linebackers. 
The defensive line did a great job in run support, getting decent penetration and allowing the linebackers room to operate, and the combined effort saw Wisconsin rush for just 104 yards on 27 carries, averaging 3.9 yards a pop. 
They might not get much action next week in Evanston but I definitely felt both Grant and Perry answered the call last night. 
SIT DOWN!
So, I'm not sure how this will be received but I wish I could say I was amazed at how "fans" in our section acted last night for a big game in the Shoe.
Overall, the atmosphere in the stadium was outstanding and most people seemed to be there to try and create a home field advantage so maybe the three of us were just unlucky in our seat assignment but what happened to us during the 1st quarter was an embarrassment to fandom and a microcosm of why many people opt not to go to games because you run the risk of being surrounded by drunken idiots who think they are smarter than Urban Meyer, or worse, you end up surrounded by people easily offended when you stand, yell, clap, you know, do stuff to support the team. 
Honest to God, we had no less than 40 people absolutely screaming at us to sit down. Screaming! When I turned and fairly politely noted that it was pleasing to see them finally being passionate about something instead of just sitting on their asses doing nothing to support the team, one lady threatened, and followed through, in getting an usher to deal with me and the other two 11-dubbers / obvious psychopaths I was with. 
The usher, to his credit, was outstanding. I asked him, half-jokingly and totally respectfully, if he planned to relocate us with sideline passes since we paid $300 to actually support the team. He obviously didn't do that but he did deescalate the situation in a very professional manner and the three of us actually became section-celebrities for the rest of the game with the true fans around us glad we told the fans mistakenly thinking they were there to watch a dance recital to shove it in a sarcastically-wonderful way. 
Needless to say, I won't be going to another game in the Shoe unless I'm located within the students who actually give a damn about the outcome. 
A WORD OF THANKS
I know I speak for the entire staff when I say just how thankful we are to have such a strong and supportive readership. 
Many of you spent good money to attend the Gold Pants Social and made the event a blast. My personal highlight was an incredible conversation I had with Jim Lachey in which he schooled me on the finer points of watching tape and how that process helped him contain Bruce Smith all those years in the NFL. Not only was it amazingly informative as he talked of identifying tells but he also even acted out how he would block against certain players, nearly separating my shoulder in the process.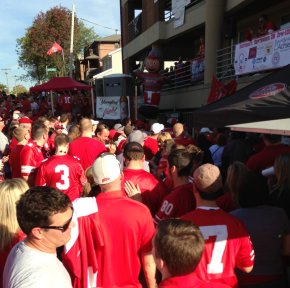 Naw, it wasn't that close to being separated but I was definitely glad I had a few delicious pints of Land Grant Brewing's Gold Pants Lager in my system to offset the pain. 
And good Lord was Eat Too, Brutus IV off the chain or what? 
The thing kicked off with roughly 20 members of The Best Damn Band In The Land knocking the cover off the ball, treating us to Carmen Ohio, The Buckeye Battle Cry and Hang On Sloopy before donating a band hat toward our raffle held later in the day. What a classy bunch of folks to take time out of their busy Saturday to swing by and get things started. 
Later, Mekka Don broke it down in front of packed house as everyone overdosed on Yuengling and Goose Island courtesy of the fine folks at Columbus Distributing and pork for days from the outstanding crew at City Barbecue. 
It was also fantastic to see Maurice Clarett swing by and even better to see how warmly he was received. The man made his mistakes, owned up to them, and is doing all he can to make things right. That's good enough for me and I'm glad to see it was good enough for all of you. He couldn't have been more gracious and his redemption story has been fun to watch. 
Finally, I wish I would've gotten to meet even more of you but it was awesome chatting with Abe Froman, Nappy, YRRO and numerous others over the course of those two days. 
To everyone who donated to the Gold Pants Club and to DownSyndrome Achieves, we salute you.