John Cooper and Scoonie Penn headline a group of 14 former Buckeye greats, legends in their respective sports, who were inducted into the Ohio State Athletics Hall of Fame this weekend.
"It's at the top," Scoonie Penn said of the honor.  "It definitely means a lot, because I know that it took a lot for me to come here," Penn continued.
For those who may not remember, Penn was a two-time First Team All-Big East player at Boston College before following Jim O'Brien to Ohio State after his sophomore season.  After sitting out the 1998 season, Penn immediately became an impact player on the '99 team that made it all the way to the Final Four.  That 1999 Final Four team, Penn believes, paved the way for the current success the program is enjoying under Thad Matta.
"That '99 team, we changed culture here at Ohio State, we really did.  Because if we didn't play as well as we did to catapult into 2000... A guy like Thad wouldn't have been thinking about coming here.  I think we really started the stepping stone of it, got it back on track.  I know for me, [the guys before us] loved what they laid down for us, and I love what we laid down [for the current team] and I'm sure it's going to continue that way." - Scoonie Penn
Penn is currently working with a lot of kids, helping train them as basketball players and is working toward having his own gym.  "I feel there is a great deal of talent in this area that needs to be developed," Penn said of his work. Check out the full interview with Scoonie here:
The other members inducted into the hall of fame this weekend include: Matt Beaumont (baseball), Hugo Boisvert (men's hockey), Dan Cheney (men's lacrosse), Jim Daniell (football), Ninett Kossowsky (rowing), Melissa Miller (women's soccer), Saskia Mueller (field hockey), Laura Murray (pistol), David Pichler (men's diving), Monica Rincon (women's tennis), Tommy Rowlands (wrestling) and Jim Sweeney (pistol coach).
Laura Murray and Monica Rincon both called the honor "the icing on the cake" of their careers.  Murray didn't believe she would ever be inducted into any hall of fame, and was surprised by the honor.  Her family wasn't so surprised, as she said her family had been telling her this was going to happen for years.  Her father's reaction when she told him of the honor: "I told you so!"
Monica Rincon hails from the state up north, and wanted to play tennis for them before the Michigan coach told her she "wasn't Big Ten material." Rincon showed that she wasn't only Big Ten material, but All-American material as well, becoming one of Ohio State women's tennis' first All-Americans in 2001.
Former wrestling great Tommy Rowlands talked about his current involvement with the sport.  Rowlands actually was a member of the Committee to Preserve Olympic Wrestling and is helping in any way he can to promote the sport he loves.  Rowlands was a 2-time NCAA champion and 4-time All-American.
We also got a chance to talk with former Ohio State football coach John Cooper.  Cooper is also a member of the College Football Hall of Fame and the Rose Bowl Hall of Fame among a few others.
"It doesn't get any better than this," Cooper said of the honor.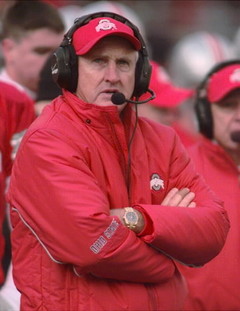 While sometimes remembered more for his lack of success against Michigan, Cooper finished his career with a record of 111-43-4, second in wins only to Woody Hayes.  Cooper also took the Buckeyes to Rose Bowl and Sugar Bowl wins, and coached several future NFL greats.
Cooper believes that in today's BCS era, his teams would have won a couple of National Championships.
"If we'd had the same system then that we have now, I honestly believe we would have won a couple of National Championships. I think we had 2 or 3 teams here in the mid-to-late 90's that were as good as anybody. Alabama lost a game last year, they lost a game the year before. We lost a game and we're done, you don't get a chance to play for it."

- John Cooper
Another main difference between the game today and when Cooper coached that he talked about was assistant coach salaries.  Cooper lost Larry Coker (National Championship coach at Miami) and Lovie Smith (took the Chicago Bears to the Super Bowl) during his tenure at Ohio State.
Cooper still stays involved with football in an advising role for the Cincinnati Bengals, and helping out Ohio State from time to time.  Urban allows him to sit in on meetings and practices whenever he likes, and he and Earle Bruce have an office at the Woody Hayes Athletic Center.  Cooper helps out Ohio State by telling the coaching staff about opposing players that the Bengals are scouting.
Cooper also stays involved by voting in the Legends Poll - a poll made by several former coaches (including Bobby Bowden).  The coaches watch games and discuss the teams in a weekly teleconference before making their votes.  Cooper says they are trying to get more national recognition in hopes that the BCS will adopt their poll but sarcastically mentioned that "it makes too much sense" for the BCS to adopt it.  For the record, Cooper said he voted Ohio State 5th or 6th in his latest poll, with Alabama and Oregon 1st and 2nd respectively.
Cooper is really an encyclopedia of football knowledge and was great to talk to.  You can view the complete interview here: