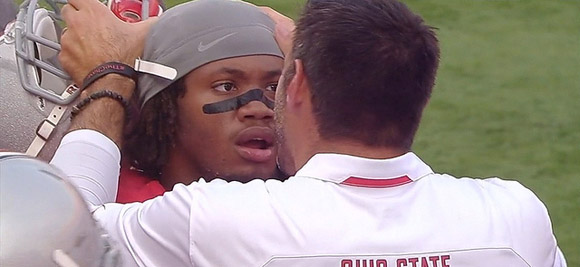 There are 47 seconds remaining in the San Diego State game. Sophomore defensive end Jamal Marcus crashes in on Aztec quarterback Quinn Kaehler, sacking him to force a fumble, which was recovered by Marcus' teammate, Chris Carter. It was garbage time, yet a big play as far as garbage time goes.
When Marcus reaches the sideline, Mike Vrabel grabs him, removes his helmet and delivers a religious experience to the young player.
What did Vrabel say? Whether serious, funny, or just outright weird, comment with what you think Vrabel said to Marcus and you could win two tickets to sold out Eat Too, Brutus IV. It's the only way anyone without a ticket is going to get in at this point. And Bradley Roby wants us to have fun Saturday, so who are you to argue with the man?
We'll go by upvotes, taking the 10 comments with the most votes and picking a winner from that bunch.
The fine print:
Must be 21 years-old or older.

Deadline for entries is noon on Friday, Sept. 27, 2013.
Good luck!