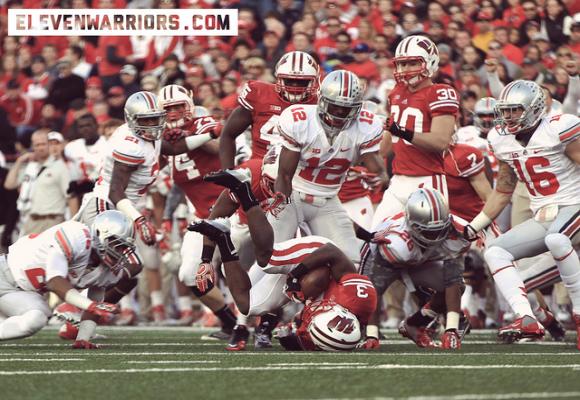 The sweet tooth has disappeared from Ohio State and Wisconsin. Now it's on to steak and potatoes, a Midwestern feast. Both teams had a steady diet of cupcakes during the non-conference season. But there will be no more Buffalos, UMasses, Tennessee Techs or Florida A&Ms.
The first concrete evidence revealing Saturday is different than the past four weekends is the ticket price — $110. It's the first premium ticket game in Ohio Stadium history, and according to head coach Urban Meyer, "This will be a classic game."
The result of that prediction won't be determined until Saturday night or the wee hours of Sunday morning. What is already evident is the players' excitement for a meaningful game in primetime. They enjoy wins and padding the stats, but they, too, anxiously await the season-defining clashes.
Center Corey Linsley said Jack Mewhort told him, "I'm ready to play somebody this week." That's no disrespect to the capable first four opponents, but it's in a different stratosphere than the competitiveness of Big Ten games.
"It'll never be. It couldn't be," Linsley said. "The Big Ten season has its own feel to it. It's colder outside, practices are a little longer, the preparations are a little more intense. Everything is amped up a little because it's conference play. It's nice to get back to that mentality."
Meyer went as far as to call Wisconsin the king of the Big Ten. The Badgers have won three straight Big Ten titles, but the players on both teams know Ohio State finished undefeated last year. Just another motivational ploy by the psychology major.
"We won it last year," cornerback Bradley Roby said.
The Buckeyes haven't had anything this season that comes close to resembling a tight game. They haven't trailed at any moment and the fewest touchdowns they've scored in the first quarter are three. Both of those streaks could come to a screeching halt this weekend.
How the players react is the question. There seemed to be little issue with finishing out close games in 2012. Of Ohio State's 12 victories, six were decided by a touchdown or less, including two that went to overtime. Arguably the most thrilling win was No. 11, a 21-14 triumph in Camp Randall stadium that required an extra period. The Buckeyes gave new meaning to Wisconsin's Fifth Quarter.
"It is very much a game that I think our players and their players know that it's going to come down (to the final second)," Meyer said.
It's not often the first conference game of the season (for Ohio State, Wisconsin beat Purdue last week) is the most important. That could very well be the case on Saturday. The Michigan game looms in late November, but the opportunity this week against a divisional foe is immense.
"We have to take our game to a different level," linebacker Curtis Grant said. "Anybody who gets in that game has to maximize their talent and just go out and play. We're in the Big Ten now – nothing's guaranteed, nothing's promised."
Said Meyer: "As much as you like coaching in those games, there's also the competitive spirit of the whole thing. You know the preparation has got to be, cross all the t's, dot all the I's."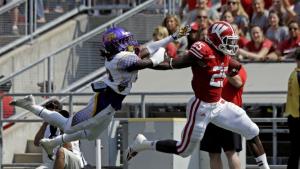 A Full Tank
Wisconsin running back James White is the NCAA's active career rushing leader. Incredibly, though, it's sophomore Melvin Gordon that's attracted a bulk of the attention in Columbus this week.
In four games, Gordon has tallied more than 600 yards on the ground and scored seven rushing touchdowns. And he's done it all while averaging 13 carries per game. Gordon is the anion's leading rusher at this point. But Saturday presents a true test for Gordon, an opportunity to prove himself against a top-15 defense.
Last season, Gordon had one carry for minus-1 yards against Ohio State.
"It was a tough game for me," he said.
Gordon has hit the 100-yard mark in all four games this season, averaging nearly 12 yards per carry. The Buckeyes have only allowed one team to gain 100 yards rushing in four games. Granted, the competition hasn't struck fear in the Silver Bullets.
The defensive front seven might be rebuilt, but it's held up strong so far. Just as Gordon faces his first major challenge this weekend, the same goes for the Ohio State defense. Gordon is a fan of college football, though, and knows the Buckeye just reload.
"Those guys are big and athletic and I'm pretty sure, fast," Gordon said. "They'll probably be even faster come game day with the intensity and everything. The holes will probably close up a lot faster than normal.
"You're not going to get too much outside of them. You've got to be physical with those guys because outrunning them, I don't think that will happen."
If Gordon's outing is below his average, he'll have White and Corey Clement to pick him up. The trip is averaging 350 yards rushing per game and all three rank among the top 35 rushers nationally. Gordon is first, White 10th and Clement 35th.
"They're great backs," head coach Gary Andersen said. "[Gordon and White] both have a big part in the offense, and will continue to. It's a great balance. I think it throws a little bit of an offset. You saw them in there a couple of times last week together, and that's something we'll continue to do as we move forward."
Passing Fancy
It was only six games ago that Ohio State and Wisconsin last played. The Buckeyes were undefeated, but the trust level in the wide receivers was low. Ohio State threw 18 passes and ran 41 times in the 21-14 overtime win.
Less than a year later, the mood is decidedly different. The Buckeyes are coming off a game in which their quarterback set a school record with six touchdown passes in a game, and 10 different receivers caught a pass. There is no hesitancy to throw the ball.
"That's probably the biggest development in the past 12 months, our development of the skill position and being able to throw the ball more efficiently," wide receivers coach Zach Smith said. "Some of the things last year that we weren't comfortable with, we're more comfortable now. Obviously, that's been evident through the first four games, and that's something we have to be able to do."
Philly Brown and Devin Smith's ability to not only become vertical threats, but run routes to various parts of the field has given Ohio State a more well-rounded passing game. The tight ends are contributing more and Braxton Miller and Kenny Guiton are more developed passers.
The Buckeyes first needed to develop dependable receivers and then move to depth. They've succeeded at both during the offseason. Seven players have at least seven receptions.
"That was critical for us, because defenses can take away one guy, one position," Smith said. "But if they have to worry about across the board five skill players at every snap, everything opens up. That was something we really needed to do this year, and fortunately, it's happening so far."