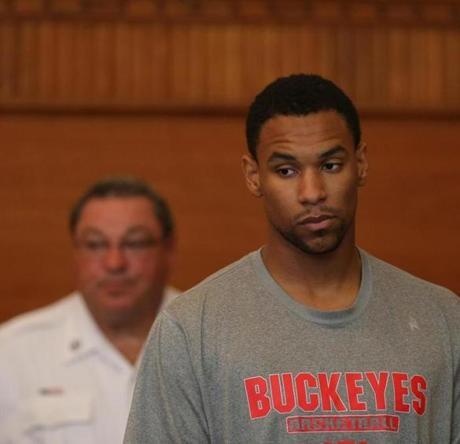 From The Boston Globe:
Sullinger, 21, was in Waltham District Court Monday to face charges of assault and battery, destruction of property, and intimidation of a witness in an Aug. 31 incident with his girlfriend, Deann Smith, at Sullinger's Waltham residence.

Sullinger's lawyer, Charles Rankin, said Smith does not want to continue the case and she is not fearful of Sullinger, but the Middlesex District Attorney's Office is planning to pursue it. Sullinger's next pretrial hearing is Oct. 28, two days before the Celtics open the regular season against the Raptors at Toronto.

"The case is pending," said Stephanie Chelf Guyotte, director of communications for the Middlesex District Attorney's Office. "We believe we have evidence supporting the charges and we're continuing to move forward."
This is a good reminder to everyone: It only takes a split-second terrible decision to end up in the system, and once you're there, it's a lot harder to get out of it. Still surreal to see Sullinger wrapped up in something like this, however.