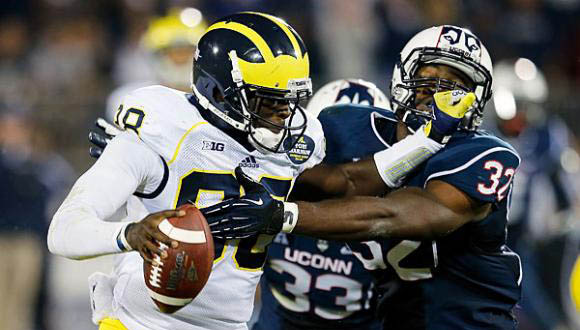 Once more into the breach, Michigan stared down a mighty foe in the final seconds of an early season out of conference game and somehow, miraculously, emerged unscathed.
This was a weird game for a lot of reasons, but the one that sticks out in my mind the most is the fact that Fitz Toussaint ended up winning the damn thing despite my almost near constant mockery of his abilities. Gardner had a just completely terrible game, outperforming his Huskie counterpart Chandler Whitmer (but only in the sense that Whitmer lost).
The defense didn't get beat quite as often as they normally do and looked stout against the run, but the big caveat is that this was against Just Uconn who now ranks dead last in the country in overall rushing offense. Greg Mattison is probably happier about the face his squad was able to survive four Michigan turnovers, but yeah, UConn man! Michigan is now 4-0 and have a Bye week to sort things out, but after that they welcome the Golden Gophers to the Big House in a game that they could easily drop.
Just to repeat that, there is a very real possibility that Michigan gets worked by Minnesota. In the Big House.
Once again, Ace from MGoBlog and I sift through the detritus that was the UConn game.
Quarter 1
DRINK! Michigan actually looked pretty decent on their first possession, but Devin Gardner needed to fulfill some kind of blood contract and threw an interception for the ninth consecutive game. Then Michigan largely took the ball out of the hands of Gardner and instead put it in his feet, with the result being a touchdown. The quarter ended on a high note with Gardner getting nailed in the backfield two times in a row. 7-0 Michigan.
Johnny: From the looks of things, UConn figured out the script to beat Michigan but really couldn't execute it well in the first quarter. What's the bigger issue in the secondary, scheme or personnel?
Ace: Until Greg Mattison fails to produce a top-20 defense nationally despite battling through serious depth issues and a lack of top-tier talent (as he's done the last two seasons, though the depth/talent excuse goes away next year), I'm very hesitant to question anything scheme-related defensively. The big issue with the secondary is that, aside from Blake Countess, the cornerbacks are routinely getting beat over the top, which forces Mattison into vanilla two-deep schemes with soft coverage on the outside; Michigan isn't giving up much in the way of big plays, and a lot of the pass defense issues are on the linebackers (especially Joe Bolden), but they are allowing a few too many easy yards by playing off—and the non-Countess corners are still getting beat over the top once or twice a game, which is deeply concerning.
That said, the defense allowed just 5.0 YPA against UConn while shutting down the run entirely; they currently stand 22nd in the country in passing efficiency defense. This isn't remotely close to the biggest concern about the team.
Quarter 2
Some people were theorizing that Devin got spooked by his INT, which led to some tentativeness in the second quarter, but since that's pretty old hat for him I can't really see that being the case. A long touchdown pass for UConn was called back, but they completed the drive anyway. Another Gardner INT, a really dumb gift turnover off a punt that lead to a touchdown, and the Michigan half of the crowd started tugging nervously at their ascots. 14-7 ...UConn???
Johnny: Is Devin Gardner broken? I've never really taken him for anything more than a decent QB with great athletic ability, but the past two games have been especially bad for him.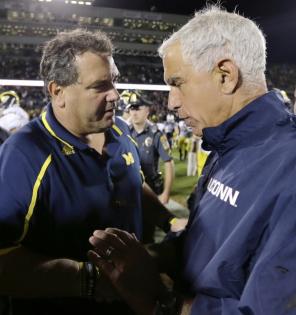 Ace: Your guess is as good as mine. Gardner, much more than Denard, has the capability to sit in the pocket, go through his reads—or even make (gasp!) pre-snap adjustments, which the coached didn't really trust Denard to do—and make NFL-level throws, and of course he's pretty dangerous on the run. The last couple games, however, his mechanics have broken down—an issue that cropped up against OSU and South Carolina last year—and he's making inaccurate throws while also being careless with the football when he runs.
The first pick to Jeremy Gallon wasn't a poor decision; he didn't set his feet and the throw sailed, hitting Gallon's outstretched fingertips instead of his uniform numbers. Jehu Chesson could've done more to adjust to the football on Gardner's second pick, though it wasn't the best of decisions to huck it deep to a well-covered freshman on first down. Those are easy things to correct. The part where he loses his mind once or twice a game and does something astoundingly stupid is something for which I don't have an explanation, nor any idea if it can be corrected this year.
Quarter 3
BUTTFUMBLE! Gardner turned the ball over for the seventh time in two games, and UConn scooped it up for a touchdown. The teams glared angrily at each other for a bit, until Fitz Toussaint reeled off a 35 yard touchdown run to get Michigan back in the game. UConn missed a field goal, and I started to think I've seen this script before. 21-14 UConn.
Johnny: Let's talk positives! Uh, you go first.
Ace: ...
Okay, I guess there's Fitz Toussaint, who must read 11W, because he came to prove that he can be relied upon if he just gets even half-decent blocking up front. His worst runs were mostly of the "guy blowing up the play before it ever had a chance" variety; his best included two gorgeous cutbacks on the speed option touchdown and a couple very patient runs that ended with bursts into the secondary late in the game. Fitz looking like 2011 Fitz was easily the biggest positive on offense.
Defensively, I have no complaints. Despite being routinely put in horrible situations—UConn had drives start on their 37, 41, 44, and the Michigan 9 and 34 in a six-drive span, and (surprise!) scored all three of their TDs in that sequence—the defense held the Huskies to 206 total yards on 3.6 yards per play. UConn had 13 drives of significance (and one end-of-half kneeldown), which is a whole lot considering Michigan's plodding pace offensively, and the defense not only held up through the whole game but turned in the biggest play in Desmond Morgan's late interception.
Quarter 4
A promising Michigan drive ended on downs (Gardner fumbled again but at least this time he fell on it), but Desmond Morgan responded by making an unbelievable effort on an INT and took it to the UConn 12. Toussaint immediately converted the TD, and tied the ball game. The Wolverines added a field goal to take the lead, and UConn (like Akron before them) started a doomed final drive in a misguided attempt to win the game. They borked it, and Michigan remained undefeated. Somehow. 24-21 Michigan.
Johnny: Only two more wins to be bowl eligible!
Ace: Hooray!
I spent the entire weekend trying to convince myself that I didn't see Courtney Avery's man beat him clean over the top with no help in sight on UConn's last-gasp fourth-down play, and have clearly failed to do so. Thank you, Chandler Whitmer, for being Chandler Whitmer and not just about any other starting quarterback in the FBS.
Overview
Johnny: Sweet, merciful Bye week! I honestly don't know what's going on with Devin at the moment. The easy way out would be to lay this all at the feet of the offensive line (which has been godawful), but his decision making has gotten worse somehow. Again, the dude has turned the ball over SEVEN TIMES in the last two games.
Here's what I'm seeing: Gardner isn't great at looking downfield in the pocket right now, so they try to roll him out to hit guys like Gallon and Chesson and sometimes Butt on the edge. The problem is that the tackles have been getting worked by opposing d-lines and collapsing the play before Devin has any idea what to do. Lewan and Toussaint both had decent games against UConn, but overall the body of work is not good.
The defense looked... better, but considering UConn scored more points against Michigan than they did against Towson I'm not sure that this performance is something to crow about. Frank Clark had an outstanding game though, and the linebackers looked solid-ish. Something to build on, right?
Ace: I disagree with large portions of your overview while maintaining the same level of concern over this team's obvious issues, which can't be a good sign. The tackles have been very good aside from one time against UConn that Michael Schofield got beat off the edge. (Lewan's sack allowed was a blown line call, as you can see the entire line slide to the right before Lewan realizes that was an awful call and fruitlessly tries to recover.) Otherwise, pretty much all the pressure on Gardner has originated from up the middle—usually against center Jack Miller, who allowed a nose tackle to get into the backfield almost immediately on a three-man rush in this game, which [pulls hair out], or on designed waggles that intentionally leave a man unblocked. I wouldn't be surprised if there's a shakeup on the offensive line during the bye week, with Graham Glasgow—who's been a decent left guard and has more size than Miller—moving to center and 330-pound behemoth Chris Bryant stepping in at guard, which may actually give Michigan the size to hold the point of attack and run power.
The defense, again, played as well as could reasonably be asked considering the situation, and since seven of UConn's points came on a fumbled QB sneak that Towson comparison is pretty irrelevant. I'm not that high on Clark's performance—he did it against UConn's backup right tackle, who is awful (yes, I watched extensive film on UConn, and hate my life for it)—but he at least showed signs of life.
What we've established through four games is this team lives and dies with Gardner every bit as much as they did with Denard. It's all about limiting the turnovers; given the body of evidence, I'm not particularly optimistic that this team can compete for a Big Ten title—that is, until I look around at the rest of the division, where Northwestern may be the best team but are saddled with the toughest conference schedule.