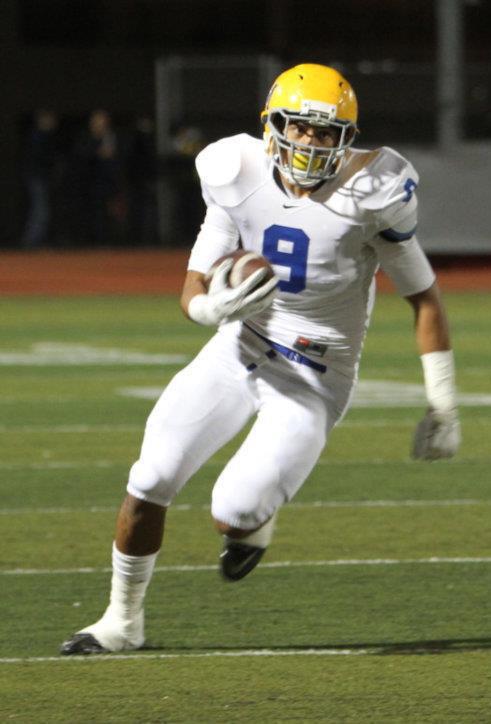 Welcome to another edition of the Ohio State football recruiting notebook.  We'll wrap the week up for you and give a preview of what's coming up next.
It was a slower week for Buckeye recruiting as they spent the weekend in Berkeley.  However, this week saw a few new offers go out to 2015 prospects as well as the first 2017 scholarship offer.
Several of Ohio State's top targets (and one current commit) spent the weekend at other schools, we'll take a look at the impact of these visits and what it means for the Buckeyes.
One of the top players in the nation for 2014 scheduled his official visit to Ohio State this week.  We'll discuss this in more detail and analyze Ohio State's chances.
It was another great weekend of high school football for current Ohio State commits and targets, we'll break down their performances and look ahead to this weekend's games.
Lastly, we'll take a closer look at the recruits that will be in attendance this weekend to watch the Buckeyes take on Florida A&M.
Join us after the jump to learn about the past, present, and future of Ohio State football recruiting.
The week that was
With the Buckeyes out of town this past weekend, many Ohio State targets took the chance to get to visit other schools.  Among them was current commit Marcelys Jones (OL, Cleveland Glenville), who spent the weekend at Kentucky.  According to Jones' teammate and fellow Buckeye target Erick Smith, the recruiting process isn't over for the O-lineman from Glenville.
"It's not really over for him... I don't think he's stuck on Ohio State because he still out there looking at the schools. When it comes down to it, I am sure he'll make the right decision." - Glenville DB Erick Smith on teammate Marcelys Jones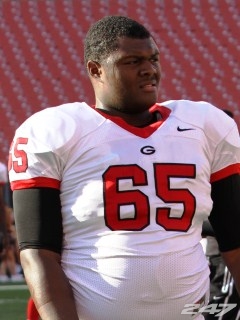 The visit to Kentucky was Jones' second since committing to Ohio State last Christmas, and he also has an official visit to Alabama scheduled for November 8th.  While Jones certainly doesn't seem like he's closed the door on his recruitment, one should expect him to remain a Buckeye as the article also mentioned that Jones, Smith and Marshon Lattimore plan to commit to the same school when it's all said and done.  Ohio State is clearly the favorite for the Glenville trio, but the situation is one to keep watching.
Solomon Thomas was at Texas on Saturday to witness the Longhorns fall to Ole Miss 44-23.  A 5-star defensive end, Thomas is one of Ohio State's top remaining targets and is expected to choose between the Buckeyes, Texas and Stanford.  Texas has been the favorite for a while, though Thomas has been trending a bit towards Stanford recently.  Either way, Texas' lack of success on the field can't hurt Ohio State's chances with Thomas, who visited Ohio State this summer and could be back this fall for an official.
Elsewhere on visits this past weekend were 2014 targets Matt Elam (Kentucky), JuJu Smith (USC) and 2015 targets Soso Jamabo (Texas A&M), James Lockhart (Texas A&M) and Justin Hilliard (Penn State).  JuJu Smith is scheduled to visit Ohio State for the Wisconsin game (9/28) and Justin Hilliard is planning to be on campus for the Iowa game (10/18).
James Lockhart (4-star DE) was one of four members of the 2015 class who picked up offers this week, along with 4-star RB Jordan Scarlett, 4-star WR T.J. Simmons and 3-star WR Van Jefferson.
Lockhart announced the offer Wednesday night on Twitter, and it would be an understatement to say that he was happy to get it.  Shortly after, Lockhart tweeted that his dad teared up following the news.  Lockhart named Texas his leader in August, but has since visited Baylor and Texas A&M while the Longhorns continue to struggle.  Expect Ohio State to be a player in his recruitment, as Tom Herman continues to recruit the state of Texas incredibly well.
Jordan Scarlett (Ft. Lauderdale, FL) is currently ranked as the nation's third-best running back and holds an impressive offer list.  Scarlett has named a top three of Florida State, Miami and Florida, leaning towards Florida State.  Scarlett will probably remain in Florida, but only time will tell if he eventually makes it to Columbus for a visit.
Ohio State became the first non-Florida school to offer T.J. Simmons (Lakeland, FL) this week, joining Florida, Miami, South Florida and Central Florida on his offer list.  Clemson is also in play here as his mom ran track for the Tigers, but they have yet to offer.  Simmons season was cut short last year by an ACL injury, but has shown excellent quickness, agility and exceptional power for his size so far this season, and is a long strider once he hits the open field (check out his film from this year here).  Simmons is still very early in the process, having only visited Miami for the Florida game so far.  Ohio State figures to have a pretty good chance of landing him, so he is definitely someone to keep an eye on as he starts the recruiting process.
Van Jefferson (Brentwood, TN) landed his fifth and biggest offer when the Buckeyes offered him a scholarship on Wednesday.  The 6-foot-3 WR currently holds offers from Tennessee, Middle Tennessee State, Vanderbilt and Penn State in addition to Ohio State.  Jefferson played for Orchard Lake St. Mary's last year in Detroit, MI, but transferred to Brentwood when his dad took a job with the Tennessee Titans.  At 6-3, Jefferson possesses the size and speed to be a great outside receiver for the Buckeyes.  Jefferson has named Clemson as his favorite, though they have yet to offer him.
Ohio State made their first 2017 scholarship offer this week when they offered Raekwon McMillan's teammate Richard Lecounte.  Lecounte is already 6-foot-1 and 175 pounds as a freshman, and also holds an offer from Florida.  Lecounte will be visiting Ohio State on 10/26 with McMillan for the Penn State game.  The freshman is primarily playing defensive back and wide receiver in addition to returning kicks.  Lecounte definitely has all the tools to become a real stud, the offer is not merely a play to get McMillan as Ohio State really wants both of these guys.  Check out his highlights from this season here.
Lastly, the top-ranked TE in the country, Tyler Luatua (La Mirada, CA), scheduled an official visit to Ohio State for the Wisconsin game (9/28).  Luatua has not spoken too much about his recruitment, but most believe it to be an Alabama-Notre Dame battle for his services.  This being said, the fact that Ohio State is getting one of his official visits (along with Notre Dame and Alabama) means they are certainly not out of the running.  Tyler's older brother, Isaac, plays offensive line for Alabama and this could end up being a major factor in his recruitment.  On a side note, Luatua hails from La Mirada, which is 50 minutes from freshman Buckeye TE Marcus Baugh's hometown (Riverside), so that could be an interesting storyline to watch while Luatua is on campus.  Stay tuned as we'll have more info as we get closer to Luatua's visit.
High school football preview
Be sure to check out Birm's complete review of last week's games here for more details.  One quick thing to point out, Ohio State commits that played this week (not including Jamarco Jones, Kyle Berger or Jalyn Holmes) had a combined record of 14-1, with the only loss coming from K Sean Nuernberger's team. 
| Position | Player | School | Opponent | Comment |
| --- | --- | --- | --- | --- |
| QB | Stephen Collier | Lee County (Ga.) | Morrow (Ga.) | 800 passing yards and 14 total TDs through 3 games. Team won 24-6 last week |
| WR | Parris Campbell | St. Vincent-St. Mary (Ohio) | Youngstown Cardinal Mooney (Ohio) | Back-to-back 3 TD games gives him 8 total through 3 games, 4 of 48 yards or more. |
| WR | Terry McLaurin | Cathedral (Ind.) | at Cincinnati St. Xavier (Ohio) | 2 receiving TDs and kick return TD last week. Had 4 catches on final 86 yard drive to lead his team down the field and take the lead with 10 seconds left. 425 yards and 6 total TDs through 3 games, takes on 2015 target Justin Hilliard this week. |
| OT | Jamarco Jones | De La Salle (Ill.) | Chicago St. Ignatius (Ill.) | Still recovering from shoulder surgery, team lost 55-20 last week, no timetable for return. |
| OT | Kyle Trout | Lancaster (Ohio) | Pickerington Central (Ohio) | 6 pancake blocks offensively and 4 TFL defensively in 37-14 win last week. |
| OG | Marcelys Jones | Glenville (Ohio) | at Cleveland Rhodes (Ohio) | Won 32-13 last week, Jones visited Kentucky last weekend, see above story. |
| OG | Demetrius Knox | All Saints Episcopal (Texas) | at Dallas St. Mark's (Texas) | Several pancake blocks again in 56-14 win. Moved Official Visit date to 10/26 (OSU vs. Penn State) |
| DE | Jalyn Holmes | Lake Taylor (Va.) | at Norfolk Norview (Va.) | Didn't play last week and won't play this week as he serves the final game of his suspension. |
| DE | Dylan Thompson | Montini Catholic (Ill.) | Wheaton St. Francis (Ill.) | Double teamed all night and didn't play much due to game being a blowout, still recorded 2 tackles (1 for loss) in limited time in 56-0 win. |
| OLB | Kyle Berger | Ignatius (Ohio) | Erie McDowell (Pa.) | Rehabbing from knee surgery, team won 35-8 last week. |
| OLB | Dante Booker | St. Vincent-St. Mary (Ohio) | Youngstown Cardinal Mooney (Ohio) | Led St. V defense that only allowed 12 points in 49-12 victory last week. |
| CB | Damon Webb | Cass Tech (Mich.) | Detroit Cody (Mich.) | Interception, 66 yard punt return TD and 4 tackles in victory last week. |
| S | Malik Hooker | New Castle (Pa.) | at McKees Rocks Montour (Pa.) | Rushing TD and 6 tackles in 37-13 win last week. |
| ATH | Noah Brown | Pope John XXIII (N.J.) | Sussex High Point (N.J.) | 280 total yards (210 rushing, 70 receiving) and 3 TDs in season opener last week.  Won 40-28 |
| ATH | Sam Hubbard | Moeller (Ohio) | at Louisville St. Xavier (Ky.) | Limited action in 64-13 win last week. |
| ATH | Lonnie Johnson | West Side (Ind.) | Hammond (Ind.) | Set school record with 86-yard rushing TD, also had a receiving TD in 76-45 win. |
| ATH | Curtis Samuel | Erasmus Hall (N.Y.) | Cambria Heights Campus Magnet (N.Y.) | Scored 2 TDs in 20-0 season opening win. |
| K | Sean Nuernberger | Oldham County (Ky.) | at Shepherdsville North Bullitt (Ky.) | Made from 31, 48 and 41 yards, missed a 58 yarder wide left (into the wind). Now 14/14 on touchbacks and 8/8 on extra points. |
| TE | Tyler Luatua | La Mirada (Ca.) | at St. Francis (Ca.) | Big time TE target scheduled official visit for Ohio State-Wisconsin game, see story above. |
| TE | Mike Gesicki | Southern Reg (N.J.) | at Toms River South (N.J.) | 96 yards and a TD in season opening win last week.  Wants to visit for Wisconsin game but still needs to confirm it. |
| OT | Chad Mavety | Nassau C.C. (N.Y.) | Erie CC (N.Y.) | Won 34-7, visiting 11/23 (vs. Indiana) |
| OT | Damian Prince | Bishop McNamara (Md.) | St. Mary's Ryken (Md.) | Lost 42-0 last week, Florida State was the long-time favorite here, now trending towards and Ohio State-Maryland battle.  Has not scheduled official visit yet. |
| DT | Thomas Holley | Abraham Lincoln (N.Y.) | at Tottenville (N.Y.) | Won 44-8 last week, Florida visited him this week.  Doesn't have any official visits scheduled yet. |
| ILB | Raekwon McMillan | Liberty County (Ga.) | at Cross Creek (Ga.) | 38 total tackles, 264 rushing yards (on 25 carries) and 5 TDs through 3 games.  Visiting 10/26 (Penn State game).  Probably Ohio State's biggest target remaining. |
| S | Erick Smith | Glenville (Ohio) | at Cleveland Rhodes (Ohio) | 61-yard TD in 32-13 over Cleveland Heights, as mentioned in story above, said he wants to attend the same school as Lattimore and M. Jones. |
| ATH | Marshon Lattimore | Glenville (Ohio) | at Cleveland Rhodes (Ohio) | 2 TDs and an interception in win last week, Buckeyes still the favorite here. |
| ATH | Eric Glover-Williams* | Canton McKinley (Ohio) | at North Canton Hoover (Ohio) | 162 rushing yards and 3 TDs in win. |
looking ahead
The Buckeyes currently have three recruits planning to be in attendance this weekend: 2014 WR Kyle Frizzell (Springport, Mich.), 2015 RB Larry "LJ" Scott (Hubbard, Ohio) and 2017 QB Danny Clark (Massilon, Ohio).  I did a more detailed write-up on Clark in last week's article following his visit for the San Diego State game, but here we'll take a closer look at the other recruits visiting.
Kyle Frizzell is a bit of an under-the-radar recruit, as he missed almost all of last season.  Eastern Michigan, Northern Illinois and Northwestern are the schools that have shown the most interest, and Frizzell is also interested in Toledo and Western Michigan.  Frizzell does not currently hold an offer from Ohio State, and it's hard to see him becoming a part of this class.  You can read a good interview with Kyle here.
The other visiting recruit, Larry Scott, is considered one of the top players in Ohio for 2015, and one of the top running backs in the entire country.  Scott doesn't currently hold an offer from Ohio State, but don't be surprised if that changes fairly soon, maybe even this weekend.  Scott holds offers from Michigan State, Cincinnati, Kentucky, West Virginia and Tennessee.  The Hubbard, Ohio product visited West Virginia last weekend and Michigan State the weekend before that.  Ohio State is the early favorite to land Scott, so he is definitely a prospect to keep tabs on.
Looking ahead a little further, next weekend will be Ohio State's biggest recruiting weekend of the year thus far with top targets Tyler Luatua, John "JuJu" Smith, Johnnie Dixon, Kai Locksley (2015), CeCe Jefferson (2015) and more all in town to see the Buckeyes take on Wisconsin.  Be sure to frequent the site this week as we'll have much more information as next weekend draws closer