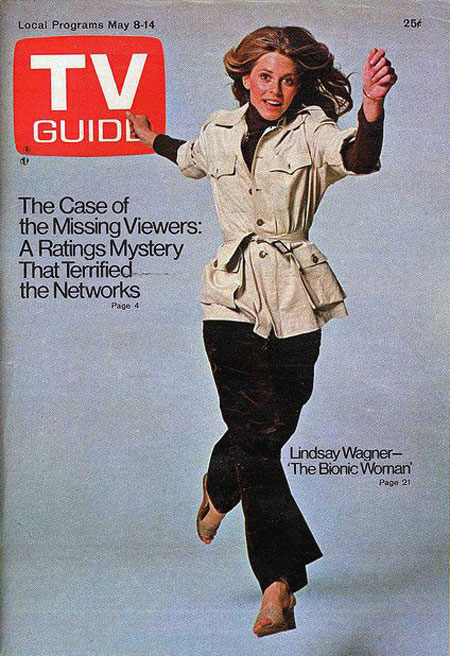 Did you think Week 2 was grim for college football? Week 4 is arguably worse. There is only one game featuring two top 25 teams, and it's in the Pac-12. Every other game is either a FCS cupcake, or a conference game with almost no appeal. ESPN can try its best to hype up Auburn at Louisiana State, but I'm not buying it.
Here is the week in a nutshell. Thirteen of the nineteen games featuring teams in the AP Top 25 have point spreads of 20 or more. Eight have point spreads of 30 or more. Programs like Ohio State are opening with possibly their largest spreads ever. ESPN's College Gameday is North Dakota and the ABC has two games of the week at the 8 p.m. slot: Michigan at Connecticut and Kansas State at Texas. Happy college football, everyone.
Like the feature story in this week's TV Guide featuring former Oregon Duck, Lindsay Wagner, expect there to be missing viewers. This is especially true when ABC's ace in the hole is Michigan at Connecticut.
Here is your schedule for this weekend.
Thursday
Clemson @ NC State (ESPN, 7:30 p.m.). Thursday night football will be an ACC conference game between the Clemson Tigers and the NC State Wolfpack. Both will play in the "Textile Bowl", so named because this ACC conference game features two programs whose respective schools are keen on textile manufacturing. Yes, textiles as a source of an ACC rivalry is a thing. I have even see the "House Divided" license plate frames around Clemson.
College football fans may remember NC State upsetting a similarly high ranked Florida State team last year in Raleigh for Florida State's only ACC loss in its Orange Bowl championship campaign. Ohio State fans may want to pull for a similar fate.
I'm finding it more difficult to envision an undefeated Ohio State team (should that happen) squeezing into a BCS Championship Game over an undefeated Clemson or an undefeated Oregon team. Clemson, which still has to play South Carolina in Columbia, would have signature victories over programs like Georgia, Florida State, and South Carolina. Oregon would have victories over Stanford and UCLA, in addition to non-conference maulings of Tennessee and Virginia. The Big Ten's reputation took a beating last week, even if we can qualify the 1-3 showing against the Pac-12 by reference to an egregious refereeing error by Pac-12 refs in Tempe.
Do we get a Clemsoning tonight? Probably not. NC State's starting quarterback will not return for another couple of weeks after suffering a foot injury in the season-opener. In its last game, NC State rallied to beat a FCS team by only two points.
Friday
Boise State @ Fresno State (ESPN2, 9 p.m.). Boise State again commands its Friday night position in another Mountain West Conference game, this time taking its show on the road to play visitor to Tim DeRuyter's Fresno State program. The Broncos looked the part in stretches in its Friday night game last week against Air Force, though how much of that is a function of playing a much smaller service academy remains to be seen.
Fresno State is a bit of an unknown. A case can be made that Fresno State is the last of the "BCS busters". Right now, it is the last program from a non-AQ conference that is both undefeated and has a schedule that merits evaluation if it goes through the season undefeated. It has a veritable NFL prospect at quarterback with Derek Carr, but, beyond that Week 1 overtime win against Rutgers, it has not shown much. Fresno State's game last week at Colorado was postponed because of the ongoing floods in Boulder.
Saturday
Florida A&M @ Ohio State (BTN, 12 p.m.). Your personal game of the week will be among the first to kick off Saturday. Do take care to check your cable provider for availability. Ohio State's game starts concurrently with Iowa's game against Western Michigan, which is also slated to be broadcast by Big Ten Network at noon. My guess is this will be the default game you get, unless you live in Iowa.
North Carolina @ Georgia Tech (ESPN, 12 p.m.). How grim is Saturday's schedule? You're starting to see it. The Tar Heels visit the Ramblin' Wreck from Georgia Tech in an ACC divisional game. Whatever their division is. Are they Legends or Leaders?
San Jose State @ Minnesota (ESPN2, 12 p.m.). In another ostensibly cupcake non-conference game, Minnesota hosts San Jose State. It will be Jerry Kill's return to the sideline after suffering a seizure on the sideline near halftime of the game against Western Illinois. While this should be a layup for Minnesota all else equal, I maybe should not assume that. The Gophers trailed most of the game last week against an FCS opponent. San Jose State, though with a first-year head coach, was an eleven-win team last year.
Marshall @ Virginia Tech (ESPNU, 12 p.m.). You're not watching this, but, again, this is how grim the schedule is.
Louisiana Tech @ Kansas (Fox Sports 1, 12 p.m.). Fox Sports 1: Feel the Excitement.™
South Dakota State @ Nebraska (BTN, 3:30 p.m.). As of writing, it is unclear if Taylor Martinez will be healthy enough to play this game against South Dakota State. It likely will not matter, since Martinez, as starting quarterback, will not be on the field when the Blackshirts concede 400 yards of offense to the Jackrabbits. While Martinez' injury adds intrigue to the game, it will get subsumed under the bigger drama surrounding Bo Pelini. He made the news recently. Maybe you heard about it. It was in all the papers. It will probably be discussed during this game.
BTN is also broadcasting Northwestern's game against Maine, and Penn State's game against Kent State at the same time.
Tennessee @ Florida (CBS, 3:30 p.m.). Did you watch the Alabama @ Texas A&M game on CBS last week. My guess is you did. You may have also seen the CBS promos for next week's SEC conference game. Because, so the promo went, "every week, we take the best conference game from the best conference and give it to you live on CBS." It should have continued with, "But, sometimes life isn't what we thought it would be and disappointment pervades every aspect of our inevitable slow crawl toward death. So here's Tennessee and Florida. Sorry. :-("
Michigan State @ Notre Dame (NBC, 3:30 p.m.). The Big Ten schedule, like most every other conference's schedule, is mostly garbage this week. There are a few games worth highlighting. This happens to be one of them. Notre Dame conceded 460 yards of offense to a Michigan offense that was promptly stymied by Akron. It also conceded 24 points to Purdue. Meanwhile, Michigan State's offense is Bollman Ball with maybe 70% of the offensive talent that Ohio State had during the Tressel years. This might be a game billed as the stoppable force vs. the movable object.
Purdue @ Wisconsin (ABC/ESPN2, 3:30 p.m.). It's the first Big Ten conference game of the season, and one that you may want to watch with some interest. After Ohio State dispatches Florida A&M post haste, all attention turns toward the Badgers. How the Badgers rebound from last week's hosing by the Pac-12 referees in Tempe is worth watching.
Utah State @ USC (ABC/ESPN2, 3:30 p.m.). The only reason I can see myself watching this is for whatever boo birds from a half empty Los Angeles Coliseum that Lane Kiffin gets.
West Virginia @ Maryland (ESPNU, 3:30 p.m.). West Virginia and Maryland like to play each other routinely in non-conference play, which follows because both schools are separated by three and a half hours of highway. What was otherwise a fairly routine Big East-ACC inter-conference promotion, given the regional overlap of the two, is now one year removed from being a Big XII-Big Ten clash equivalent to Oklahoma and Ohio State in a few years to come.
College football is weird now.
Arkansas @ Rutgers (ESPN, 3:30 p.m.). Rutgers won the game last year in Fayetteville. Now, New Jersey plays host to Bert's Razorbacks. Maybe I just gave you your rooting interest. Bert's team this year is still a bit of an unknown. That it needed everything its capacity to beat Samford in Week 2 doesn't lend confidence to Bert's short term success in Fayetteville. A win at Rutgers will be followed with a party on the Jersey Shore, and shots.
Next week, Arkansas gets Texas A&M at home, then Florida on the road, South Carolina at home, and Alabama in Tuscaloosa — all in succession. Have fun, Bert.
Louisiana Monroe at Baylor (Fox Sports 1, 4 p.m.). Fox Sports 1: Feel the Excitement.™
Colorado State @ Alabama (ESPN2, 7 p.m.). Here's something. It's Week 4 in the college football season and this will be Alabama's first home game of the season. It opened the season in Atlanta and took a bye in Week 2 to prepare for Week 3's game against Texas A&M. Nick Saban hosts his former offensive coordinator, Jim McElwain, who left Alabama in 2011 to return to his home region and coach the Rams. Colorado State got its first win of the season last week when it beat FCS Cal Poly by a score of 34-17. Things will probably be fine against Alabama. Probably.
Arizona State @ Stanford (FOX, 7 p.m.). Yes, this is the only game of the week featuring two teams from the AP Top 25. The only reason no. 23 Arizona State is in the AP Top 25 is because incompetent refs from its own conference handed it a victory against Wisconsin. On the other sideline, no. 5 Stanford has arguably the best front seven in the entire country and a head coach, David Shaw, who is an absolute joy to hear discuss football. The only question about Stanford is why it has not blown the doors off teams that it has played this season. Stanford took a bye in Week 1, and played great against San Jose State and Army without effectively routing either team.
Southern Methodist @ Texas A&M (ESPNU, 7 p.m.). Southern Methodist took a bye last week to prepare for this game in Kyle Field. Hopefully, in the interim, it found a defense. The Mustangs are the 105th scoring defense in college football. You still haven't located the lid the Aggies blew off the Crimson Tide's defense last week.
I am actually glad these two teams from the former Southwest Conference are playing, since it affords me the opportunity to insert this GIF into the TV Guide. The 1980s were hilarious for the Southwest Conference.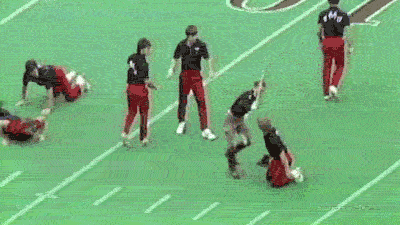 The O/U for this game is 82. Anyone want to take the under?
Auburn @ LSU (ESPN, 7:45 p.m.). ESPN is trying very hard to make this seem like a bigger contest than it is, and I'm just not buying it. Auburn is 3-0 this season, but not one of its victories suggest it will be the Auburn of three years ago in visiting LSU. Of course, I say that while remembering that LSU farted out a 12-10 victory in last year's game in Jordan-Hare Stadium, in a season in which Auburn won zero conference games.
Michigan @ Connecticut (ABC, 8 p.m.). McDonough and Spielman will get this game, though this game was a late switch to the 8 p.m. slot. My only complaint about McDonough and Spielman getting this game instead of Musburger and Hebstreit is that we won't get to hear Musburger open with, "you are looking LIVE at scenic East Hartford, Connecticut, for a game between a team that should have lost to Akron and a winless team that lost to Towson. It's live, next, on A. B. C!"
Missouri @ Indiana (BTN, 8 p.m.). This game is going to get crushed in the ratings by other games that are not that much better, though the game has some intrigue all its own. It is the opening salvo in this season's Big Ten-SEC series, which is mostly played in January instead of September. Basically, it's a Big Ten-SEC game that Missouri wishes were a Big Ten conference game. Sorry about your luck, Mizzou.
Kansas State @ Texas (ABC, 8 p.m.). This game gets Herbstreit and Musburger. ABC's official game of the week features a team that lost to North Dakota State and a team that very well could, if presented the opportunity. The degree of institutional rot in Mack Brown's regime is fascinating from an outsider's perspective, and certainly a cautionary tale for Ohio State fans to be vigilant against something like that happening in the WHAC.
How dumb is Texas football on the field of play, though? Here is some insight.
Mack: BYU ran about four plays. We didn't stop it.#Texas

— Jim Vertuno (@JimVertuno) September 9, 2013
Ole Miss coach Hugh Freeze said the Texas defensive scheme was exactly the same as last week except for one goal line wrinkle

— Jake Trotter (@Jake_Trotter) September 15, 2013
LB Jordan Hicks said #OleMiss "ran the same play over and over again." #Texas allowed 449yds & 44pts on the "same play"

— Taylor Gaspar (@Taylor_Gaspar) September 15, 2013
Hook 'em.
Utah @ Brigham Young (ESPN2, 10:15 p.m.). This is the after-hours portion of the college football schedule. If you have friends who are either from Utah, who attended Brigham Young or are otherwise LDS, you'll know this rivalry is serious business. "Holy War", the designated name for this rivalry, is appropriate. The level of commitment to this rivalry is surprising. I think it is the most underrated rivalry in college football, and has a lot of spectator value if you're still watching college football by time this kicks off.