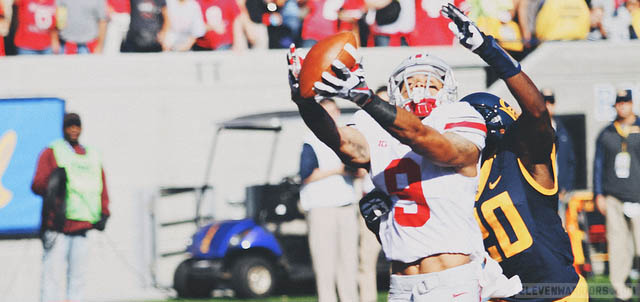 The term "big-play receiver" was created for Devin Smith. The junior wide receiver has 13 career touchdown receptions for an average of 44.3 yards per catch. Last Saturday, Smith entered the Ohio State record book, along with quarterback Kenny Guiton, after the duo connected on a 90-yard scoring strike at Cal. It was the longest play from scrimmage in the 124-year history of the Ohio State football program.
The shortest touchdown pass of Smith's career was his first, for 14 yards from Braxton Miller in the 2011 season opener versus Akron. He's only caught three scoring receptions for less than 25 yards. Eight have gone for 40 or more yards. Three have been dramatic fourth-quarter game-winners. One has been the play of the year.
"He's a problem for any defensive back in the country right now," senior safety Christian Bryant said. "When you need a big play, you just throw it to him."
This is the Devin Smith that was recruited by the Buckeyes coming out of Massillon. They viewed him as a talented playmaker who could get separation from defensive backs and create large swaths of production. He has 57 catches for 1,168 yards and 13 touchdowns in his career. His touchdown reception total is tied for the 12th-most in school history.
But nearly half of his receiving yards have come on touchdowns and only four scores have taken place against Big Ten teams. In fact, Smith has been held to zero receptions in six of his 16 career Big Ten games. His average yards per reception on 44 non-scoring catches is just 13.5 yards, which has elicited a call from head coach Urban Meyer for more consistency.
"Oh, boy, [Smith] is a pretty talented guy," Meyer said. "Remember, he had a good game against Cal a year ago and then disappeared for a while. With Devin, it's consistency. It's certainly not about talent, he's a very talented guy, wonderful young guy to be around. He just needs to show up every week with that eye of the tiger. When he does, he's a really good player."
Lending credibility to Meyer's statement on Smith disappearing act after his five-reception, 145-yard, two-touchdown performance against Cal last season are the three games that followed: six catches, 118 yards and one touchdown. One of those games yielded no receptions.
Smith didn't shy away from Meyer's thoughts. He knows better than anyone that he could elevate his play. The comments have been a regular occurrence, dating to Smith's freshman season, which coincided with the infamous team-leading 14 receptions.
He more than doubled his catch and yardage numbers last season, with the goal of building upon those totals as a junior. Smith is well on his way to a true breakout season with 13 receptions, 256 yards and three touchdowns — averaging 61.3 yards per score — through three games. Still, they don't give out trophies at the quarter pole.
Devin the Dude

| Year | Game | TD Distance |
| --- | --- | --- |
| 2012 | Miami | 23 |
| 2012 | Cal | 25, 72 |
| 2012 | Michigan State | 63 |
| 2012 | Indiana | 60, 46 |
| 2013 | Buffalo | 47 |
| 2013 | Cal | 90, 47 |
"If I go into the next game and not play as well, [the coaches] are going to jump on me about that," Smith said. "I don't ever want to have one good game and the next game not be as good. Coach Herman talks about being an everyday guy. That's what I'm trying to do. I worked my tail off all summer to be that guy."
Despite the gaudy numbers and touchdowns in clutch moments, Smith isn't viewed through the same lens as Dontre Wilson, Jordan Hall, Philly Brown and other dynamic players. Yet, it's been Smith that Miller – and, most recently, Guition – has turned to in the most crucial late-game moments.
Smith has the best combination of speed and sure-hands on the team. Throw it his way and he's likely to track down an overthrown ball and catch it as if stick 'em was attached to his gloves.
"I just take it one game at a time and play my tail off," Smith said.
Said Guiton: "Devin has world-class speed. Sending him on deep routes in man coverage, we're going to try to exploit that."
Smith admitted last season was a bit of a blur. The spring bore disastrous results and even though Smith produced memorable plays in the fall, he said the implementation of the new offense came at the team so fast. 
That timeframe has since passed. The offense is clicking. Ohio State has scored three touchdowns in the first quarter of each game this season, and the Buckeyes are averaging 44.7 points per game and more than 500 yards of total offense. The artists formerly known as a clown show have developed into the main event.
"I would just say I'm a guy that just loves playing football and going out and making plays for this team whenever they need me, whenever my number's called," Smith said.
Or as Meyer puts it: "Oh, he's bought in."