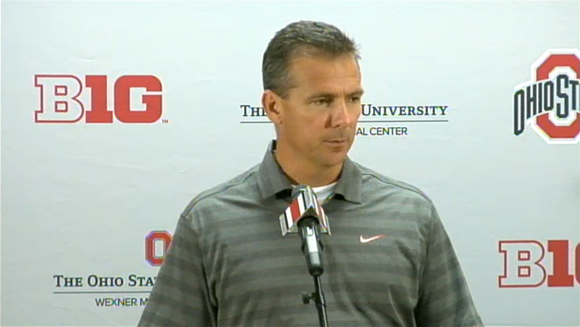 For the past week, Urban Meyer has provided updates on Braxton Miller's status every time he's stood in front of the media. That cycle continued on Monday when Meyer revealed Miller will be probable against Florida A&M on Saturday.
It's come to a point, though, where Kenny Guiton has proven he's the top backup in college football. The offense has fired on all cylinders at full speed the past two weeks under the affable Texan; Ohio State has piled up 94 points and 1,053 yards. 
Regardless of who is taking snaps this week, the Buckeyes are expected to role and continue their first-quarter domination. Ohio State has outscored opponents 68-14 in the opening stanza. Florida A&M offers little in the way of resistance.
Offensive Champions from the Cal game: Kenny Guiton, Jack Mewhort, Jordan Hall, Taylor Decker, Philly Brown, Evan Spencer, Devin Smith and Chris Fields.
Defensive Champions from the Cal game: Christian Bryant and Joey Bosa.
Special Teams Champions from the Cal game: Corey Brown and Jamal Marcus.
Players of the Game: Guiton (offense), Bosa (defense) and Brown (special teams).
Updates from Meyer's presser:
Meyer thought the Cal game was a "great atmosphere." He raved about Cal quarterback Jared Goff, and said the Bears had skill players that could play anywhere in America.
Evan Spencer played huge. Meyer said it was one of the best efforts out of a wide receiver he's ever seen.
Hasn't studied FAMU well enough yet, but they have some athletes and said Ohio State can't look past the Rattlers.
Braxton, if he's ready to go, will play. Meyer said they had a lot of work to do.
Carlos Hyde is back. On Hall and splitting carries: "Carlos did a lot for us last year. It's a good problem to have. I don't know." And: "Jordan Hall has certainly earned the right to touch the ball in a big way."
On the tackling problems at Cal: "Ryan Shazier had, I think, four or five missed tackles." Meyer said he looks at effort and thought effort was good. Pointed out the team had 16 missed tackles, which is a concern, because they want to be in the single digits on missed tackles. Meyer also discussed "triggering" on screens and getting better at that.
Asked about coaching in games when his team is a big favorite like Saturday's match with Florida A&M, Meyer quipped: "I've coached in a few games where I'm a 21-point underdog and those aren't really fun either." Meyer went on to mention that it's a good opportunity for players to get touches, carries, throws, etc. and that is based on how they practice.
Meyer repeatedly mentioned how tough the trip to Cal was, getting home at 6 a.m. on Sunday.
On the competition at certain positions, Meyer said it's every coach's dream. But he mentioned that there are positions with no competition, like linebacker and he wants to see more of that.
At quarterback, Meyer said he "Kenny Guiton has earned some time," and that he's "absolutely" surprised at what's happened at quarterback this year.
Asked if there are things that Kenny does better than Braxton, Meyer said: "Probably certain things. Kenny is a natural option quarterback, pitching the ball. That's probably something he excels at. When you say the word 'distributor,' he's a distributor."
How close is this offense in terms of weapons and pace: "Cal was the first time I saw what you guys saw." Meyer said they're approaching the tempo they want to have and that's why he gave so much credit to Cal because they put that in quickly and Ohio State wasn't able to do so in Meyer's first year.
Meyer said Braxton fought him to play at Cal. When asked if it was possible he's sit again, "I don't think so. He's working out today. He's probable for Saturday."
On Braxton's injury, "It can linger. It's something we have to watch – it's the lateral movement we have to watch. Straight ahead, he could go right now."
Meyer on whether both quarterbacks can be on the field at the same time: "We didn't have that luxury a year ago, but it's something we're thinking about." Meyer stressed getting the best 11 on the field.
Meyer on Guiton: "It's arguably one of the best case studies, I've had as a coach. If you want to buy stock, buy stock in Kenny Guiton, because what he's going to do after football some day is going to be great."
Meyer raved about Evan Spencer, saying it was a shame he didn't get a touchdown in the game because his work blocking on the safeties was "incredible."
On Joey Bosa: "Adolphus Washington is one of our best players, but a true freshman jumped in there and played 79 plays, earning defensive player of the game. That's good coaching, good recruiting."
Meyer said Washington is questionable for this weekend's game.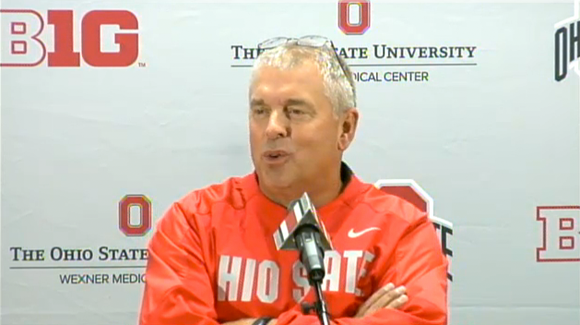 Updates from tight ends/fullbacks coach Tim Hinton:
Despite the tight ends not getting the ball, Hinton said the tight ends have played great. Said the defense just didn't cooperate, though the "calls were there."
The explosive play factor seems to be greater this year. Said if you win the turnover battle and explosive play battle, you win 85-90% of your games and thought the team did a great job of getting explosive plays in the first three games. Hinton also pointed out that the team did a good job of getting drives that didn't rely on explosive plays Saturday in Berkeley.
Hinton said the staff in its second season together is about things like continuity. He said he sits next to Herman in the press box and knows what he wants to hear this year, where they weren't to that level last season.
On playing an FCS team, Hinton said, "This week is about us ... How do we improve our fundamentals and our technique."
Hinton: "Jeff Heuerman blocked the permiter like a champion." Raved about the blocking of the tight ends and wide receivers, frustrating Cal's ends and linebackers on the perimeter.
Hinton on Herman: "If you look at his numbers in the weight room and they're off the charts. He leads the team in vertical jump and bench press and I don't think you see tight ends that can do that." Hinton also said Heuerman is taking the game more seriously in the classroom with film study and things like that. Said he's growing into a complete player. "There's nobody on the football team that does a better job of taking care of his body than Jeff Heuerman."
Hinton said freshman Marcus Baugh needs to work on his blocking, but wouldn't clarify whether he was headed for a redshirt.
On the road experience: "Three-quarters of the stadium was Ohio State fans. How cool was that?"
When asked about using Guiton and Miller together, Hinton said there's a constant battle between not fixing what's not broken and trying to fix what didn't work.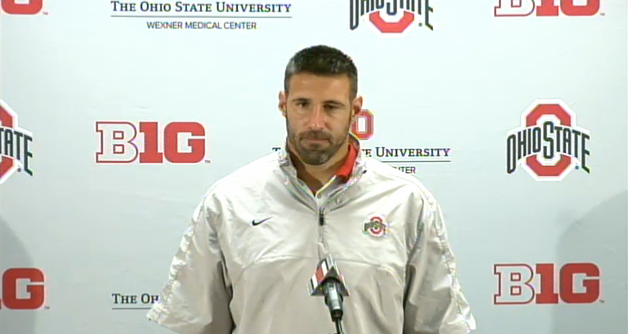 Updates from defensive line coach Mike Vrabel:
Asked whether there was a concern about Washington's lingering groin injury, Vrabel said there was not and that it was just training stuff and he'll be back when he's ready.
On Joey Bosa, Vrabel said his development has come much faster than poeople thought, and he's played better as a freshman than Vrabel imagined he would. Vrabel said they thought Bosa could compete physically, but he's mentally ahead of where they thought he'd be.
Vrabel said the line needs to work on pass rush technique, run game fundamentals, effort, toughness, etc. and said they focus on these things every week.
Asked whether there was a concern about missed tackles, Vrabel said, "Every missed tackle is a missed chance for a big play."
Chris Carter got his weight under control, took class seriously, started listening to coaches and got better in every practice. For that, he was rewarded with snaps in games and he's getting better every week. Vrabel mentioned that they need to continue to "get him there," saying he was a big athlete that can really help the team.
Is there a difference between Viper and Leo? "No, we just thought Viper sounded cooler."
Is Michael Hill available this week? Vrabel said it's a coach's decision and they're working to get him ready.
Vrabel pointed out Carter and Chase Farris as having made the biggest improvements since spring ball. He also praised Joel Hale for playing consistently and Michael Bennett for practicing hard.
Asked whether Farris to DL was a permanent move, Vrabel pointed out the unit is already pretty thin and that Farris will be there "for the short-term at least."