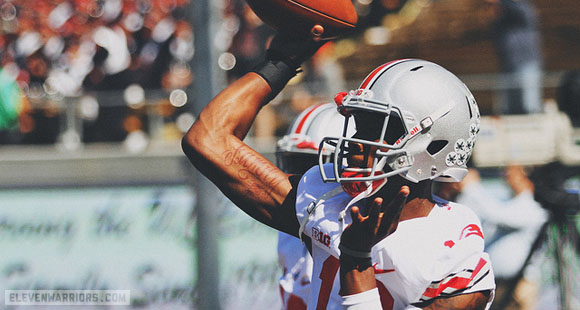 It was born in 2012, during the fourth quarter of a terrible day in October. It then flourished two weeks ago against San Diego State before reaching full Paul Bunyan status on the east shore of the San Francisco Bay. The story of Kenny Guiton is now certified legend. Back-up quarterback turned captain, turned record-breaking starter is the stuff that rarely occurs beyond the silver-screen, but that's exactly the script lucky 13 has penned for himself. 
Sitting behind Terrelle Pryor, Joe Bauserman (right?), then Braxton Miller, Guiton stepped in for the injured Miller to start against California and took full advantage of the opportunity to the tune of 276 yards passing with four touchdowns and 92 yards on the ground, defeating the Golden Bears 52-34 in the largest offensive output (608 total yards) of Urban Meyer's tenure at Ohio State.
The yard-a-palooza prompted E-mails like this from good friends:
"Kenny Guiton is putting together a legitimate Heisman campaign. Jeff, are OSU fans ready to forget Braxton?"
Just consider those two sentences for a moment. If you were told either would land in your inbox this September would you have replied with anything other than an emphatic "WHAT?!" The answer there is an unequivocal "no", though today I'm required to honor it with a legitimate response. Guiton has forced me to. In just two games (and two plays of a third) he has amassed 630 total yards and 8 TDs. 
To be clear, no one is going to "forget Braxton". Guiton's heroics have been epic, but Miller is far too talented to languish on the bench. No one, not even Guiton is willing to dispute that. This from Kenny following his performance on Saturday:
"I'll be helping Braxton no matter what goes on. If my number is called, I'll do the job that I can do."
So, Meyer finds himself in a dilemma; a conundrum any head coach would love to have: one set of keys, two skilled drivers. Braxton will start when he's 100%, but Guiton is clearly one of the best 11 on offense. Just listen to Meyer:
"I think Kenny will get in the game a little bit. He's throwing the ball better than he has and throwing the ball down field, so that's something I'll need to think about it."
So is there a way for Kenny G to ride shotgun?
One route for Meyer could be to utilize the two like he did with Chris Leak and Tim Tebow in 2006. Start one player and use the other in specific situations. In '06 Leak was the starter, moving the team down the field with a strong football IQ and a decent arm. But, when the Gators needed short yardage, Meyer would tap Tebow for a change of pace. To be fair, the Leak/Tebow comparison isn't a complete parallel. In 2006 Meyer had two QBs with unique, yet complementary skill sets. In 2013 Meyer has two complete QBs who have shown they can throw the ball while also keeping a play alive with their legs. So how do you utilize both to their full potential?
One option (upcoming pun intended) would be to bring in Guiton to run the option. As aforementioned, it's one facet of the game Kenny G runs better than Braxton. Just check out exhibit A:
It's certainly not out the realm of possibility to imagine Meyer giving the nod to No. 13 near the goal-line to help finish off drives and/or keep fresh legs in the game one play after a long Miller run.
One other possibility is for Guiton and Miller to take the field at the same time. I'm not a defensive coordinator, but I can imagine the thought of both Kenny and Braxton trotting out at the same time has got to be alarming for an opposing coach trying to dial up the right play. Utilizing Guiton (or Braxton) on motion sweeps with the opportunity to throw seems like a pretty attractive play-call to me.
Finally, Guiton could simply be used as a decoy; placed on the field in specific situations to give rival coaches pause. We know Meyer loves providing upcoming opponents with something to think about, so why not force them to spend time planning for the mighty Keraxton™?
Whatever Meyer chooses, Guiton has proven he deserves playing time. No backup QB in the country could enter a game and do what Kenny G has done. That's a fact.
While Buckeye Nation anxiously awaits the return of Miller, there's a certain solace in knowing they've got a Buckeye living legend ready in the wings; one who seems continually able to ditch the headset at the drop of a hat in favor of wooing us all with a little smooth jazz in the key of G.