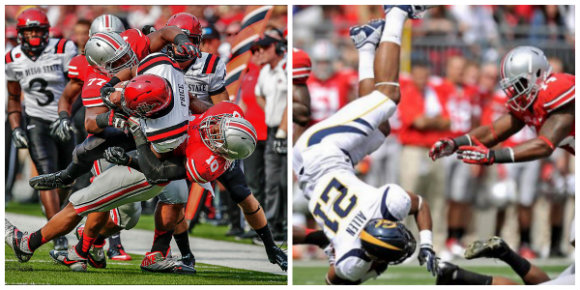 With Cal on the docket for this week and a potential second act for Kenny G and the B1G Speed Band, it's as good a time as any to take a look through the SDSU charting data for trends. 
The project has generated 273 total charted plays on 51 drives, which is a wealth more of data than we'd otherwise have on the team after just two games. While the Buckeyes have just the 68th toughest schedule in the country (and Buffalo and SDSU certainly didn't get it that high, even), we've learned that the Buckeyes can score points even without Braxton, have some freshmen willing to contribute, are throwing in wrinkles for future opponents to think about, and can actually play a little defense this year. 
However, this week's matchup will reveal a lot about the pass defense, the Buckeyes' ability to keep the pedal to the floor in the second half, and ability to both create and defend explosive plays. 
Containing Cal
Some quick hitters to warm you up:
After two games in to Sonny Dykes' tenure, the Golden Bears are ranked 76th in F/+ and have two projected remaining wins according to Football Outsiders and four more according to Football Study Hall. 
As you're probably aware, Cal's freshman QB and the Bear Raid are leading the nation in passing offense, with 470 yards per game.
Cal's offense currently averages a play every 19.4 seconds, compared to 27.5 for the Buckeyes. 
Comparable schools statistically include Purdue, Nevada, and Illinois. 
Obviously the primary matchup of interest is between the Cal offense and the Buckeye secondary. After surrendering 38 to Nebraska and 49 to Indiana from short passes and screens (not to mention poor tackling and angles), the defense will face the reigning kings of dinking and dunking on Saturday. Goff may be a freshman, but he can do three step drops with the best of them. 
After three interceptions against Northwestern, Goff was more efficient against Portland State. He keyed in on two receivers Treggs and Rodgers for over a hundred yards each, while also hitting his running back Khalfi Muhammad for 85. Halfback screens are a major part of the Bear's offense, so the Buckeyes will need to make sure they wrap up in the backfield unless they want Bigelow to have another spin and sprint down the sideline. 
The Cal defense is a work in progress to say the least, and Meyer was being pretty generous when he said that they were just slowed due to injuries. In particular, the Bears are prone to giving up explosive plays. I tracked ten (out of 68 total, or 15%) allowed to Portland State and seven (out of 70) to Northwestern. That's approaching one explosive play per possession. I will eat my nonexistent hat if Dontre doesn't break a big one this week. 
However, I will say that Cal's defense stiffened up in the second half against Portland State. Aside from a touchdown drive to open the half, Portland State's offense closed the game with six straight punts (from a heck of a punter who averaged 47 yards per punt and downing three inside the 20!). 
Overall, Guiton and the running back platoon shouldn't have any trouble finding creases in the defense, but it's still unclear exactly how the defense will perform. This is a great litmus test game for the secondary and linebackers. 
Charting project, round two
Meyer has said repeatedly that the offense doesn't change when Guiton is in the game, which may be true, but Guiton's pass selection definitely differs from Braxton's. Guiton repeatedly went back to short passes in to the flats, packaged quick hitches, double slants, and tunnel screens that are only effective if receivers are able to gain significant yards after catch. 
| Player | Yards | Air Yards |
| --- | --- | --- |
| Heuerman* | 25 | 11 |
| Brown | 6 | 1 |
| Brown | 3 | 0 |
| Brown | 4 | 1 |
| R. Smith | 10 | 1 |
| Brown | 27 | 27 |
| D. Smith | 16 | 14 |
| Brown | 10 | 6 |
| Spencer | 10 | 5 |
| Heuerman | 8 | 0 |
| D. Smith | 9 | 5 |
| D. Smith | 3 | 0 |
Of Guiton's first half passes (what we have passing data on at the moment), six were "on target," seven were just "catchable," and only one was really "bad." That's excellent, especially when the offense is trying to develop the "extended handoff" short passing game. I'll definitely be watching to see if Kenny attempts more difficult intermediate throws against Cal. 
Guiton also handled pressure well, though SDSU rarely sent more than five rushers. Of the twelve charted plays where SDSU sent five or more rushers, Guiton only had four plays where he failed to pass for at least five yards. 
It's hard to know whether this was the gameplan anyway or whether the playcalling changed once Guiton entered, but Herman called far more speed options (i.e. the option left with the pitch to Dontre on the first touchdown) than against Buffalo.
Interestingly, he had a tendency to run speed options to the left and inside zones to the right. Is this a coincidence, or does Herman prefer Mewhort to Decker for the outside runs (probably) and a Linsley/Marcus Hall combo to Norwell for the inside runs (possibly)? Meyer has praised Hall's run blocking recently, so it's possible that this was more than just a coincidence. 
Guiton operated heavily out of the pistol, with 16 plays in the first half alone. 
On the opposite side of the ball, Withers was apt to go to a dime defense on almost every third down. In fact, there were only two third downs in the first half that didn't have six defensive backs on the field, and one of those was a third and one. We'll see quite a bit of the dime package this week against Cal. 
While the linebackers not named "Shazier" are still a bit of a work in progress, Curtis Grant wasn't the recipient of very many minuses, and there were only a few plays in which the linebackers didn't seem to know their assignments. One of these was in the second quarter when both Josh Perry and Barnett cover the same receiver. Perry looked lost initially and was flagged for holding the receiver, but the pass was still complete for 17 yards. 
SDSU smartly avoided throwing to Roby's side, attempting to pick on Doran Grant. However, Grant was more than adequate in coverage, picking up almost as many plusses and Shazier and Spence. 
Withers and Fickell called an impressive game, mixing blitzes in on standard downs and even calling three in a row in the middle of the first quarter. Blitzes didn't just come from linebackers either, but were a mix of stunt blitzes, delays, corner, and safety blitzes. 
Finally, upon further review I believe Bosa deserves his own shoutout – as a true freshman, Bosa was the target of several double teams as early as the second quarter, but was able to fairly consistently beat the left tackle inside to disrupt the play.