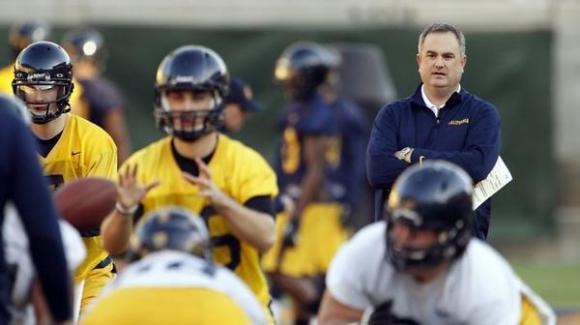 Ruston, Louisiana, might be located in a football-mad state, but try luring blue-chip college football players to Louisiana Tech. It rarely happens. What occurred last year at the school located in the rural Deep South nearly resulted in a BCS bid for the Bulldogs.
A two-point loss to Texas A&M, a six-point loss to Utah State and a nine-point loss to San Jose State derailed those plans, though. And soon after the season finale, Louisiana Tech's bowl plans were derailed by a greedy athletic director.
When Cal came calling for head coach Sonny Dykes, the decision was a no-brainer. Dykes had already said the San Francisco Bay Area was his ideal living location. So he packed his up-tempo offense and went to the West Coast.
Dykes comes from the Mike Leach coaching tree, and it's obvious to anyone who watched Louisiana Tech last year or Cal this season. The Bulldogs led the nation in total offense and scoring offense, were third in passing yards per game, seventh in sacks allowed and 17th in rushing.
The Bears won 15 games in the final three years of the Jeff Tedford era. He left as the school's winningest coach, but his offense, which produced several NFL quarterbacks, grew stagnant.
Enter the Bear Raid.
Offensive coordinator Tony Franklin is just as important to the equation as Dykes. The duo got their start at Kentucky under Hal Mumme and Leach. Dykes and Franklin want Cal to run plays quickly and efficiently. Consider that goal accomplished. The offense can run 100 plays per game and put up crooked numbers on the scoreboard.
True freshman quarterback Jared Goff, who leads the nation in passing yards, said defensive linemen are noticeably tired as the game goes on. The surge in offenses with the goal of running play after play after play has led some teams to faking injuries, a la the other futebol. Northwestern was accused during its season-opening win at Cal. Ohio State said it will stay away from that strategy.
"I've never tried to fake an injury. I've tried to fake not being injured," defensive lineman Michael Bennett said, with a chuckle.
Said linebacker Joshua Perry: "There will be none of that faking stuff. We're just going to go out there and play the game that we play."
Dykes said he was disappointed and found it unusual that Northwestern seemed to suffer injuries whenever Cal picked up a first down. Defenses have found it nearly impossible to substitute when facing teams that run a hurry up style offense, magnifying the importance of depth.
The Buckeyes were without Adolphus Washington for three quarters last week after he suffered a groin strain, and the versatile defensive end hasn't practiced yet this week. Pressuring Goff is essential in limiting the Bears' effectiveness and efficiency on offense. To prepare, the Silver Bullets have practiced in constant motion.
"When we do scout work and we go against the twos, they're just going to be doing jet," Bennett said. "They're just going to be going play after play. Whether they complete passes or not, the coaches are going to put the ball on the ground and we have to run back and get set."
"There will be none of that faking stuff. We're just going to go out there and play the game that we play."
Nick Saban, Bret Bielema and other coaches have bemoaned the growing trend of fast-paced offenses. Some have called it unfair while others have concerns about player safety. Not coincidentally, all the complaints have come from coaches and players with defense in mind, something Ohio State co-defensive coordinator Everett Withers pointed out.
"It's good for the offensive game. It's good for recruiting," he said. "Defensively, just like anything else, wishbone, the run and shoot, now this – it will come back to two back, one back, pretty quick."
That's a possibility, but even NFL teams are moving toward offenses that are centered on a high volume of plays and giving quarterbacks the freedom to decipher the appropriate action. From Mike Shanahan, a veteran NFL coach, to teams hiring college coaches – Chip Kelly being the biggest example – franchises are looking to gain any and every advantage on offense.
Philadelphia's performance Monday night only lent more credence to the pro-up-tempo crowd. The Eagles built a huge lead behind Kelly's style. What Cal does differs, but the end goal is the same: get the defense fatigued and put the offense in situations to succeed.
Dykes has orchestrated 103 offensive snaps per game so far with 468 yards per game coming through the air. The pace has helped Goff due to defenses being on alert every play.
"It's a challenge," Bennett said. "As a defensive player, you hate it because they just run it and run it and go and go and go. It's really tiring and you don't have time to bring in subs. People don't like it because it's hard. But you don't just get to ignore something because it's hard."
The Buckeyes have watched plenty of Louisiana Tech film this week to familiarize them with Dykes' philosophy. One thing they notice is the run game. It's not absent, but instead a key component. It's also something Cal has struggled with.
The top rushers from last season's team are gone and Brendan Bigelow, coming off a meniscus tear, hasn't been able to break out yet. Louisiana Tech averaged 227 yards rushing last year; Cal is gaining just over 100.
"When we got here a label (Bear Raid) was thrown out there because of the [coaching] tree. We don't identify it that way," Franklin said during the spring. "Run it, throw it, it doesn't matter, whereas the true Air Raid is, we're going to throw it no matter what. We're going to play fast and find a way to put points on the board."
To help compensate, Ohio State is toying with the idea of using as many as six defensive backs. It's a number Withers has had in mind since the spring. It would mean a three-man rush and eight players dropping back in pass coverage.
"It's all about personnel," Meyer said. "If it's no tight end and no running back, you have to be in some type of dime if you want to play man coverage. And we just didn't have that type of ability last year."
More man-to-man coverage against Cal calls for more defensive backs, just how Withers drew it up. That's the reason for the smile.
"I like it a lot," he said. "I think in today's game, you have to be able to do that."