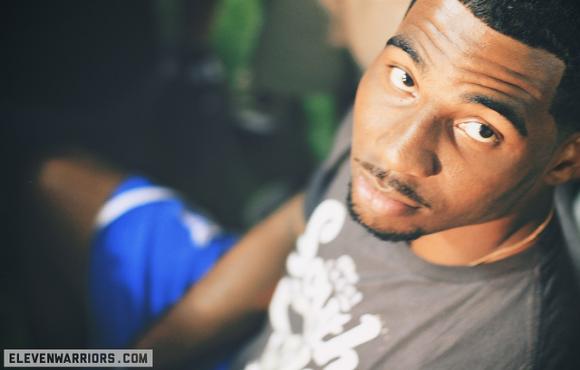 Braxton Miller's status remains unknown. Ohio State's dynamic quarterback practiced briefly on Wednesday, according to head coach Urban Meyer, and then retired to the football facility for treatment on his sprained knee.
All options are currently on the table – Miller starting, Guiton starting and even Guiton starting with Miller providing relief. Meyer said he's still optimistic Miller will play with Thursday providing a clearer answer. But he added that Miller's status could be a game-time decision.
Ryan Shazier and Christian Bryant each said Miller looked normal in the limited time he practiced. The biggest thing hampering Miller is adapting to wearing a brace.
Notes:
Meyer said Cal's defense, which is ranked near the bottom of FBS, is being slowed due to injuries. He said when the starters are in the defense performs well.
Cal is also going through changes on defense with a new coaching staff. Meyer said it's similar to Ohio State's struggles during the first half of last season.
Adolphus Washington has not practiced this week. Meyer said he's on the travel roster at the moment, but it could change before Friday.
Corey Linsley should be fine to play a full game Saturday, according to Meyer.
Bri'onte Dunn and Michael Thomas are two guys that have been forgotten on offense. Meyer said Dunn needs to get a better grasp of the offense. He said he doesn't want to waste a year of eligibility on them just to get them in the game. He wants them to contribute. Both have a redshirt year available. 
Shazier said when you're a good defense you don't allow the opponents to run 100 plays. He said the goal is to have the Ohio State offense dictate the game's tempo. The Buckeyes want Cal to go 3- and 6-and-out.
Last season's defensive problems against Cal were as simple as the D not getting leverage, Shazier and Bryant said.
Shazier and Bryant said Brendan Bigelow can be contained by keeping him from getting the edge. Once he does, he's tough to corral because of his speed. Shazier said the scout team has practiced Bigelow's spin move.
Carlos Hyde is working as the scout team running back.
Bryant said he just remembers the defense making a bunch of small mistakes last season that magnified. It only takes one thing to develop into a big play for the offense.
It's a defensive backs dream, Bryant said, to go against a pass-happy offense. He's looking forward to being able to make a huge impact.