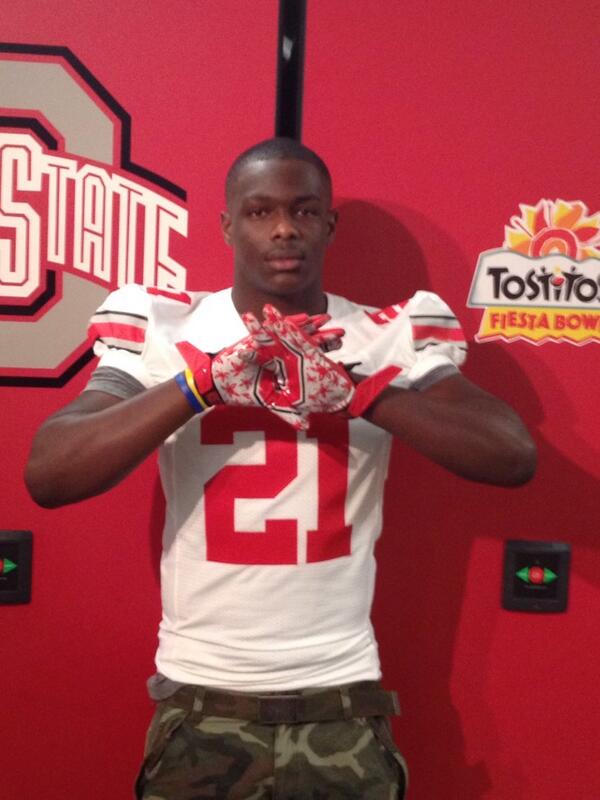 Welcome to another edition of the Ohio State football recruiting notebook.  We'll wrap the week up for you and give a preview of what's coming up next.
It was a big week for Ohio State recruiting: in addition to a new commitment, this week was highlighted by 11 recruits visiting for the San Diego State game, as well as one new scholarship offer going out to a member of the 2015 class.  We'll talk about Ohio State's newest offer, and discuss the impact of this weekend's visits.
We'll also check in on one of Ohio State's biggest targets for the 2014 class to see how he is doing and where he is in the recruiting process.
A few Ohio State targets took visits to other schools (including a certain school up north) this past weekend, we'll see where Ohio State stands with them.
Meanwhile, many of the current commits were impressive once again, we'll discuss what future Buckeyes are making big impacts and preview this week's upcoming games.
Join us after the jump to learn about the current state of Ohio State recruiting and get a preview of what to expect for the future.
The week that was
The week got off to a fantastic start when Sparta (N.J.) Pope John XXIII athlete Noah Brown announced his commitment to Ohio State on Monday night, following his official visit to Ohio State this weekend.  At 6-foot-2, Brown projects as an "X" receiver in Ohio State's offense, providing them with some much needed size on the outside.  Brown's commitment leaves the Buckeyes with 4-6 open spots, as most believe they will take between 22-24 in this class.
In addition to Brown, Ohio State hosted several visitors this weekend including current commits Kyle Berger, Sean Nuernberger and Kyle Trout, as well as several 2015 targets and one 2017 target.  Jordan did a great rundown on the 2015 targets in attendance in last weeks Recruiting Notebook, and caught up with them after the visit for interviews, which he wrote about here.  Of the visiting 2015 recruits, none of them currently hold offers, but TE C.J. Conrad appears to be the closest to being offered, while LB Anthony McKee has several quality offers already.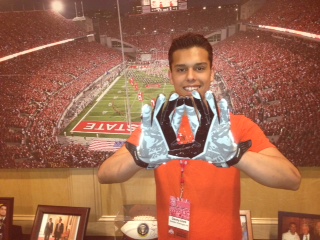 2017 QB target Danny Clark (Massilon, Ohio) was also in attendance and was very impressed with what he saw, going as far as to say if Ohio State were to offer, "that would be the end of [his] recruiting process."  Clark recently took over the starting QB role for Massilon (the first freshman starting QB in school history), and at 6-foot-3 he already looks the part of a college quarterback.  That being said, don't expect an offer from Ohio State any time soon.  There are too many factors in play here: such as Clark's development and 2015 and 2016 QB recruiting.   Still, keep an eye on Clark as when it's all said and done there's probably a pretty good chance he ends up a Buckeye.
Urban Meyer's staff extended one new offer this week, to 2015 4-star athlete Kai Locksley (Baltimore, MD).  The 6-foot-4 Locksley has spent time playing QB as well as WR, and also holds offers from Alabama, Florida State, Maryland, Michigan State, Tennessee and Wisconsin.  Maryland is actually the early favorite here, but Locksley is currently scheduled to visit Ohio State for the Wisconsin game (9/28).
Ohio State top target Raekwon McMillan gave an update on where he stands in an interview this past week, stating his top 5 of Ohio State, Alabama, Clemson, Georgia and Florida.  He says that "Ohio State, Alabama and Clemson" are on top following his visit to Clemson (which he called a "10"), but he continues to list Ohio State first.  He reiterated that he plans to enroll in January, with a decision coming either on Christmas day or at the Under Armour All-American game.  He also said that the recruiting process is "winding down." You can check out the full interview, along with McMillan's early 2013 highlight tape below.
Check out the play at 1:30 especially.  McMillan shows great technique, strength and instincts, and is a very high priority for Urban Meyer and the staff.
Lastly, this week saw a few Ohio State targets visit different schools, with Marshon Lattimore, Erick Smith and Tim Settle (2015 5-star DT) taking unofficial visits to Michigan, and Johnnie Dixon unofficially visiting Miami (FL).
I just wanted to briefly mention Johnnie Dixon because as Birm wrote in his WR breakdown last week, Noah Brown's commitment probably ends Ohio State's recruitment of him.  Still, he is scheduled to take an official visit to Ohio State for the Wisconsin game but it remains to be seen whether or not that visit will place.  As of right now he is probably Miami (FL) bound.
The Glenville duo of Marshon Lattimore and Erick Smith unofficially visited Michigan for the Notre Dame game this past week and all reports indicate that the visit went very well.  Lattimore and Smith could be back for an official visit in November for the Ohio State-Michigan game.  When it's all said and done however, Buckeye fans should feel pretty confident that they end up at Ohio State and should probably not put too much stock into the visit (even Ted Ginn Jr. visited Michigan).  Glenville kids take their visits and decide late, and almost always for Ohio State, so while this development is something to continue to monitor it's not worth losing too much sleep over if you're a Buckeye fan.
Also visiting Michigan this past week was huge 2015 5-star Tim Settle, who enjoyed the experience, but does not currently have a scholarship offer from the Wolverines.  Ohio State is still in a great position for Settle, who visited Ohio State in June, and there will certainly be more to come as Settle's recruitment heats up.
High school football preview
Be sure to check out Birm's complete review of last week's games here for more details.
| Position | Player | School | Opponent | Comment |
| --- | --- | --- | --- | --- |
| QB | Stephen Collier | Lee County (Ga.) | Albany Westover (Ga.) | 550 passing yards, 11 total TDs, 2 interceptions through 2 games. |
| WR | Parris Campbell | St. Vincent-St. Mary (Ohio) | Woodridge (Ohio) | Coming off 3 TD game last week, has 5 TDs in 2 games, 3 of 50 yards or more. |
| WR | Terry McLaurin | Cathedral (Ind.) | Indianapolis Chatard (Ind.) | 107 total yards last week in victory, 345 yards and 3 TDs through 2 games |
| OT | Jamarco Jones | De La Salle (Ill.) | New Lenox Providence Catholic (Ill.) | Hasn't played yet this season, still recovering from shoulder surgery with no timetable for return yet. |
| OT | Kyle Trout | Lancaster (Ohio) | Canal Winchester (Ohio) | Trying to help his team bounce back from 41-0 loss last week.  Trout had 5 pancake blocks and 3 tackles in the losing effort. |
| OG | Marcelys Jones | Glenville (Ohio) | Cleveland Heights (Ohio) | Glenville defeated Cleveland Heights last night 32-21 |
| OG | Demetrius Knox | All Saints Episcopal (Texas) | Addison Greenhill (Texas) | Continues to impress, helped lead his team to 67-7 victory last week. |
| DE | Jalyn Holmes | Lake Taylor (Va.) | Amherst County (Va.) | Holmes was ejected last week for kicking an opposing player, suspended for this week and next week. |
| DE | Dylan Thompson | Montini Catholic (Ill.) | West Chicago Wheaton (Ill.) | Recorded 3 sacks in win last week to help Montini improve to 2-0 for first time since 2008. |
| OLB | Kyle Berger | Ignatius (Ohio) | Erie Strong Vincent (Ohio) | Had surgery to repair torn ACL yesterday, beginning 8 month road to recovery. |
| OLB | Dante Booker | St. Vincent-St. Mary (Ohio) | Woodridge (Ohio) | Lead St. V defensively in 35-20 win last week. |
| CB | Damon Webb | Cass Tech (Mich.) | Detroit Renaissance (Mich.) | Has been dominant defensively, with teams refusing to attempt passes his way.  Also scored 2 TDs in last week's victory. |
| S | Malik Hooker | New Castle (Pa.) | Ambridge (Pa.) | Scored 4 total TDs last week in win, continues to show great versatility. |
| ATH | Noah Brown | Pope John XXIII (N.J.) | Randolph (N.J.) | Brown finally gets his season started today, look for him to be used at WR, RB and Safety |
| ATH | Sam Hubbard | Moeller (Ohio) | St. Michael's College (Toronto, Ontario) | Looking to build on another big game last week.  Has 21 tackles (5 for loss) and a forced fumble through 2 games. |
| ATH | Lonnie Johnson | West Side (Ind.) | Riverside-Brookfield (Ill.) | Hoping to help his team bounce back after a big loss last week in which he caught a TD and made an interception. |
| ATH | Curtis Samuel | Erasmus Hall (N.Y.) | Brooklyn Boys & Girls (N.Y.) | Samuel was held to 34 rushing yards and 28 receiving yards as opposing teams continue to focus on him.  Was "used as a decoy" this past week in 21-7 victory in a rematch of last year's state title. |
| K | Sean Nuernberger | Oldham County (Ky.) | Crestwood South Oldham (Ky.) | Nuernberger has been great so far, with all 10 of his kickoffs going for touchbacks, 6/6 on extra points and a made 42 yard field goal.  Also shown ability to be a good punter. |
| WR | Johnnie Dixon | Dwyer (Fla.) | Palm Beach Gardens (Fla.) | Visited Miami this week, still scheduled to take OV to OSU for Wisconsin week, but Noah Brown commercial probably eliminates chances of him coming to Ohio State. |
| TE | Mike Gesicki | Southern Reg (N.J.) | Freehold (N.J.) | Scored TD in season opener last night, planning on making decision this fall. |
| OT | Chad Mavety | Nassau C.C. (N.Y.) | Monroe College (N.Y.) | Won 48-7, has official visit scheduled for 11/23 (Indiana Game) |
| OT | Damian Prince | Bishop McNamara (Md.) | Silver Oak Academy (Md.) | Won 34-9, check out this awesome interview with him from this week. |
| DT | Thomas Holley | Abraham Lincoln (N.Y.) | Sheepshead Bay (N.Y.) | Led defense which didn't allow a point in the 2nd half of 42-6 win last week, in his 1st start of the season.  Also batted down 3 passes, forced and recovered fumble. |
| ILB | Raekwon McMillan | Liberty County (Ga.) | Johnson (Ga.) | See comments and video above.  Also, his team won 40-20 last night over Johnson to move to 3-0 |
| S | Erick Smith | Glenville (Ohio) | Cleveland Heights (Ohio) | Hauled in a 61 yard TD pass in last nights 32-13 win over Cleveland Heights. |
| ATH | Marshon Lattimore | Glenville (Ohio) | Cleveland Heights (Ohio) | Lattimore had a big game last night, with 2 TDs offensively as well as an interception in the win. |
| ATH | Erick Glover-Williams* | Canton McKinley (Ohio) | Dublin Coffman (Ohio) | 91 rushing yards and 2 TDs on 2 carries last week to become fastest player to 2,000 yards in school history. |
looking ahead
With the Buckeyes being on the road this week, no athletes will be visiting Columbus (although Cal has a few high-profile recruits visiting for the game).  There are actually no recruits currently scheduled to visit next weekend (vs. Florida A&M) either, but this will most likely change so be sure to check back next week.  Looking a little farther ahead, September 28th will be a major recruiting weekend for Ohio State, with several elite uncommitted targets planning to be in attendance.  You can see a complete list of scheduled fall visitors here.
For those curious about when the next commitment could be coming, Mike Gesicki is probably the best bet.  He said in a recent interview that he wants to make his decision sometime in mid-October after he takes his final visit (to Penn State on 10/12).  Gesicki is not a lock to Ohio State by any means, but he's a player that Urban Meyer really wants and Ohio State is in a great position for him.