Winning every game of a college football season, or any sport for that matter, is an accomplishment to be lauded. Ohio State did so last season and is expected by many to repeat that performance. The Buckeyes will need do-it-all quarterback Braxton Miller to accomplish their lofty goals, as well as an immovable offensive line.
There was a time when Ohio State didn't have a dependable line. The mystery went up in smoke last season after offensive line coach Ed Warinner did yeomen's work to construct arguably the best line in the Big Ten. Four of five starters returned this season, but the group's cohesion was stymied due to injuries in the spring and fall.
On Saturday, those four starters – Jack Mewhort, Andrew Norwell, Corey Linsley and Marcus Hall – and newcomer Taylor Decker will all be together at 100 percent. Linsley and Norwell were limited during the spring. Linsley, a center, had offseason foot surgery that hampered his ability in fall camp and into the regular season. He only played 17 snaps against Buffalo and sat the entire second half last week versus San Diego State.
Head coach Urban Meyer deemed Linsley 100 percent in advance of Saturday's game at Cal, which would be the first time the line has been full strength since the 2012 finale against Michigan. If Linsley were the decision maker, he would have two full games already under his belt.
"He wanted to play more in the opener and he wanted to play more in the last game, but the circumstances were such that we were in a good situation where we didn't have to do that, and so we didn't," Warinner said. "We also had kind of a pitch count for him. When he got to his number, we said, 'What do we want to do here?' and we got him out of the game."
The Buckeyes are afforded that opportunity due to building up depth. The first-stringers weren't a sure thing as recently as two years ago, let along the backups. But Warinner has a dependable group behind the starting line. At the top of that list is center Jacoby Boren.  
"I think we are right where we thought we would be at this point in time," Warinner said, regarding Linsley's availability. "But it does get some other guys involved in the process, more reps and so forth, because we monitored how much he did in the offseason and how much he did in training camp to make sure."
Part of that process is always keeping an eye on the future. Warinner knows what next season brings – replacing four starters on the line. Consider him satisfied with the depth Ohio State has developed. An indication that coaches are pleased, aside from their own words, is the movement of Chase Farris from the offensive line to the defensive line. Pat Elflein and Darryl Baldwin are part of the contingent coaches have praised.
"We are working really hard to develop our depth," Warinner said. "We did that in August. We do that in practice, and then whenever we can, we are trying to get them in the games. Jacoby Boren has played a lot of snaps in the first two games. Pat Elflein has played. We had Darryl Baldwin in the game and we'll continue to do that. We have a plan in place to develop players, so that next year, the next wave of guys are ready to go."
Those players will experience what Decker is currently going through – the growing pains of being a first-time starter. In Decker's debut against Buffalo, linebacker Khalil Mack buzzed around him several times to make plays in the backfield. Meyer said the performance was OK, there was good and bad involved. Going against a potential first-round draft pick while being surrounded by returning starters isn't an ideal situation.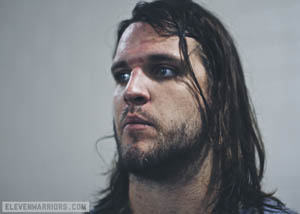 "That was just the wakeup call that we needed," Hall said. "Good thing it was the first game."
Last Saturday represented a fresh start, and Decker seized the day. He was part of a unit that gave Kenny Guiton time, kept him upright and opened holes for enough running backs to seemingly field an 11-man team. Ohio State averaged 6.6 yards per carry and gave up one sack against a defense that average nearly three per game in 2012.
"Obviously, we didn't perform as well as we wanted to last week," Decker said. "For me personally, it was my first start. Last week I think I got a little over-excited, my technique went a little bad. I was able to settle in a little bit.
"The coaches try to get us up for every situation in practice, but you're not going to get that game atmosphere until game day. Just getting in and getting some experience, you start to feel more comfortable on that big-time stage."
Mewhort said it felt like the line played harder. It may have had something to do with the weather and a week's worth of tongue-lashings from Meyer and Warinner. Whatever it was, the unit looks much more in sync. 
"I feel we're definitely on the up slope," Mewhort said. "We're not where we need to be, but I think we have an idea now of where we're going and what we need to do to get there. We have a lot of potential. It's our job to keep this offense going in the right direction."
Still, even with Mewhort, Norwell and Hall back – three veteran teammates that lead and perform with aplomb – Linsley remains the focal point of the offensive line. Meyer referred to him as the "apex." It all starts with him giving signals.
"Your center for your offensive line is your quarterback," Warinner said. "He calls out the starting point for what we are going to do, identifying defenses, identifying protections, making adjustments.
"He does it very well. He's a very smart guy. He studies the game and understands conceptually what we're trying to do. Having him out there and his knowledge base and the fact that he's physically talented and a good football player, that combination, it's great to have him."
The other four help a tad, too.