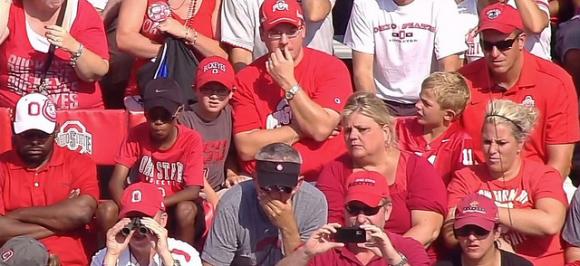 COACHES POLL
RK
Team
Record
1
Alabama (58)
1-0
2
Oregon (1)
2-0
3
Ohio State (2)
2-0
4
Stanford
1-0
5
Clemson
2-0
6
Texas A&M (2)
2-0
7
Louisville
2-0
8
LSU
2-0
9
Florida State
1-0
10
Georgia
1-1
11
Oklahoma State
2-0
12
Michigan
2-0
13
Oklahoma
2-0
14
South Carolina
1-1
15
Nebraska
2-0
16
Northwestern
2-0
17
UCLA
1-0
18
Wisconsin
2-0
18
Miami
2-0
20
Florida
1-1
21
Notre Dame
1-1
22
Baylor
2-0
23
Washington
1-0
24
TCU
1-1
25
Ole Miss
2-0
AP POLL
Rk
Team
Record
1
Alabama (57)
1-0
2
Oregon (1)
2-0
3
Clemson (1)
2-0
4
Ohio State (1)
2-0
5
Stanford
1-0
6
Texas A&M
2-0
7
Louisville
2-0
8
LSU
2-0
9
Georgia
1-1
10
Florida State
1-0
11
Michigan
2-0
12
Oklahoma State
2-0
13
South Carolina
1-1
14
Oklahoma
2-0
15
Miami
2-0
16
UCLA
1-0
17
Northwestern
2-0
18
Florida
1-1
19
Washington
1-0
20
Wisconsin
2-0
21
Notre Dame
1-1
22
Baylor
2-0
23
Nebraska
2-0
24
TCU
1-1
25
Ole Miss
2-0
In a move sure to draw frustration from fans, Ohio State fell in the AP Poll for the second straight week. Unlike last week, though, the Buckeyes also fell in the Coaches Poll, which is part of the BCS formula. 
Ohio State was ranked second in both polls when they were released in August. Two weeks into the season, OSU is fourth in the AP and third in the Coaches. However, getting upset over polls in early September is useless. Eleven games still remain for the Buckeyes (if they advance to the Big Ten title game), so the season will play itself out.
On the AP side, the Michigan Wolverines are ranked No. 11, Northwestern checks in at No. 17, Wisconsin at No. 20 and Nebraska at No. 23, giving the Big Ten five ranked teams. The Coaches poll likes the Big Ten a little better, putting Nebraska No. 15 Northwestern No. 16 and Wisconsin No. 18. The Wolverines do register one spot lower in the Coaches Poll, however, checking in at No. 12.