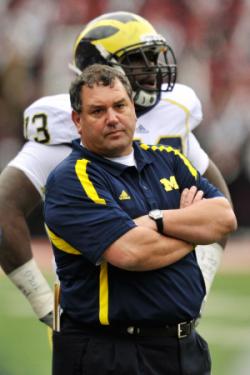 Oh Brady Hoke, you sly dog. Like a tree heavy with grapes, you cruelly dangled a Michigan win that should have been Ohio State's to enjoy, a 59-9 victory over a Directional Michigan team that sucks and you were supposed to beat by a ton of points and then did.
While Heisman candidate Braxton Miller and the offense surrounding him stalled, Devin Gardner was having a decent game, Fitz Toussaint looked... okay, and a talented but relatively unknown receiving corps sprang to life and beat the absolute hell out of an overmatched Central Michigan squad that wasn't prepared to handle to the pure adult contemporary fury that is Michigan football.
The Wolverine defense was pretty awesome as well, with a lot of newcomers contributing in massive ways, as the loss of linebacker Jake Ryan doesn't appear to be the death knell for Michigan like we all kind of hoped. They have some pretty decent playmakers on that side of the ball, which is very annoying, and held the Chippewas to just 210 yards of total offense.
But that's enough hyperbole based on one game against a bad team. The truth is that we're mad because Michigan beat Central Michigan in the way that Ohio State was supposed to have beaten Buffalo. Both teams handled their business against MAC opponents, but one clearly looked better in doing so.
Maybe I'm just too bitter and blinded by rage to see what really happened. Maybe I need some kind of spirit guide to show me the way to the truth about Michigan football (may they be torn apart by a thousand ravens and have their tongues fed to dogs).
So to that end I have recruited Ace Anbender from the admittedly *deep sigh* excellent MGoBlog to help me parse through what happened this past weekend. Our conversations are real, but have been edited slightly for brevity/spelling/to make me look cool. Enjoy!
Johnny: what's the deal with devin gardner, is he always going to make about a third of his reads incorrectly or what? or can i not see past my hate to how awesome he will eventually be

Ace Anbender: I think he'll have a couple bad picks this season when he locks on to gallon. BUT... the first pick was a product of a bad pre-snap read when Michigan tried to go hurry-up and he didn't recognize that the nickel corner had backed out of his blitz look. I'm chalking that up to a first-game thing. and otherwise, he looked awesome.

Johnny: so has he been touched by the grace of denard from his resting place in valhalla

Ace Anbender: it's weird, because denard is obviously the best running QB michigan has had in ever, but gardner is *much* better at creating with his legs on passing plays.
I think "awesome" might be overstating things a bit. A tad. A hint.
Gardner definitely wasn't bad, despite the two really stupid interceptions. Mechanically he's very good, and when he gets his feet set he has a live arm. His 16 yard touchdown pass to Gallon in the second quarter through traffic was incredible, and he also had a few nice passes on playaction.
The thing is though, Gardner's decision making is going to kill Michigan in the long run. He's had at least one interception in every game he's started since he replaced Denard, and though Ace is absolutely right about Gardner's ability to create, I think that's also part of his overall problem. In a weird way he's like junior year Matt McGloin, in that once the plan goes out the window, he starts to become VERY predictable in terms of where he's going to look to throw the ball. Sometimes it works, but against good teams he's much better off just trying to get the yards with his feet.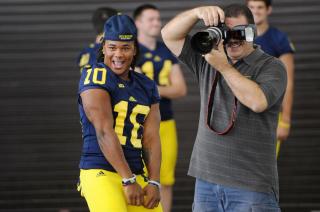 Johnny: is fitz a viable every down RB or is derrick green going to replace him like the little porcelain mouse that OSU fans perceive toussaint to be

Ace Anbender: I thought fitz looked much better yesterday than his numbers would indicate (and yes, I realize I sound like such a homer right now, but oh well). he was great as a one-cut back in 2011, then last year he got spooked by the awful interior line play and couldn't get it going before his leg exploded.

Ace Anbender: as for green, he looked like he should be about 15 pounds lighter—he's going to have to play his way into shape. I thought de'veon smith was the better back yesterday; he knocked linebackers back even though he wasn't getting many holes to run though. he may be the #2 back for the duration.

Johnny: interesting, but irritating because you pre-empted every joke i was going to make. damn you, ace
Complete disagreement about Toussaint. I felt he looked tentative at times, and aside from a nice 20 yard gainer, he was missing cutback lanes all over the place. I don't know why Hoke and Borges think running him in the inside of the line is a good idea when he way too often looks like Mo Wells out there.
Smith may have run hard, but 1.7 yards per carry doesn't impress me. Green is going to usurp both of these dudes in a few games, mostly by being a combination of sexy and chubby (as advocated by Jack Black In School of Rock).
Johnny: so how are you feeling about the defense, especially the LBs?

Ace Anbender: cam gordon looked awesome playing in place of jake ryan; he had a couple sacks and almost a spectacular tip-to-interception.

Johnny: yeah, i saw that. was really hoping that ryan was some kind of lynchpin that would take the whole D down but it looks like hoke's recruiting/player development has paid off

Ace Anbender: the depth they showed yesterday was a revelation, especially considering that thomas gordon was suspended for the game (proverbial "violation of team rules"). notably, frank clark still has major issues holding the edge, but mario ojemudia looked very capable as his backup and taco charlton is definitely a freshman to watch later in the year.

Johnny: i still think that "taco charlton" sounds like a thursday night special at applebees
I was honestly surprised at how well Michigan played on defense. They're replacing a lot, and Central Michigan was a decent team towards the end of least season. But really, holding any team to 210 yards of total offense and forcing a less than 50% completion percentage from the opposing quarterback, you've done your job.
This is all very annoying. It's going to be even more annoying next week against Notre Dame, because if the Irish struggle offensively (after putting up an NCAA record TWENTY EIGHT POINTS against the mighty Temple Owls) then we get to hear about how great the Michigan defense is and how they're back and blah blah blah. I'm not sure that I'll ever care less about a Notre Dame/Michigan game than this one, because neither team is highly ranked enough for it to truly matter, and neither team is crappy enough to make it a fun slapfight between two blind sea otters.
But if Michigan can continue their play from last week, it will be they who breaks open the clams upon their tummies.
Ace Anbender: michigan had an awesome bond-themed halftime show yesterday that featured a man in a tuxedo flying out of the stadium using a jetpack.

Ace Anbender: there was a moment of legitimate fear that he was going to slam into the scoreboard, at least from my angle.

Ace Anbender: thankfully, crisis averted.

Johnny: i guess he was more timothy dalton than sean connery then
Thanks again to Ace from MGoBlog for helping me out, hopefully we can make this a regular gig and I will find a way to make some kind of snide comment about something something Devin Gardner Jeremy Gallon something something Vince Vaughn Owen Wilson something Interns bad comedy I don't know. It's a work in progress. See you next week!