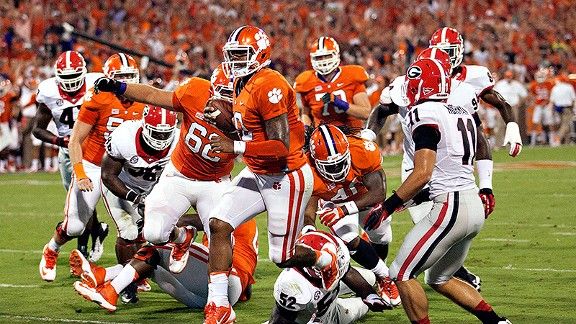 I really, really like Tajh Boyd and think he's essentially Troy Smith 2.0, but to be fair, the real star of this game came from the losing side.
Todd Gurley had an excellent season in 2012, and started 2013 with a bang by racking up 154 yards on only 12 carries. QB Aaron Murray also threw for over 300 yards in a losing effort, so the concern for the Bulldogs will not be their offense. They have plenty of weapons, and it looks like Richt is figuring out how to use them.
Their defense however might need some work. Clemson repeatedly was able to extend drives on 3rd down, and found success running right at the Georgia d-line. I don't think Ohio State would've matched up well with either of these teams last night, but Georgia is going to have a terrible horrible no good very bad time in the SEC this season if they can't straighten their defense out.