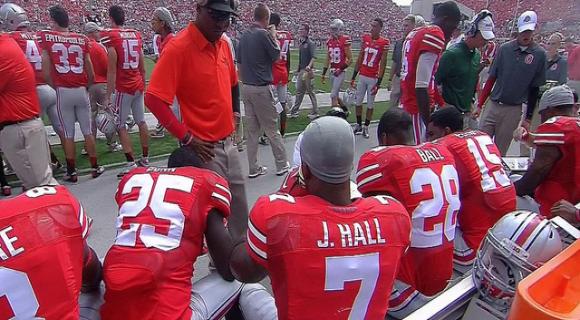 COLUMBUS - Jordan Hall has been at Ohio State for five years. He came with high hopes, along with high school teammate Terrelle Pryor, but had all of six starts to his name prior to Saturday's season opener versus Buffalo.
By the end of the first quarter, Hall had a new career-long rush – 49 yards. By halftime, he surpassed his previous career-high rushing total of 105 yards. In the first 30 minutes, Hall carried the ball 12 times for 126 yards and two touchdowns.
"I gotta give the offensive line a lot of credit," he said. "I was just trying to get everything I could while I was in."
With Carlos Hyde, the projected starter, and Rod Smith, his presumed backup, suspended, Hall played like the back head coach Urban Meyer praised leading up to last season. Hall exited fall camp as one of the biggest success stories. That prompted Meyer to proclaim him the starting running back regardless of the week.
Hall did his best to add separation between him and the other running backs, finishing with 159 yards and two touchdowns on 21 carries in the second-ranked Buckeyes' 40-20 victory. Smith returns next week, with Hyde coming back for Florida A&M on Sept. 21.
Could that mean a position change for Hall, possibly to H-back?
"I'm just going to go wherever they tell me and try to make things happen," he said. "We're all brothers on the team. Whatever we can do to get a win, that's the main focus."
Game day may have brought focus to Hall, but the night before brought tossing and turning. Hall said he woke up every hour and finally stayed up for good at 5:30 a.m.
"I was just ready to be on the field," he said. "I knew I was starting at tailback and Coach Herman said he was going to give me the ball a little bit."
Hall's focus may have been good. One has to wonder, though, what Buffalo saw. On both of his long touchdown runs – 49 and 37 yards – Hall burst through the middle of the line and ran almost untouched to the end zone. The path on his first score was so wide that he did a double take.
"I was like, 'Wow,'" Hall said. "I didn't know if [the Buffalo defense] messed up or the O-line did what they do. I saw [a hole], and I took it."
For Hall, the performance was a year in the making, maybe even longer. He got stuck behind Brandon Saine and Boom Herron in 2009 and Herron in 2010 and 2011. Last year was going to be his chance to start an entire season and etch his name alongside a long list of great Ohio State running backs.
It ended up being his most trying and forgettable season in Columbus. A deep cut on his foot caused him to miss the first two games before suffering a season-ending knee injury. As Hall was rehabbing and cheering on his teammates, they were busy winning and Hyde assumed the starting running back position with nearly 1,000 rushing yards.
"It was tough," Hall said. "It wasn't as tough because we won every game. If we had lost a couple games, it would have been even tougher because I would have felt I could help. We won every game, so I was happy for my teammates."
Now Hall's waiting game is over.
"In my mind, I thought it was going to come," said Hall, about a big-time performance. "I just had to be prepared for when it came, and it came today. I was doing what I knew I could do."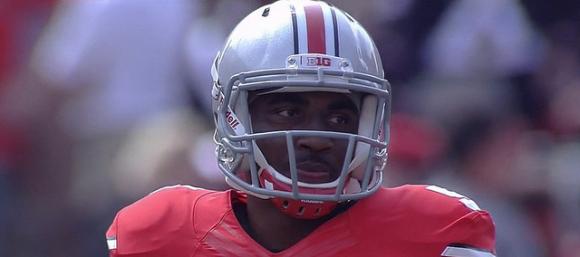 Action Braxton
The improvement of Braxton Miller has been talked about for months. On Saturday, college football fans were finally able to see how far the third-year starter has come. He didn't disappoint, but he also didn't wow.
For a time, though, it looked like he was going to deliver a masterpiece. Miller completed seven of his first eight pass attempts and 12 of 14. Ohio State led 23-0 and then 23-7 when Miller got the ball back in his hands.
Looking to make something happen, Miller attempted a screen pass to Dontre Wilson. What he didn't see was Buffalo's All-American linebacker Khalil Mack entering the picture. Instead, the only vision Miller saw was Mack running 45 yards in the opposite direction, straight into the end zone.  
"That one I wish I could get back," Miller said.
It made the score 23-13 in favor of the Buckeyes, but the momentum was stalled – both for Miller and the team. He only completed three more passes the rest of the day.
His final stat line read: 15-of-22 for 178 yards, two touchdowns and an interception. He ran 17 times for 77 yards. Miller's longest rush of the day was a 40-yard scramble.
Where Miller showed marked improvement was staying calm under duress and allowing the passing game to set up runs. Ohio State's offensive line did not look like the unit that powered the offense a year ago. Center Corey Linsley only played one quarter because of a nagging foot injury and tackles Jack Mewhort and Taylor Decker were not up to par.
Mack's interception was an example of the line's less than stellar play. Mewhort missed his assignment, which was to take out Mack. That allowed Mack to escape, stay out of Miller's path but remain in the passing lane. The final product showed how disastrous one missed block or assignment can be.
"[Mack] did a great job of playing off the cut," offensive coordinator Tom Herman explained. "If it had happened a split-second sooner, Braxton probably wouldn't have thrown it. Had it happened a split-second later, the ball is out already. So it was a helluva play by [Mack], but obviously a missed technique by [Mewhort]."
Miller said he didn't see Mack, assuming instead that Mewhort made the block. But that wasn't the case.
"I just threw it and by the time the ball got out of my hands, I was like, 'Dang, the guy's right there,'" Miller said.
Meyer went one step further, saying Miller never should have thrown the ball in that direction. He should have just thrown it away, according to the coach.
"That should never happen," he said of the interception.
But one play doesn't ruin an entire day. Herman and Meyer both said they saw vast improvements, noting that Game 1 still means there's more room to grow. Spending a day as a primary passer as opposed to a do-it-all magician meant Buffalo wasn't selling out completely. That's how Miller was able to rip of some big gainers in the fourth quarter – because the first, second and third quarters saw proficiency in passing.
"It felt good," Miller said. "I felt good about my fundamentals and how the guys were getting open. It's a big improvement from last year."
That said, Miller's legs also provided Meyer with a big complaint. The speedy, shifty quarterback was sacked four times.
"That's unacceptable, completely unacceptable," Meyer said.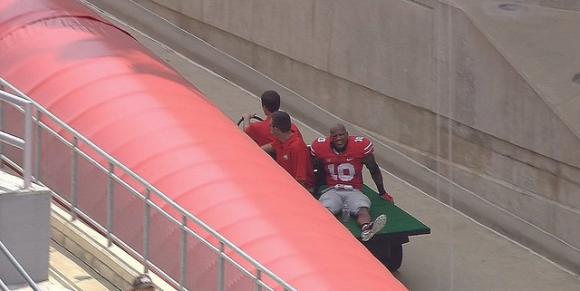 Don't Doubt Defense
Much was made of Ohio State's defensive performance. But a closer look at the box score revealed an adequate game.
Ohio State 40, Buffalo 20
The Buckeyes only allowed 258 total yards  - 73 rushing – and 13 points to Buffalo's offense. The main concern is depth. A bulk of those who played Saturday were backups a year ago. They were also missing two starters, though.
Cornerback Bradley Roby was suspended and safety C.J. Barnett was injured. Linebacker extraordinaire Ryan Shazier missed more than a quarter with cramps. Still, the totals don't show a bad defense. 
"I see the framework of a good defense," Shazier said. "I feel like we're going to get a whole lot better by next week."
They'll have to with San Diego State coming in. The Aztecs are coming off a nine-win season, including victories on the road at Boise State and Nevada. San Diego State running back Adam Muema will be one of the best Ohio State goes against all year. 
Only yielding 73 rushing yards and stuffing Buffalo on the goal line showed Muema and the Aztecs might have to get creative.
"Last year we felt like we were one of the best red zone teams or goal line teams in the nation," Shazier said. "This year we feel like we're going to be the same."