Welcome to Sunday night recruiting, normally reserved for your 11W Community Interviews, but that my friends was the offseason and now we're into full-swing football. We'll take an in-depth look at how the 2014 (and one 2015) Buckeye commitments fared in their high school games this weekend. We'll also hone in on a few key recruits still high on the Buckeye's board to make sure that you know what is coming down the pike for Urban Meyer and the Buckeyes.
Dante Booker and Parris Campbell lit up the Rams
The weekend began in earnest on Thursday night in Ohio and it began with a bang in Akron, where a pair of Buckeye commitments made their presence known early and often against a crosstown rival.
BOOKER, CAMPBELL HELP KILL GARFIELD, ODIE ESCAPES UNSCATHED
Akron St. Vincent-St. Mary stars Dante Booker and Parris Campbell didn't take long to show why they're considered two of the state's biggest stars in Ohio and the Garfield (Akron) Rams were the unfortunate recipients of a 63-0 drubbing at the hands of the Irish. Campbell ignited the crowd early — returning a punt 52 yards for a score just five minutes into the game and adding a 50-yard touchdown run two minutes later — and finished with 98 yards on only four carries. 
Booker, Ohio State's highest-rated commitment according to 247Sports.com (where he's the nation's 16th best prospect) was equally as dominant, disrupting play-after-play en route to 10.5 tackles, including 3.5 tackles-for-loss. 
COLLIER STARS FOR LEE COUNTY
Much has been made about the "star ranking" of Buckeye quarterback commitment Stephen Collier, but he looked and played the part of an elite signal caller Friday night against Dougherty, leading his Trojans to their third-largest margin of victory since 2009, 55-6. Collier finished his night contributing to six different touchdowns, including two with his feet (20, 4) and 189 yards passing. Good enough for most, not good enough for a perfection-drive Collier.
"I'm only happen with perfection," Collier told the Albany Herald, lamenting an early game interception. "I probably should have thrown for three more touchdowns (Friday). Until I get to that level I won't be happy...We have to do better. We left some points on the board (Friday) and definitely need to do better."
Collier was not the only under-the-radar Buckeye commitment to have a huge game Friday. 
MCLAURIN HAS HUGE GAME IN DEFEAT
After an off-season that saw him go from relative unknown to an Ohio State commitment, Terry McLaurin has become the focus of defenses throughout central Indiana this season, but it's not slowing down the Cathedral (Indianapolis, Ind.) star by any measure. Friday night against Indianapolis Warren Central, McLaurin's Irish fell 42-28 but McLaurin was electrifying, finishing with eight receptions for 238 yards and three scores (10, 80, 74). McLaurin's efforts were a source of inspiration for his teammates and surprisingly, some of his opponents as well. Warren Central senior running back Darius Lee couldn't help but be impressed by "Run-TMC."
"It gives me good motivation to do better and work as hard as he is," Lee said to the Indianapolis Star following his team's victory and his own 91-yard kick return for a touchdown.
McLaurin's team falls to 0-2 on the season, and it's not something that Cathedral — traditionally very successful — is used to. According to the explosive wide receiver, it's a matter of leadership and he's doing his part to correct the issues.
"We have a lot of young guys and first year starters playing and that's rare at Cathedra, because we always have seniors or some juniors playing," McLaurin told Eleven Warriors. "We have a lot of sophomores and first year seniors playing, so it takes them a little longer to get game experience. Right now I am trying to keep things positive and really let them know when they do well just to get their confidence up, because I feel like that's key when you can believe you can do something you're going to perform your best."
TROUT LEADS WAY FOR LANCASTER
We always want to pay mind to the big uglies, and Lancaster offensive lineman Kyle Trout was instrumental as the Golden Gales blew out the Logan Chieftains 57-7 behind 492 rushing yards. Trout, the athletic tackle for Lancaster was happy about the performance of his offense, but sees areas they can improve after a slow start.
"We were just nervous," Trout said of some inconsistent play in the early going. "After they scored we turned it up and started to execute the way we should. We became nasty and confident. That helped us take control."
While Lancaster doesn't keep track of statistics like pancakes for offensive linemen, Trout believes he was in double-figures in that category.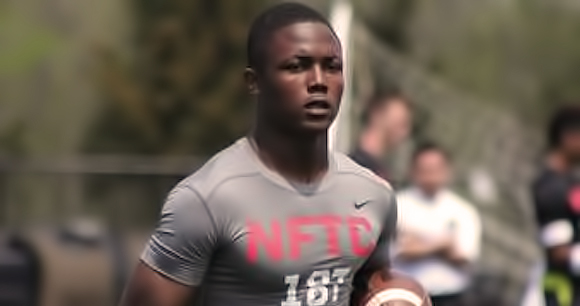 McLaurin had a monster outing. Here's a look at how other Ohio State commits and targets fared over the weekend.
| Position | player | school | opponent | RESULT |
| --- | --- | --- | --- | --- |
| QB | Stephen Collier | Lee County (GA) | Dougherty (GA) | 55-6 win, accounts for six touchdowns. |
| WR | Parris Campbell | St. Vincent-St Mary (OH) | Garfield (OH) | Campbell had 98 yards on four carries adding a rushing touchdown. 52 yard punt return for TD. |
| WR | Terry McLaurin | Cathedral (IN) | Warren Central (IN) | 8 catches, 238 yards and three touchdowns in 42-28 loss. |
| OT | Jamarco Jones | De La Salle (IL) | Phillips (IL) | DNP, still rehabbing injury, DLS wins 51-48. |
| OT | Kyle Trout | Lancaster (OH) | Logan (OH) | Dominates Logan, 57-7, starters did not play full game. |
| OG | Marcelys Jones | Glenville (OH) | Lakewood (OH) | Glenville lost to St. Ed's 40-24. |
| OG | Demetrius Knox | All Saints Episcopal (TX) | Timpson (TX) | Won 70-28, roughly 250 yards rushing and 6 scores on the ground behind Knox and his offensive line. |
| DE | Jalyn Holmes | Lake Taylor (VA) | OFF | Did Not Play |
| DE | Dylan Thompson | Montini Catholic (IL) | Maine South (IL) | Had two sacks in 21-19 win against No. 6 Maine South.  |
| OLB | Kyle Berger | Ignatius (OH) | Brother Rice (MI) | Berger will miss the entire 2013 season due to a torn ACL. |
| OLB | Dante Booker | St. Vincent-St Mary (OH) | Garfield (OH) | Booker had 10 tackles, two for loss in his team's 63-0 victory yesterday. |
| CB | Damon Webb | Cass Tech (MI) | Southfield (MI) | Defensive standout made offensive plays including a 26-yard TD reception in rivalry game against Southfield.  |
| S | Malik Hooker | New Castle (PA) | Central Valley (PA) | Lost 29-6 |
| ATH | Sam Hubbard | Moeller (OH) | Pike (IN) | 10 tackles, 2 TFL and a blocked XP in 37-33 win. |
| ATH | Lonnie Johnson | West Side (IN) | Lindblom (IL) | Three receptions for 73 yards and three touchdowns in 38-0 victory. Also had one carry for 23 yards. |
| ATH | Curtis Samuel | Erasmus Hall (NY) | OFF | Opens season next week. |
| K | Sean Nuernberger | Oldham County (KY) | North Oldham (KY) | 4/4 extra points. 6/6 touchbacks.  48 yard per punt including yards on punt and pinned two punts inside 5 in 31-28 loss. |
| WR | Johnnie Dixon | Dwyer (FL) | Glades Central (FL) | Won 35-0, had one catch for 10 yards and a touchdown in run heavy offense. |
| TE | Mike Gesicki | Southern Reg (NJ) | Lakewood (NJ) | Opens season on 09/12 |
| OT | Chad Mavety | Nassau (NY) | Atlanta Sports Academy (GA) | In action at time of story being published. |
| OT | Damian Prince | Bishop McNamara (MD) | Mt. St. Joseph (MD) | Prince and his teammates beat St. Joe's 31-23. |
| DT | Thomas Holley | Abraham Lincoln (NY) | OFF | New York starts their season next week. |
| ILB | Raekwon McMillan | Liberty County (GA) | Bradwell (GA) | Dominated rival Bradwell 35-17. Finished with two offensive touchdowns and a dozen tackles from his linebacker position. |
| S | Erick Smith | Glenville (OH) | Lakewood (OH) | Lost 40-24 to Lakewood St. Edwards. Had a touchdown reception in the defeat. |
| ATH | Noah Brown | Pope John XXIII (NJ) | Mystic Valley (NJ) | Opens season on 09/12 |
| ATH | Marshon Lattimore | Glenville (OH) | Lakewood (OH) | Played CB and WR in 40-24 loss against St. Eds. |
COMMITMENTS HAVE MORE WORK TO DO AFTER THEIR GAMES
Buckeye commitments Sean Neurnberger and Sam Hubbard each traveled to Columbus following their games Friday night and spent the majority of their time with Cincinnati St. Xavier 2015 linebacker Justin Hilliard, who was the "biggest" non-committed recruit in attendance during Ohio State's 40-20 victory against Buffalo on Saturday. Hilliard is one of the state's top juniors has a brother heading to Iowa next year and the Buckeyes are thought to have some ground to make up if they hope to land the 6-foot-2, 225-pound linebacker. Yesterday was a good start and Hilliard is already thinking about his next potential trip to Columbus.
"It was a fun visit, I spent most of the time with Hubbard and Sean, we sat together," Hilliard said Sunday morning. "It was nice to get to see a different side of the Ohio State coaches, to see how they did things and to see how close the team was, how all the guys talked to one another. I think I might be coming back for the Wisconsin game."