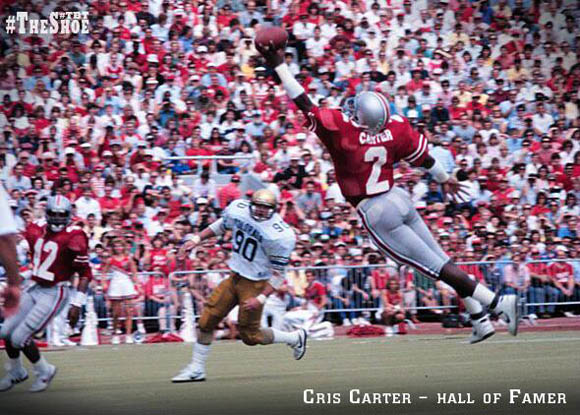 Ohio State plans to honor Cris Carter during Saturday's opener with Buffalo, nearly four weeks after Carter received his bust in the NFL Hall of Fame. That's the month.
Carter had to forfeit his senior season at Ohio State after his connection with an agent was discovered by the NCAA, but he never forgot his time in Columbus. At his NFL Hall of Fame induction ceremony in Canton earlier this month, Carter had the following to say about Ohio State:
Ohio State, first of all, to all the Buckeye fans, from the bottom of my heart, I sincerely apologize for me signing with a sports agent and losing my eligibility my senior year.  That is the only regret I have in my athletic career is that I couldn't play for the Buckeyes as a senior.  Buckeye fans, Cris Carter says, I'm sorry.  To all my Buckeye teammates, especially those who took care of me, Keith Byars, Pepper Johnson, Jim Lachey, Kurt Loudermilk, William White, Greg Rogan, Dwight Smith, guys that looked after me. I've always had good teams that I've played on.  All you Buckeyes, all my teammates, all you guys in attendance, I greatly appreciate it.
Congrats, Cris.