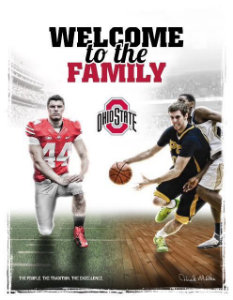 It's been a busy week on the recruiting trail for Ohio State head coach Thad Matta and his assistants.
With one commit and a couple new offers, the Buckeyes are already making major inroads with its 2015 recruiting class.
The 2014 class is almost filled, but Ohio State is targeting two big men who are still uncommitted. One has an official visit scheduled in Texas this weekend, while the other had some interesting thoughts to share regarding his recruitment.
Plus, there is a new member of the basketball support staff.
More on the Mickey Mitchell Commitment
In case you missed it, Texas native Mickey Mitchell – the brother of Buckeye linebacker Mike Mitchell – committed to the Buckeyes last week.
Now that the fervor surrounding his commitment has settled down, it's worth wondering how Mickey Mitchell fits in with the 2015-16 roster.
Mitchell is entering his junior year of high school and we've only seen the mere foundation of what he's capable of.  Since his injury, he's been working on his jump shot mechanics – as if his game isn't resourceful enough.
It's too early to predict where he fits in exactly, but we'll give it a shot. In his freshman year, the Buckeyes will be loaded with young talent. Barring any transfers or walk on players under scholarship, Amedeo Della Valle will be the only senior on the roster.
At this point, unfortunately, Mitchell will be one of the biggest players on the team.  At 6-feet 8-inches tall and 245 pounds, he equals Marc Loving in stature and outweighs him. Dave Bell is the only one currently taller than Mitchell and who knows if he'll be ready to step into the rotation.
Given Mitchell's versatility, he could man the frontline on a Buckeye team that would fly down the court. A.J. Harris is the only "true point guard" committed, but a number of guys possess tremendous ball handling and passing instincts. You can count Harris, Mitchell, D'Angelo Russell and – to lesser extent – Jae'Sean Tate and Loving among them.
In the next few years, Matta will play the most athletic group of guys he's ever had.
Buckeyes offer Davis, Diallo
Coming off the momentum of Mitchell's commitment, the Buckeyes offered his AAU teammate, Tyler Davis.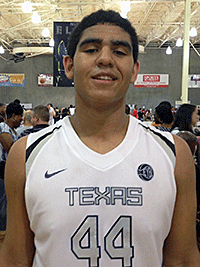 At 6-feet 10-inches, and 285 pounds Davis would provide a massive post presence to a thin frontcourt. There isn't a lot of tape out there on Davis. Some of the only footage is of him is him playing at – what appears to be, at least – a much higher weight.
Davis has reportedly slimmed down, and his jump in the rankings proves that. Up to 23 overall in 247Sports' rankings, he is considered a four-star talent and has offers from SMU and Texas Tech.
With the lack of another substantial high-major offer, Matta is either ahead of everyone else or potentially taking a risk.
Davis isn't the only big man the Buckeyes are after, as of this week. They extended an offer to highly ranked big man Cheick Diallo.
Diallo sits as a top six player in Scout, Rivals, ESPN and 247Sports' recruiting rankings. He is a native of the African nation Mali, and currently attends Our Savior New American School in Centereach, N.Y.
The 6-foot-9-inch big is a gifted high-riser on both ends. He hasn't quite developed his mid-range game yet, but CBS Sports' Jon Rothstein compares Diallo to former Louisville Cardinal Gorgui Dieng.
Although the Buckeyes just recently offered, they've reportedly been interested in Diallo since April.
Okafor, Turner Recruiting Updates
Considered a long shot, Jahlil Okafor is still considering OSU's offer, although he is not scheduled to go on an official visit to Columbus.
All things being even – which Okafor's father believes they are – he is still going through with his five official visits. His first visit is to Baylor, which is this weekend.
The reason the Bears may have the upper hand on the Buckeyes because Tyus Jones plans to accompany Okafor to Waco, Tex. Eleven Warriors will update their visit in this forum thread.
Meanwhile, another – and possibly more attainable – 2014 big man is opening up about his recruitment.  Myles Turner posted an interesting blog entry to USA Today. He reflects on the process, which is finally slowing down for him.
His only official visit is to Kansas, Oct. 4. The lure of their history, plus their showcase "midnight madness" preseason event might make it tough for the Texas big man to consider another school.
However, Turner still plans to take all of his visits.
"That's my plan, but I don't know if it'll actually happen," Turner wrote. "I hear all the time about guys who say they're gonna take all of their visits then go on a great visit and they're ready to commit."
One of those might be to Kentucky. Like him or not, John Calipari is straightforward. He told Turner "Myles, I'm a 50-year-old man and you're a teenager; there's nothing we can talk about every day. I'm not gonna be calling you seven days a week."
Turner also said that Mike Krzyzewski called him, essentially, a "one and done" player. That is something to keep in mind, as Matta has not had a player jump to the NBA after his freshman year since B.J. Mullens.
The new recruiting coordinator
It's official, I am excited to be the newest addition to the best staff in the country as the Recruiting Coord & Asst Dir of BBall Ops.

— Christopher Spartz (@CoachCSpartz) August 26, 2013
With his addition, Spartz will be compared to football counterpart Mark Pantoni. We can't immediately expect Spartz to be a "swaggernaut" or Matta's version of "Mariano Rivera," but that's what type of role Spartz will take on. 
Matta and assistant coaches Dave Dickerson, Jeff Boals, and Greg Paulus are the only ones allowed off campus to recruit, but Spartz will play a large part in what they do. The typical recruiting coordinator maps out the details surround what recruits to target, well before the staff steps off campus to see them.
As far as Spartz's background, he is a former assistant coach at St. Ambrose (Davenport, Iowa) and ex-player for the infamous Washington Generals squad. If you're interested, he also has some tips on how to improve your ball handling skills: