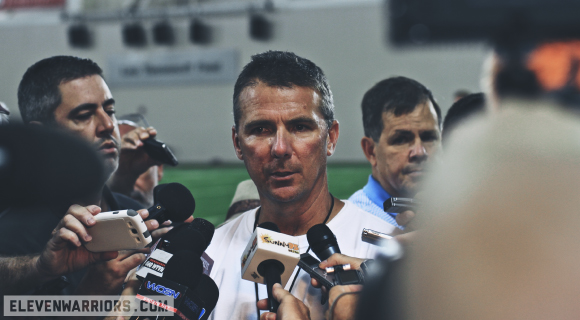 The selection of eight captains for the 2013 season garnered plenty of attention on Tuesday. Twenty-four hours later, it was still the talk surrounding the team.
Head coach Urban Meyer said the voting was so close, and the opportunity to be a captain is such a great experience, that he opted to go ahead with the eight. If all eight do a great job, then they could be selected as the season captains, too, he added.
Meyer confirmed Eleven Warriors' report about Tommy Schutt's broken foot. Schutt had surgery and will return mid-season. Meyer was very disappointed, noting that Schutt was possibly the best backup along the defensive line.
Stepping in for Schutt is Chase Farris, which is a stunning move. Farris previously battled Taylor Decker for the right tackle spot. But Meyer said he's taken to the position well in just one day. The injury to Schutt had Meyer in a panic. Now he's much more settled.
Chris Carter is another one of the D-linemen who should play in Schutt's absence. Meyer said Carter still has a long way to go, though.
Meyer said Pat Elflein will be the first offensive linemen off the bench. Jacoby Boren second.
Many people have expressed surprise at Kenny Guiton's captaincy. Count Meyer among those who are not shocked. He said Guiton was a great leader last season and pushed him again as coaching material.
Meyer has coached in 11 season openers. Still, he said Friday nights cause sleepless nights.
The non-conference schedule was very sloppy last year. The biggest change Meyer wants to see this year is in tackling. He doesn't want missed tackles and poor form.
Running backs coach Stan Drayton has added assistant head coach to his job title. Meyer said Drayton got the promotion because he could have left in the offseason. Drayton has spoken to the team more, leading Meyer to say he thinks he'll be a good head coach some day.
Jordan Hall had as good a week of practice as Meyer has seen, the coach said. Hall wants to make a statement and is playing with a chip on his shoulder, according to Meyer.
Braxton Miller said being named a captain is a tremendous honor, especially as a junior. He said he's come a long way since his freshman year.
The 2012 leaders have been well-documented. Miller said he's got big shoes to fill, but is ready and confident he can fill the gap. His goal is to set an example for the younger players.
The wait for the opener has been excruciating. It's the longest gap between games for Miller, citing the nine months since the "Team Up North" game.
If it were up to him, Miller said he would throw 30 passes Saturday. But he said a more realistic number would be 25. He joked that he might have to call his own plays.
Guiton said he tries to be a leader every day. He said nothing changes now, he'll continue to do what led to being named a captain.
Guiton called his parents last night and reminisced about how close he was to going to Prairie View and how different everything might have been had Ohio State not offered him.
Guiton was the only backup eligible to become captain.
Christian Bryant described himself as "definitely" a leader who is vocal. But he added he also likes to lead by example.