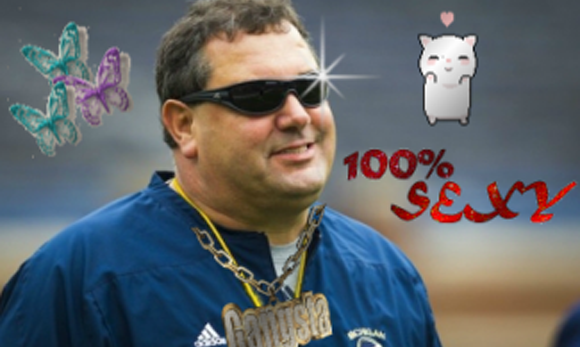 This fall, 11W will be taking a long, hard look at our bitter rivals up north in a weekly column devoted to scrutinizing their performance from the previous weekend. Each week we will stoically stand firm on the border between civilization and chaos, peering north to observe the goings on among the wildings in Ann Arbor. It's a thankless job, but a necessary one. November is coming.
Michigan is an unknown quantity this season. So much of its identity was wrapped up in Denard Robinson, and now that he's gone, there is what has to be at least a 65 inch hole in the heart of the Michigan Wolverines.
Losing star linebacker Jake Ryan to injury hurts too, and what's left is a motley crew led by a quarterback converted to a wide receiver converted back to a quarterback. There are also guys named Jehu and Taco, which I only include because I find their names funny (and that will continue to be the case until one of them does something mean to Ohio State, in which case their goofy names will be carved into my wrinkly brain with the rusty knife of hubris).
Anyway, since we've already previewed Michigan for our 11W season preview series, today is an excellent opportunity to crawl inside the dark recesses of Brady Hoke's mind so that we can fully understand the evil machinations that power the generously titled intellectual cogs that run the football program at the University of Michigan.
By which I mean we're gonna look at Hoke's weekly press conference and try to make heads or tails of the depth chart.
Since it's Central Michigan week, let's count how many questions Hoke had to field from reporters about his first opponent of the season.
Let's see here... just need to run some quick calculations... add the square root of 56... divide by negative 3.92... factor in the polynomial real number cosine numerator aaannnddd...
One. He was asked one question about Central Michigan.
Does anything about Central Michigan stand out to you?

"They're well coached. Dan [Enos] does a nice job. You look at their offensive line and the pad level they play with. Defensively, how they get to the football. ...I think they're well coached. They beat a good Western Kentucky team, if you look and follow the path of that team in their bowl game. They have a lot of pride. They should. They're a good program."
This answer is kind of amazing because of the sheer volume of cliches that Hoke was able to weave in to it. I especially enjoy the phrase "they beat a good Western Kentucky team" because that implies that the listener was both aware that Western Kentucky is an FBS team that and that beating WKU in the Little Caesar's Pizza Bowl somehow enhances their credentials.
The real meat and potatoes of the conference was Hoke's announcement of his captains, and to no one's surprise Taylor Lewan and Jake Ryan joined Courtney Avery and Cam Gordon as de facto leaders of the team. According to Hoke, Jake Ryan should be back and ready for action sometime in October, but "...We don't want to get him too far ahead without being careful with him at the same time."
Fair enough.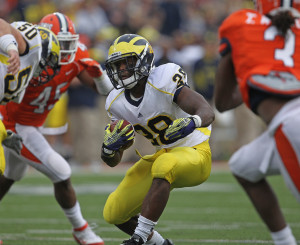 The assembled beat writers also asked a dumb question about Johnny Manziel for some reason, which Hoke acknowledged by staring blankly and then coming after the guy who asked it with a hammer.
Hoke did address both the quarterback and running back positions. In a nutshell, he said that Gardner is a good leader with great athletic ability who still makes dumb decisions from time to time. At this point, I think that's simply who the dude is, mostly because he's got little room for growth.
Remember, we're looking at a five game sample size from last season, and in three of those games he was average at best. He also threw an interception in each game that he started. Devin Gardner's athletic abilities and decent arm can boost him up to capable at times, maybe even good, but there has to be a consistent running game behind him.
Weirdly, Hoke has six running backs listed on his initial depth chart. Fitz Toussaint is up there, obviously, but as Hoke stated at his presser, "We have six on there? We'll have six travel, and six will play."
Uhhh you sure?
"Well, special teams, whatever it might be. I don't think all six will carry the football, but if they're going to travel, they'll have to contribute." (note: the first game is a home game so no traveling will be involved)
If you're bouncing up and down excitedly for a TMZ EXCLUSIVE PHOTO of Derrick Green walking out of a Dairy Queen while double fisting some soft serve, sorry to disappoint. Not saying it didn't happen, but he's hurt-ish and they're being cautious about bringing him back. Toussaint is the dude for the time being, but it's telling that Hoke was asked a lot of questions about the third down back situation, since no one really expects him to not explode into confetti the first time Shazier or a guy like Shazier levels him.
Right now you get the sense that though Michigan's offense has the potential to be good, it is also in a state of flux. If Gardner gets hurt (and he might), there's inexperience and a walk-on behind him. If Toussaint gets hurt, there are tons of options but no one they completely trust as of yet. They do have a very stable corps of wideouts and a very good offensive line led by Lewan, but this isn't the Ohio State backfield.
I've held off on discussion of the defense for a reason, which is that come Saturday, I have a feeling that there might be a lot more to discuss. Not that I expect the game to be particularly close, but Central Michigan has a good offensive line and the Man They Call ZURLON, so it could be an interesting test for their linebackers and defensive line.
All of which we'll be discussing after the game next week with a very special guest, so stay tuned.