"Four to six seconds of relentless effort," Urban Meyer bellowed on the practice fields at the Woody Hayes Athletic Center.
"All eyes up here. I'm not interested in the rah-rah stuff. Our thing is going two steps beyond what's asked of you. If we ask you to go 10 steps, go 12. We're going to try to push you to maximize who you are."
Watch one Ohio State football practice and a word quickly pops into your head to describe Meyer: intense. Constant teaching, motivating and movement. Meyer is an energizer bunny that uses a booming voice instead of beating a drum.
His wife, Shelley, scoffs at the four to six seconds speech.
"That's nothing," she said.
As a spinning instructor, the self-described fitness fanatic's classes – an hour-long cardio workout that includes three-minute bursts of peddling uphill – make four to six seconds of relentless effort seem like a leisurely walk through the Oval.
Maybe that explains why Urban has only completed two and a half spinning sessions all these years later. Over the summer, he could only survive the first 20 minutes before bowing out. 
"We give him a bunch of crap for it," daughter Gigi said.
On a recent Wednesday inside Sawmill Athletic Club, Shelley could be heard shouting, "Release those endorphins!"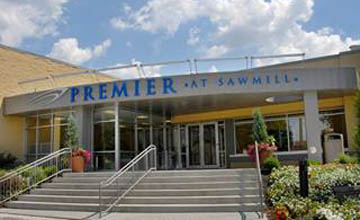 For 60 minutes, her objective is to take her students to breathlessness. And from the sounds of huffing and puffing and the sweat pouring off faces, she has a perfect record. 
When Urban was hired by Ohio State, Shelley wasn't concerned about finding a house or moving the family's belongings nearly 900 miles. Her first priority was finding a gym. One of Shelley's spin students in Florida was an Ohio State alum who alerted her to Sawmill Athletic Club.
"I got off the airplane, got a rental car and drove right here to the gym," Shelley told Eleven Warriors in a recent interview. "Then I drove to campus to see Urban."
Despite her own celebrity, Shelley goes about her routine in an anonymous manner. Sometimes, though, people figure out the connection and ask why she didn't say who she was.
"I don't introduce myself as Urban Meyer's wife," she said.
No, Shelley Meyer is far more than just a coach's wife. She's a psychiatric nurse, spinning instructor and a devoted mother to three kids. The story begins at a dusty crossroads in Ross County called Lattaville, a town so small it doesn't even have a Wikipedia page.  
---
Shelley Mather grew up on a farm, the oldest of five siblings. It was a childhood filled with fun memories – she was crowned the 1983 Ross County Fair Queen – and hard work. Her laundry list of chores included tending to livestock – cows, pigs and horses – baling hay and picking green beans and peas.
"I'm not even exaggerating, it could be two hours at a time. My back would hurt. I hated it," Shelley said, cracking a smile. "I had a work ethic that not even my own kids have. They never had to do anything like that. It was very humble and simple.
"I think the first born is usually driven, responsible and very organized. I don't like to be late, ever. I've got to be punctual. I have a lot of first-born characteristics."
She migrated on to the University of Cincinnati, where she earned a bachelor's degree in nursing. Shelley eventually earned her master's degree from the University of Colorado in psychiatric nursing, because "you can be compassionate and bond with patients." At a Kentucky Derby party in 1984, she locked eyes with a Bearcat football player named Urban Meyer. They talked and have been a couple ever since, marrying five years later.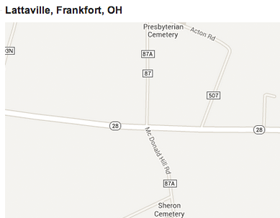 Her life is anything but simple now. In the past 25 years, the Meyers have lived in Normal, Ill.; Fort Collins, Colo.; South Bend, Ind.; Bowling Green, Ohio; Salt Lake City; Gainesville, Fla.; and Columbus. Three kids have been welcomed along the way. But Shelley has grown comfortable with the hustle and bustle.
Each move has been greeted with dread because of the process, but a tinge of excitement because of a new beginning. Shelley organizes the movers, packs up the belongings and sells the house. At the next destination, she finds the new house, gets settled and commences the decorating process.
"When I moved to Florida, that's when I had my first decorator," she said. "So I brought her [to Columbus] to help me with this house. That's when I realized I didn't know what I was doing, because she does it so easy and makes everything look so awesome."
The Meyers purchased an 11,700 square-foot home along the seventh fairway at Muirfield Village Golf Club. The process included Shelley looking at 28 houses in two days before settling on the Dublin home. The Meyers built their dream home in Florida, which gave them a blueprint of what they wanted in Central Ohio. But houses are much different in the two states.
When buying a home, the Meyers make sure it's a place 100 people can fit comfortably for team-oriented events. Their family spreads beyond just immediate and extended. Throughout his career, Urban has made his family and other coaches' families' part of the team – 14-year-old son Nate stands on the sidelines with his dad and retrieves the kicking tee on kickoffs. At Ohio State, Thursday nights are reserved for family night, an event that includes coaches, their families and the players.
"Our kids have always been involved," Shelley said. "It's not something Urban does and then we see him when he comes home. They've been a part of the team. They love the players. They've developed relationships with the players that have been really meaningful to the players, too."
Before moving, Shelley made sure to soak up the sun in Florida. She hadn't lived through an Ohio winter since 1987, and it wasn't going to happen in 2011. So she stayed south until the spring.
Shelley is still able to escape to their lake house in Gainesville and to visit daughters Nicki and Gigi in Atlanta and Fort Myers during the winter months.
"I need the sun," Shelley said.
She was away from Ohio for longer than she lived there, making the homecoming more of a welcoming back. After living in all corners of the country and Gainesville for seven years, Ohio doesn't have the same home-state feel it exhibited a decade ago.
"I have a lot of homes now," Shelley said. "I honestly can't say Ohio feels like home anymore. I just lived in Florida for seven years. Florida really feels like home now. But being back here certainly brings back a lot of memories and reminds me of my upbringing. I've reconnected with so many friends that I hadn't seen for years. When you go away and you move around, it really changes that feeling."
---
A week in the life of Shelley Meyer makes one wonder if she's occupied all 168 of those hours.
Sunday marks the beginning of a new game week. Urban spends almost the entire day at the football facility but finds two hours of refuge at Nate's football games. Shelley works as a clinical instructor at Ohio State's College of Nursing on Monday and Tuesday and teaches spin classes on Wednesday and Thursday. Then there is caring for Nate, who will enter eighth grade at St. Brigid of Kildare School this year, getting the house situated for a barrage of visitors on Friday and Saturday and flying in and out of a far-off locale in one day to see Gigi play volleyball.
And that's just one week.
"She is amazing," Nicki said. "We call her the 'rock' of the Meyer family. Honestly, I wish I could tell you how [she does so much], because it is something I want to be able to do one day. I think she is just so passionate about everything she is involved in and goes 100 percent with all of it. She has such a strong, fun, and loving personality that is so contagious to everyone she is around, and I think it just fuels her to help people and make a difference every day.
"I look up to her most because she is so strong, not only for herself but for all of us. She is an endless source of encouragement and offers the best advice anyone could ever give me."
"Urban and I have such different personalities. He's not the real social butterfly that's warm and fuzzy and friends with everybody. I have to live in the community; he lives in the football office."
Added Gigi: "She has handled some very stressful situations more perfectly than anyone could imagine. Because of her, we are who we are today. I look up to her in every way."
With her daughters out of the house, Shelley has been afforded more free time, though she confesses she's still busy, like always.
"You just do what you gotta do," Shelley said. "I love my summers. I've had a lot of free time this summer, and I loved it and I took it. I didn't do something every day of the week. I have my planner and I have everything on my calendar and do what I can. I get a lot of invitations to do things – speaking, charity, etc., and sometimes I have to say no. I just can't do everything."
Since arriving in Columbus a mere 21 months ago, Shelley has supported numerous causes in Central Ohio. Her biggest undertaking was riding in Pelotonia twice. As the captain of Team Buckeye, she rode 50 miles last year. She only went 25 this month, noting that she uses Urban's bike, which doesn't fit her well.
There eventually comes a time when Shelley gets overwhelmed, though.

"That's when I start to feel irritated, and that's when I start saying no," she said. "I can't do one more thing. I've gotten really good at that."
The act of saying no still isn't easy. She's aware that every cause is important, every person is important and every organization is important. But there is only one of her, she says.  If there's an engagement she isn't able to commit to, she doesn't hesitate to contact another coach's wife to handle the event.
Shelley's vivaciousness and sunny disposition have led to the Meyers being welcomed with open arms at every coaching outpost. She realizes Urban's job influences the acceptance, but being treated kindly is the ultimate compliment for the Meyers.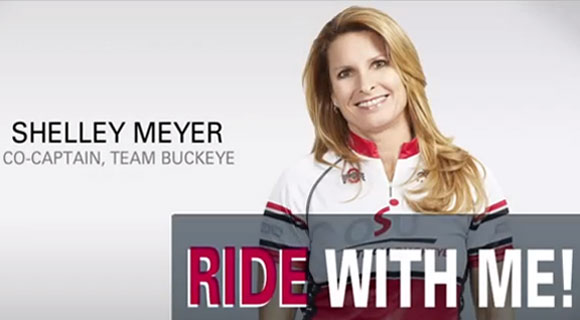 Urban has been a head coach in the cities of Bowling Green, Salt Lake City, Gainesville and Columbus. All different and contrasting in nearly every way imaginable. Still, the Meyers found a comfort zone in each city.
When Urban was introduced as Bowling Green's head coach, he told a story about their friends at Notre Dame crying – not because he was leaving, but because Shelley was leaving.
He said a friend turned to him and said, "What was your name again?"
The joke was understood. Shelley was always seen in the community.

"I don't care why we get accepted," she said. "Getting involved in all the charities really helps you get ingrained into a community. We have kids in school, so that's another part of the community you get involved in. I have just always loved people. I don't work out at my house, I want to be at a gym with people around.
"Urban and I have such different personalities. He's not the real social butterfly that's warm and fuzzy and friends with everybody. I have to live in the community; he lives in the football office."
---
Family, not football, is the identity of the Meyer household.
When the first murmurs of Urban's hiring by Ohio State began surfacing, Nicki took to Twitter to air her grievances. It ended up in USA Today. The reports were premature, though, and the daughters grew tired of being questioned about their famous father's future.
When the Ohio State talk became reality, Nicki ended up back in the headlines, this time drawing admiration from kids and parents throughout the country. She drafted a contract on pink notebook paper that outlined all the dos and don'ts for Urban. 
"The whole family was wondering whether he could take that job or not," Shelley said. "We went through all the advantages and disadvantages. She called me and said, 'I'm sending you something in the mail. I want you to read it and see what you think.'"
Shelley knew some of the goals were unrealistic, but as a whole, it was a perfect plan for Urban to become accustomed to. He sat down with his family and went over Nicki's wishes. They came to an agreement that he could follow the orders and still be at the top of his profession. The proof came during the Buckeyes' 12-0 season.
"It was definitely worth it," Shelley said, flashing her 12-0 ring.
"But you can't get any better than that. It was really fun."
"It was definitely worth it," Shelley said, flashing her 12-0 ring. "But, at the same time, at the end of the last game, I said, 'Really, you really had to go undefeated the first year?' Because where do you go from there? Look what's happening. Everyone thinks we're going to go undefeated again. It wasn't that easy last year, and it's not that easy.
"But you can't get any better than that. It was really fun."
And for Urban, it was even a little costly. He incurred two red-light tickets while en route to Nate's Sunday football games.
"I was 15 minutes late," Urban said. "I'm getting texts from my wife saying, 'You better get here.' So I went through a couple red lights."
Nearly two years later, Nicki still marvels at what her contract has become.
"Ohhhh, the pink contract. My masterpiece," she said, laughing. "I think he was nearly flawless this last year. I will call and he will pick up in the middle of a meeting and ask how my day was. I think it was really important that he pulled it out during the press conference. He knew the whole country was going to hold him accountable to that thing.
"I was hesitant at first, but after hearing him talk about his dream to coach [at Ohio State] one day, I wanted him to go for it. I always trusted that he would keep up with the contract once he signed on the dotted line."
Shelley acknowledges that the true test will come when – or if – Ohio State loses its first game. It's easy to be in a good mood when the "L" column features the number zero. But Urban says his year away from the game taught him how to decompress when the Buckeyes finally lose a game.
"Losing is what really gets to him, but he's been great so far," Gigi said. "I was probably the least hesitant on letting him go back to coaching. The others were very hesitant, but I knew he was bored and that he missed it so much. He's young. He shouldn't be retiring at this age. It was The Ohio State University, too. It's his dream to coach there. We go by the motto of 'follow your dreams.'. I knew he was ready to go back and finish the job."
Raising kids is a 24/7/365 job. It's tough in every walk of life. It becomes magnified doing so in the public eye. The Meyer children have grown up with a sense of normalcy, though. Shelley can't put her finger on why they've been so grounded, but she believes raising them in church made a positive impact. 
"I think my parents did an amazing job of keeping things so normal with us and teaching us the real meaning of work," Nicki said.
Only once – when Urban was an assistant at Colorado State – did Shelley grow overwhelmed trying to raise two little girls. She told Urban she couldn't do it anymore. But Shelley flashed the independence she was born with and made the situation work.
"Luckily, he picked the right girl," she said.
Said Nicki: "I think my mom deserves a trophy. She held our family together when we moved across the country and had no one but each other. We are all doing really good things with our lives, and that is just a testament to the way we were raised. I want to be half the mother she is one day if I am lucky."
There are no Lindsay Lohan-style stories when it comes to Nicki and Gigi. Their worst indiscretions involve social media. 
"One thing that gets my girls in trouble is they tweet," Shelley said, laughing, "and me too. Sometimes they have a real hard time not saying something. They've messed up a couple times, but they've gotten better."
One of those times came this summer amid the Aaron Hernandez saga. Nicki, Gigi and Shelley came to Urban's defense, but he wasn't thrilled with the rescue attempt.
"They call and ask me first now," Shelley said. "Sometimes I'll say, 'Yes, say that' and sometimes I'll be like, 'Ehh, better not.' I'll do the same thing, 'Do you think I should tweet this?'"
Think the football season is stressful on coaches? It's even more taxing on their families. The first difficulty Shelley had to conquer at Ohio State was moving away from her daughters. Atlanta and Fort Myers are an easy commute from Gainesville. But that isn't the case when you live multiple states away. She called it one of the biggest concerns with taking the job.
During Urban's one-year stint with ESPN, Shelley spent the entire fall watching volleyball after a lifetime of football games. Now she is forced to skip an Ohio State game – she missed Indiana last season – or takes a daytrip to see Gigi at Florida Gulf Coast. Next season, the Meyer clan will get to see Gigi play at St. John Arena, thanks to the Ohio State and Florida Gulf Coast coaching staffs working out an arrangement.
"Life was easy [during Urban's year at ESPN]," Shelley said. "I missed the players, but I didn't miss the stress of playing games and didn't miss the media harassment of Urban. I liked not worrying about who won and lost. For the first time in years, I thought life was so easy."
The family was enjoying Memorial Day weekend in 2011 at their lake house when the news came down. Jim Tressel was fired. Shelley Meyer knew exactly what it meant. At some point, her husband would be getting a phone call.
Having a spouse in the public eye isn't easy. Having one that's a lightning rod and easily recognizable is all the more challenging. Shelley is an admitted college football junkie, but having a year away from the game wasn't so bad. She describes it as a "weight being lifted."
"When your husband is the leader of something it takes on a whole different meaning. It isn't a game anymore," Shelley said.
That's why the family was so hesitant to jump back in the coaching deep end. And Urban wasn't going to a laidback position; it was arguably the most demanding job in the country.
"I hated to lose that again," Shelley said. "It was really fun just watching. Even though it's so rewarding in so many ways, it takes on a whole 'nother level of stress. Urban is going to get the glory, but he's also going to get the blame.  After 20-some years, it wears on you."
The family was enjoying Memorial Day weekend in 2011 at their lake house when the news came down. Jim Tressel was fired. Shelley Meyer knew exactly what it meant. At some point, her husband would be getting a phone call.
---
Now, she once again spends her Saturdays on college campuses as one of the loudest and craziest fans in the stadium. A task she put much thought into was the selection of her seats. She wanted to be outside because the atmosphere is what makes college football. She settled on the last row in AA so she wouldn't be asked to sit down.
"She is unreal," Nicki said. "It is like she needs to be on the sideline. She is the whole section's cheerleader. She will get on you if you sit down on 3rd-and-1, and don't you dare sit behind her and ask her to sit down, that will probably get you removed from the section."
Before the game, it's easy to find her in the parking lot outside the Horseshoe tailgating with the coaches' wives. For them, it's the best part of the day. 
"Once we get in the stadium, it's not so fun, especially if I know it's going to be a tough game," Shelley said. "I don't like close games at all. I feel sick. The Purdue game, I did not like that game at all. Wisconsin game, I didn't like that game either."
Shelley isn't just an idle observer; she's well-versed on the intricacies of the sport and has even called into sports talk radio shows. A similarity she shares with her husband is a disregard for noon games. Too early, Shelley says.
"And the students aren't awake," she added.
Some have said Shelley is Urban's top recruiter. Her personality and motherly appeal puts off a positive vibe to recruits and their parents. Once the impressionable 17- and 18-year-olds arrive on campus, Shelley has to spring into action sometimes. With her background in psychology, she is able to offer sound advice on an assortment of personal matters. 
"Urban will have me talk to a player who's home sick, misses his girlfriend, had a break up, has a brother on drugs and doesn't know what to do. I love helping them," she said. "Sometimes they just need to talk to a woman."
And there's no better supporting piece than Shelley Meyer.