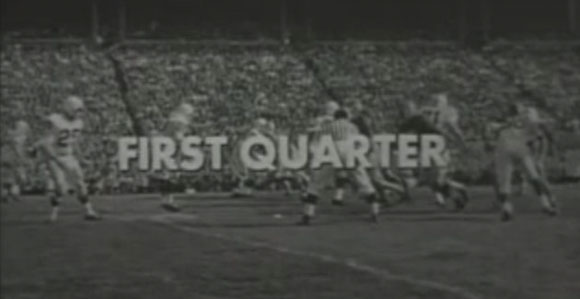 YouTube. It's like magic, right? Thanks to the fine folks at footballvideos.com, hundreds of classic college football games, some dating back many, many decades, are online and available for your viewing pleasure.
The lineup includes several deep Ohio State cuts, including a rare gem in the form of the Princeton game from 1928.
Included below are a few such games, but be sure to check the YouTube channel for more.
Ohio State vs Illinois (1969)
In front of a homecoming crowd of 86,576, the Buckeyes blasted Illinois 41-0, scoring in each quarter, on the way to amassing 31 first downs and 564 total yards, while holding the Illini to eight first downs.h The win was Ohio State's 19th in a row.
Ohio State vs Wisconsin (1969)
With Rex Kern out of the lineup nursing a shoulder, backup quarterback Ron Maciejowski led Ohio State to a 62-7 win over the Badgers in Ohio Stadium. Six different Buckeyes scored touchdowns on the day and Wisconsin only salvaged the shutout by scoring late.
Ohio State at Michigan State (1970)
Behind 287 rushing yards, the Buckeyes blanked Michigan State 29-0 in Spartan Stadium. John Brockington led the ground attack with 126 yards.
Ohio State vs Princeton (1928)
Remember when Princeton was good at football? We don't either, but our grandfathers tell us that they were once quite the outfit. In front of a sellout homecoming crowd of 72,496 at Ohio Stadium, the Buckeyes and Tigers played to a 6–6 tie and that's the last time we kissed anyone from the Ivy League.
Despite the low-scoring affair, this game was an instant classic in its day. Consider this report from the Columbus Citizen:
Ohio and Princeton supporters will never reach an agreement on who should have won the game. But they'll always be in accord on one point. It was one of the greatest games ever played anywhere by two teams.