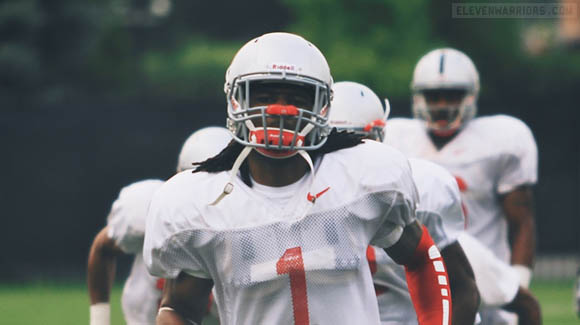 It's been a while since Ohio State received good news relating to off-field issues. Today counts as one of those days, though.
Bradley Roby was arrested in Bloomington, Ind., last month and charged with battery, a class A misdemeanor, that carries potentially serious punishments. On Friday, though, that charge was reduced to disorderly conduct. 
On July 21, Roby, a redshirt junior and All-American cornerback, was involved in an altercation with a security officer at a bar. The arrest report said Roby was escorted from the establishment only to return and strike the officer in the chest. 
He has not missed any practice time, although he has been taking reps with the second-team defense. Head coach Urban Meyer indicated he was awaiting all the facts of the case to be gathered before making an announcement on Roby's status. 
According to the Columbus Dispatch, the motion to amend was filed by Monroe County deputy prosecutor Christopher Pierce Friday morning. Disorderly conduct is a class B misdemeanor. Roby's pretrial conference remains scheduled for Aug. 26, five days before the season opener versus Buffalo.