We like to think we do a pretty fine job of bringing readers a non-stop wave of coverage on all things Buckeye but it never hurts to bring outside perspective to the mix, especially during a preseason in which virtually all Ohio State fans are featuring pretty noticeable Kool-Aid moustaches.
With that in mind, you've hit the jackpot as we assembled a star-studded cast of national media and peppered them with queries on topics ranging from expectations for Urban's year 2, which Buckeye assistant coach is most valuable, discipline in college football and new College Football Playoff system set to debut in 2014. 
Your esteemed panelists will be: 
With formal introductions out of the way, and now that the guys are done with their pancakes, let's get to it. 
Urban Meyer's "Year 2" success has been well-documented and with 14 returning starters including 9 on offense, the sentiment around Columbus is national title or bust. How do you see the season unfolding for the Buckeyes?
Dienhart: It's easy to see why Ohio State is picked by many to play for the BCS title. Not only is there a lot of talent and terrific coaching, but the schedule is very kind. But I think going unbeaten two seasons in a row may be too difficult to do. OSU may be its own worst enemy. How will it deal with great expectations? Will the pressure that follows each successive win be too much? Will the Buckeyes play not to lose instead of playing to win?
Hall: Easily, and that is not necessarily a good thing. Urban Meyer has to be terrified of this team rolling up seven or eight relatively easy wins, and then running into a low-hanging and easily avoided obstruction in the final third of the season. They're so much better than the rest of the Big Ten on paper that the only real obstacle to an undefeated season would be a.) the pitfalls of basic human psychology and/or b.) Braxton Miller getting hurt. Then there's a bowl game, and that's where things get squirrelly because there isn't a game on the schedule besides Michigan that qualifies as a genuine, verified test of their real capabilities as a team. Pardon me if I don't know how much to pay for this house: the neighborhood has affected the ability to properly gauge value here.
Kramer: It's really difficult—regardless of the cupcake schedule on paper—to finish the regular season unbeaten. You're just bound to have one of those weeks are your guys just don't have it. With that said, this certainly feels like a team, a coach (and yes, a schedule) where these extreme expectations are appropriate.
Anything short of a visit to the national championship will be viewed as a disappointment, which is perhaps unfair but also expected after a magnificent Year 1. Given the talent in place on both sides of the ball (and yes, the schedule), Ohio State seems poised for a trip to the Big Ten Championship Game where a trip to the BCS National Championship will probably be on the line.
If Ohio State is to lose a game, or two games, or however many games, just when/where will they come? Ann Arbor? Certainly a possibility. Evanston? Unlikely, but sure. Perhaps a trip out west? As very Big Ten-ish as that would be, it's even more unlikely..
The expectations are enormous, because they should be. This team is ripe with talent (and yes, that schedule).
Myerberg: Yeah, all I'd change about the general sentiment surrounding OSU is to add one word: national title game or bust. It'd be a little foolish to view anything but a title as a disappointment, even if the majority realizes the difficulty in going 12-0 to 13-0 to 14-0. (It's hard.) All we have is history, which strongly suggests a major leap forward; last year's success, which paints a picture of a program clearly on a rocket-like trajectory; and this current team's wonderful blend of size, speed, experience and potential. Then you have the idea that the Buckeyes are 180 degrees removed from this point a year ago – when they rolled out and went 12-0 over the next three months. It's an exciting time, obviously. The only team in the Big Ten with the offense, overall team speed and overall athleticism needed to beat OSU is Nebraska. That's my preseason take, as I'll write over the next few weeks. The Cornhuskers could be dangerous in early December. Does that mean OSU won't lose a game during the regular season? No, but it means it shouldn't. Other teams that shouldn't lose a game before December: Alabama. It's a short list.
Rittenberg: Ohio State should be in Pasadena in early January. The question is if they're there for the Rose Bowl or the final BCS national title. The schedule sets up extremely well for a potential championship run, as Ohio State plays only one tough road game (Oct. 5 at Northwestern) before The Game, gets both Wisconsin and Penn State at home and misses both Nebraska and Michigan State in the Legends division.
If Ohio State's young defense can grow up in the first six weeks or so, and the offense remains relatively healthy, the Buckeyes should have a chance to once again run the table. What's working against them is youth in the defensive front seven and the simple fact that teams rarely go undefeated, much less in back-to-back seasons.
From an "outsider's perspective" which non-freshman skill player, besides Braxton Miller, are you most interested in watching take the field this season? Why that player?
Myerberg: Because I'm not "cool," I'm looking at Heuerman and Vannett at tight end. For all the talk of using Stoneburner as a hybrid, do-everything weapon last fall, it's obvious that OSU can get more production out of the position. My questions: Will one of Heuerman or Vannett be the top receiving option, how often will both be on the field at the same time, will Baugh play as a rookie, is there a spot for Blake Thomas in the rotation? I like tight end play.
Kramer:  Give me Braxton Mill—whoops, dammit. I'll take Jordan Hall, which I'm actually quite content with.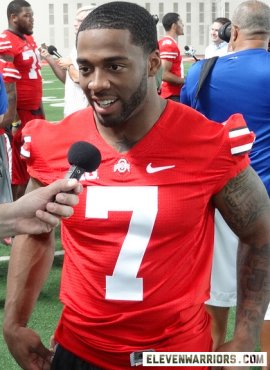 I really want this kid to do well, especially after the freakish injury before the season and then the knee issue that forced him to miss almost all of 2012. There's just so much potential that has yet to be realized, but it's there.
Ha has incredible talent, he's healthy again, and he'll also see much more time with the early suspension of Carlos Hyde. I'm curious to see how they use him before and after Hyde returns, and also with a compliment of other backs to get their touches. Hall, however, provides some versatility, one of a few players that Urban can move around in different places if he chooses.
Let's just hope he stays healthy, because if he does, the results will likely come.
Rittenberg: It's between Rod Smith and Philly Brown for me. Smith will get a chance to show what he can do early during Carlos Hyde's suspension. He could become more of a 1a type in the backfield when Hyde returns. Philly Brown has the potential to be a No. 1 receiver, and this could be the year he maximizes it. He might not be the big-play threat Devin Smith is, but the coaches certainly sound more optimistic about him heading into their second year.
Dienhart: I want to watch defensive end Noah Spence continue to develop coming off the edge. The guy is a physical freak who could emerge as the Big Ten's top pass rusher playing on perhaps the top d-line in the conference.
Hall: Corey Smith. Wideout has to become a larger part of the offensive plan, if only to keep Braxton Miller upright and breathing.
Dontre Wilson has emerged as the clear headliner of this year's freshmen class. What type of season do you see unfolding for the burner from Texas? Talk about one or two other freshmen you project as having meaningful roles this fall.
Dienhart: When I saw the kid at practice during our BTN tour, I was very impressed. I don't think OSU has a player like Wilson on the roster. He is what Jordan Hall is supposed to be. Wilson surely will be used in space on the edge of the offense—and maybe in the return game. He has the true game-breaking speed this offense needs badly. But he can't be overused.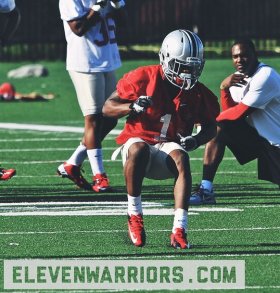 Kramer: Urban Meyer has a new toy. Wilson's skillset is so unique (remind you of anyone Meyer has used before?), I'm just curious to see what role he takes on out of the gate. He gives the offense a lot of potential creativity and flexibility, and I imagine he will work into a bigger role as the season progresses.
If I'm calling the plays, however—and Jesus that would be just awful if my NCAA 14 play is any indication—I am getting him involved in screens, special teams and some special designed runs early on. Once the comfort is there, however, he's simply too athletic not to use.
As for another freshman—and this is an obvious answer—I'll have my eye on linebacker Mike Mitchell. His measurables are just downright nutty, and I'm curious as to if/when he can break into that lineup. If you need a backer to cover a tight end or even a wideout, however, he'd certainly be a likely candidate to do so early and often.
Rittenberg: Wilson is one of the most fascinating players in the entire Big Ten. He could be a transformative player for Meyer's Ohio State program, and perhaps the league, especially with all the speed bashing that goes on regarding the Big Ten. It'll be interesting to see how many carries Ezekiel Elliott gets in the running back rotation, and Joey Bosa could be an immediate contributor on a defensive line that has some question marks.
Myerberg: Wilson's name is one that keeps being repeated not just locally but nationally, even if a few media folks are just leaping on the bandwagon. What seems clear: one, he's good enough to play today and produce at a high clip, and two – most importantly – he's going to get his shot. If nothing else, Wilson will see substantially more touches than Hall, Smith and Dunn got in secondary roles in 2012. I'll be a sellout and say Eli Apple as another freshman to see significant time in 2013, since he was there early (and because of those other things going on at cornerback).
Meyer's coaching staff has enjoyed rave reviews since his arrival with Tom Herman, Everett Withers, Luke Fickell, Mike Vrabel and Kerry Coombs receiving the most love. Which assistant would you select as the most valuable to the program and why? Along those lines, which assistant is most likely to leave for a head coaching gig?
Rittenberg: I think Ed Warinner is the best actual on-field assistant on staff, but in terms of value, I've got to go with Herman and Withers because of their recruiting exploits. If I need to pick one, I'd go with Withers because of his far-ranging recruiting ability and level of experience. I also love what Herman brings in terms of enthusiasm. Although Fickell would seem to be the next in line for a good head-coaching opportunity, I think Herman is more likely to leave. It's a close call between Herman and Fickell.
Hall: The one with the dip stains on his truck mats: Mike Vrabel is the most valuable for attitude, position, and recruiting. By position, Ohio State's ability to get a pass rush was meager last year, and if that continues they'll get their lights shot out by the first team with a decent passing attack. He's got to develop that talent, and by all accounts is doing that well, but the recruiting and attitude are just as important. Having a defensive line coach who terrifies people is like having a good strength coach in that they just make your team a meaner creature all around. I have no scientific evidence to back this up, but it's true and I need no data to believe it like it's the law of gravity.
Myerberg: One thing about Meyer that I've always admired: There's very rarely one assistant who leaps off the page as the "top lieutenant." (Dan Mullen would be the closest, I guess.) I spoke with Lou Holtz last week about Meyer's focus. He said, in so many words, that what separates good coaches from great ones are not schemes and systems but the ability to be consistent with players and the ability to properly delegate responsibility among your assistants. Meyer does that wonderfully. Having said that, I could watch Coombs yell for hours. As for the next head coach, Herman's smarts, experience, coaching mentors and rising name recognition should make him a contender for mid-tier FBS jobs throughout the country.
Dienhart: Fickell is most valuable because he knows the program and is a top teacher and motivator who has the respect of the players. He has been key in making Urban Meyer's transition to OSU seamless. I think Herman is the assistant most poised to launch off as a head coach. He is one of the brightest young minds in the game—and has a dynamic personality.
If things break just right, Ohio State and Michigan could face each other in the regular season finale and then match up again in the B1G Championship. Is that a good thing or does it diminish the rivalry? Was putting both OSU and Michigan in the same division starting in 2014 the best move for the conference?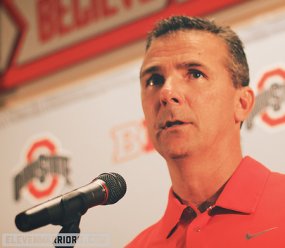 Hall: From an outsider's perspective, no, it doesn't diminish the rivalry because of location. THE GAME will still take place in one of the two hallowed halls of Big Ten football. The Big Ten Championship will take place in the cold barn of Lucas Oil Stadium. One's an institution, and the other is a function, and no viewer will ever confuse the two.
Rittenberg: It's not the end of the world if the teams meet in consecutive weeks, and it would bring some national buzz to the Big Ten championship game, which has been a decidedly regional event the first two years. I'd feel differently if the teams weren't going to the same division beginning in 2014, which is a good thing. While it was noble for the Big Ten to base the initial division alignment primarily on competitive balance, the league found itself with far too many crossover games, especially late in the season.
The month of November should be reserved for division play and exciting races. Time will tell if the East division dominates the West, but I don't think it'll be nearly as lopsided as some. Wisconsin is a proven commodity, Northwestern is reaching historic heights under Pat Fitzgerald and Nebraska certainly is capable of making that step from 9- or 10-win team to league champion.
Dienhart: I think having OSU and Michigan meet in the title game would be good. It's the last time it can happen. But it could be ruinous to OSU. Imagine if the Buckeyes win in Ann Arbor in the last regular-season game to move to 12-0 and be Nos. 1 or 2 in the BCS standings—and then lose the next week to the Wolverines in the Big Ten title game to cost OSU a spot in the BCS title game?! I like having OSU and Michigan in the same division. The league has said the new divisions were drawn up based on geography. And, they won't have to beat each other twice to perhaps reach the playoffs in the future.
Kramer: Oh, get used to hearing about this. If it becomes a possibility, it will be loud and clear.
I have no issues with two matchups in one season, although the back-to-back nature is just, well, odd. We saw this last year with the Pac-12, and while it made for some fun point spread weirdness for a few weeks, it also took some of the wind out of the conference's showcase game.
Now, nothing is going to diminish the rivalry—it's not something that can be undone by the Big Ten's drunken conference/schedule creators—but you would rather see it spaced out. Moving the teams to the same division was a smart idea, and this could add quite a bit to game that needs no further stakes.
One positive that can be taken away if Ohio State and Michigan play back-to-back games this season: it would mean both teams are having tremendous years, and that's great news for the rivalry and the Big Ten.
Myerberg: I'm not a fan of OSU and Michigan playing in the same division. Then again, nor am I a fan of them playing twice over back-to-back weeks in November and December. Damned if you do, damned if you don't. Now, you could put Michigan and OSU on the Spice Channel in mid-July and it wouldn't diminish the rivalry. Not even TV contracts could mess with OSU and Michigan. There's a reason people stop and watch OSU play Michigan in gymnastics. It's untouchable. I can see the positives and negatives for having the Buckeyes and Wolverines in the same division or as the annual end-of-year crossover game.
Carlos Hyde received a three-game suspension for his actions stemming from an altercation with a woman that ultimately resulted in no charges being filed. What's your take on Meyer's handling of the situation - was the suspension appropriate? Do you feel the national talk about Aaron Hernandez specifically, and more generally about how Meyer handled discipline at Florida, was a factor in his handling of the Hyde situation?
Kramer: It's a lose-lose situation for Meyer, as are most decisions for him these days because people have already made up their mind before he decides. Regardless of what he did or didn't rule, the talk would side with what he did not do. It's one of college football's most overblown, ridiculous narratives.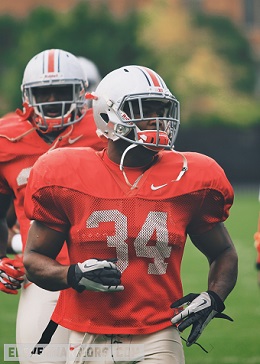 In the instance of Hyde, however, I don't know how you could have handled it much better. After talking a tough game at Big Ten Media Days, Meyer more than backed it up with this decision.  It feels like the right amount of games despite the idiotic "look what games he'll miss" idiots that surfaced to the surprise of no one. Again, narrative.
Meyer certainly carries this disciplinary reputation—some of it fair, some of it not—and it undoubtedly played a role. There is, however, a canyon between a string of arrests at his former school and a former player involved in a murder (or, well, murders). Connecting the dots aimlessly here is reckless, although that hasn't stopped many from doing it anyway.
Myerberg: I wouldn't go so far as to suggest the Hernandez situation impacted Meyer's handling of Hyde's off-field misstep, just because I don't feel knowledgeable enough about it to make a stand either way. I will say, in a very uneducated guess, that Meyer knew that he couldn't afford not to make a statement with Hyde, if that makes sense. Let's wonder: What would 100 other FBS coaches have done with a starting running back who was involved in an altercation but never charged? I think it's pretty obvious. So yeah, Meyer might have gone a step or two too far in order to make a "point," if that's the right word. What he does with Roby will also be telling.
Rittenberg: I thought Meyer handled the situation appropriately, and that the Hernandez situation certainly factored in because of the attention it brought upon Meyer and his history of player conduct problems. The bottom line is no charges were filed and the evidence wasn't clear-cut. It's hard to justify a dramatic penalty like dismissal from the program. People can criticize Meyer's past handling of conduct issues, but I don't find problems in his response to Hyde.
Hall: That Meyer will always err to the side of getting players on the field because he is pathologically competitive, and that you should never expect him to let anything override that. The suspension was appropriate for covering a bit of Meyer's ass, but this is something Ohio State fans will have to accept about Meyer: he will do anything to keep a talented player eligible. I'm not even putting a judgment on that. It is a fact, and you'll have to decide how comfortable you are with that.
As for discipline at Florida, and how I think he handled things? it's good to have a coach who doesn't think marijuana charges are serious, because they aren't, and have nothing to do with a player's character. It's bad to have a coach who has a rule barring violence against women, and then have that coach reinstate a player who threatened a woman's life (even if it was via text message.) If anyone thinks Meyer could have prevented Hernandez, they should remember that Minority Report is fiction, and that the New England Patriots had no idea he was involved with the people he was involved with. If Bill Belichick didn't know something, I'm pretty sure no one did. The rest is the national media taking a brave stand against murder, which is a bold stance from the seventh century BC, and appropriate for most newspapers and their audience.
Dienhart: I do think the Hernandez situation impacted how Meyer handled the Hyde suspension, which I think was too harsh. The guy is suspended for three games and isn't even charged? What happens to a guy who gets charged in the future? Meyer has set the precedent, which is good. And I think he wanted to show he will be hard and swift in his justice after arriving in Columbus with a dubious track record when it comes to player discipline issues.
On a similar topic, how well do you think Les Miles handled the Jeremy Hill saga? Was a suspension warranted? What are your thoughts on Miles leaving the door open for future discipline even though he allowed the players to vote Hill back on the team? Any chance this was a strategy to gauge media reaction before making a decision to potentially suspend his top back?
Dienhart: I think Miles blew it. It should be his call—not his players—on issues like this. It sends the wrong message and reinforces images and stereotypes many have about big-time football being more concerned about wins that perhaps always doing what is correct.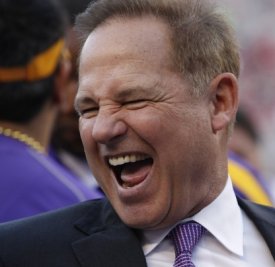 Kramer: It certainly could have been handled better, there's no question. Just imagine all the Internet HOT TAKES had Urban Meyer done the exact same thing. My goodness, the energy off these smoldering COLUMNS could have powered a small village.
The cryptic nature of Miles' announcement is what bothered me, and he could have solved a lot of this by being more forthcoming about potential time missed. Leaving this open to interpretation is what got a lot of people hot and bothered, and again, it's easy to see why. Hill has had his chances—stressing the plural.
I understand there's much more to this than public opinion, but putting this up to a "player vote" also seemed, well, odd. In a strange way, I appreciate a coach involving his team—and there is a side of me that likes his willingness to involve. But while we're at it, let's let the fullbacks name a starting quarterback. (It's different, I know. But I would love to see fullbacks have this power).
Hall: Miles should have kicked Hill off the team, if only for violating probation from a previous case and sucker punching a man in a parking lot. An honest bar fight I understand, particularly if it was in defense of the bus full of orphans someone was trying to kidnap from the parking lot. That is not what Hill was doing.  As far as strategy…um…this is Les Miles. He is making it up as he goes by definition.
Back to the field, Ryan Shazier is receiving his share of hype this preseason but the reality is that he really didn't start to take off until Zach Boren moved from fullback to the Mike spot, solidifying the linebacking unit. This year, Meyer is saying the right things about Curtis Grant but the jury is still out. Will Grant be able to lock down the position? What type of impact will Grant's play potentially have on Shazier's production?
Myerberg: Shazier needs to roam, as you said above, so his play continues to be tied into Grant's ability to finally put everything together. Like most, I'm in wait-and-see mode with the junior. He's a physical All-American who has not seemed properly motivated, especially a year ago. Has the fact that a fullback stole the job last year given Grant the mental edge he needs to be successful? Shazier will get his, like the really good ones do, but a lot is riding on Grant's plate. But I don't totally buy into the notion that his play will dictate the success of OSU's defense – because, you know, a fullback held down the fort in 2012. I'm sure Fickell and Co. have a guy in reserve just in case.
Dienhart: I think we saw the light bulb begin to come on for Grant last year. He will be fine. And if he's playing well, Shazier will benefit.
Rittenberg: Grant's performance could be huge for Shazier, and Ohio State needs someone to step up alongside No. 10, especially against the run. But Shazier has tremendous upside, and another offseason in the program should only help him. Shazier had huge numbers last season.
The next step is for him to establish himself as the leader of the defense, much like other Big Ten linebacker standouts (Michigan State's Max Bullough, Wisconsin's Chris Borland). From talking to Shazier recently, he's excited about Grant's potential as his wingman. The key is for Ohio State to find more bodies at linebacker.
To wrap things up, let's all wave goodbye (or maybe give the finger) to the last year of the existing BCS format knowing that we're finally moving to a playoff format effective the 2014-15 season. The first iteration of the playoffs will be of the four-team flavor. Is that the right number? If you're calling the shots, how many teams would you include in a playoff system? Why?
Kramer: Before we give the finger to the BCS—actually, you know what, go ahead and give the finger. We'll ask questions later.
But I'd feel much more comfortable saying farewell to the BCS if a) I had overwhelming confidence in the new playoff and b) the folks that helped drive the BCS into the ground and fought a playoff for the past decade weren't driving the new car.
The fact of the matter is that outside of the addition of two teams—which is an enormous philosophical difference—this really does feel a lot like BCS 2.0. And while it was easy to blame a formula for all the mishaps, blaming a living, breathing selection committee for its faults should create a new era of intrigue.
With that said, a four-team playoff is just fine for me. Rarely are there teams beyond this threshold that deserve to play for the championship by the end of the season. Of course, this will all change in the first few seasons, and we'll have a 248-team playoff by 2028.
Hall: There is no right number. I like a full sixteen, but I'm a glutton, and already watch four weeks of bowl games from start to finish, but eight would be serviceable. Eight is what we'll get, too, because four is a test number on the way down to eight teams, more money, and greater inclusion of potential viewers. (Read: 7-5 Notre Dame is getting IN, y'all.)
Rittenberg: It's a good start, but I'd be surprised if the Playoff doesn't eventually go to eight teams. Certain conferences will feel slighted at four, and a league like the SEC will clamor (perhaps deservedly) for more spots so it can have multiple teams in the mix. I'm not a huge fan of 16 teams, which waters down the product. If you're whining about being No. 9, you don't deserve a chance to win a title. There's a big difference in my mind between the 4/5 margin and the 8/9 margin. Eight seems perfect as there are more than four power conferences. It'll also create more access for teams from outside the big 5 (Boise State, etc).
Dienhart: think the playoff should be eight teams. Four is too few, as some very good teams will be left out. And with eight teams, I think at least one "little guy" could be included each season in the playoff.
Myerberg: I say goodbye to the BCS with only a very small touch of sadness. Obviously, the whole system had its heart in the right place but remained too flawed to solve college football's inherent (and historic) issues with selecting an undisputed national champion. The four-team playoff sounds great. Is it the answer? No, the best choice is to leap to eight teams, if not more, and allow for greater representation from across every FBS conference. I see the four-team playoff as another fairly similar iteration of the BCS – only dolled up and dressed to the nines, which always gets my heart racing. My worry is that the bowl games that have defined college football's postseason for decades will get lost and overlooked. That's not a big deal to OSU, since the Buckeyes are going to be in the four-team mix in perpetuity, but these bowls are still extremely meaningful to the vast majority of the FBS. Let's not lose 'em.
---
Thanks, gents.